What To Watch, Listen to and Read in March 2017: An In & Out Pop Culture Guide
RuPaul's Drag Race, Feud, and new films with Kristen Stewart and Dakota Fanning are some of the month's best highlights.
---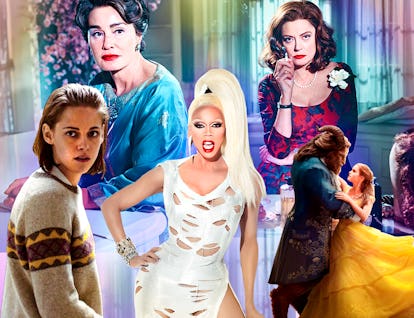 Pop culture shifts into high gear in March. While January and February are usually reserved for Hollywood to dump its worst inventory (and let audiences catch up with award winners), March sees the arrival of the year's first blockbusters. On TV, too, new and return series start filling up your DVR watch-list again, and music labels start rolling out brand-new music just in time for the festival circuit. How to choose among it all? Well, every month, at the start of the month, W's In & Out List will look a full month ahead and sort through the cultural calendar for your benefit. Here's our picks for what you'll need to consume to keep up with polite dinner party conversation, what you'll want to bing on late at night, and what's best to just avoid. And, don't forget to sign up for the daily In & Out newsletter here.
What You Need to Know:
Film: "Personal Shopper" and "Brimstone" (March 10 in Limited Release)
Two American starlets (Kristen Stewart and Dakota Fanning) who have done their time in the Young Adult genre (both, notably, in the Twilight franchise) team with two artsy European directors (France's Olivier Assayas and the Netherland's Martin Koolhoven) for two films that have left viewers on the festival circuit sharply divided. Stewart and Assayas team for the second time with Personal Shopper, a story about an American working in fashion in Paris who tries to communicate with her deceased twin brother. Meanwhile, Fanning and Kollhoven's Brimstone finds the young actress playing a young mute mother hounded by an evil preacher in the old West in an ultra-violent feminist allegory. Critical reviews for both are all over the board, ranging from raves to absolute takedowns, which means, of course, you'll have to form your own opinion. If nothing else, both should make for good after-movie debates with your date.
TV: "Feud: Bette vs Joan" (Sunday, March 5 at 10 p.m. on FX)
TV uber-producer Ryan Murphy's output can veer wildly from campy car crashes you can't take your eyes off (entire seasons of his American Horror Story have collapsed in on themselves, and yet we keep watching) to bona fide prestige TV (see: the Emmy dominating American Crime Story). So what to expect from Feud, which purports to be a serious take on the rivalry behind the all-time camp classic movie What Ever Happened to Baby Jane? By most early accounts, the series threads the needle nicely by giving us the juice we so desperately crave while also flipping the script on culture's obsession with women in competition with each other.
Music: Anohni – "Paradise" (March 17)
After her triumphant foray into electronic music last year with critically acclaimed album Hopelessness, Anohni re-teams with the same set of producers for a follow up e.p. titled Paradise. The lead single of the same name promises good things to come. Meanwhile, Ibibio Sound Machine's UYAI (out now) finds the Nigerian electro band expertly mixing African rhythms with shimmering synth elements that recall everything from Devo to Off The Wall-era Michael Jackson. Side note: lead singer Eno Williams has some serious style.
What You'll Actually Enjoy:
TV: "RuPaul's Drag Race" Season 9 (Friday, March 24 at 8 p.m. on VH1) After nine seasons, most reality TV shows seems like they should be put out to pasture, and yet RuPaul's Drag Race just keeps getting bigger and better. Fresh off its first Emmy win (for RuPaul's hosting naturally), the show moves from its niche network to the cable big leagues with VH1, and, in every gay man's wildest dreams, Lady Gaga herself will serve as a guest judge for the season premiere. To some, this is a bigger deal than her halftime show. We're not sure who we're rooting for yet, but we're counting on Chicago's Shea Couleé and Brooklyn's Sasha Velour to bring the looks. Then there's Amy Schumer's first Netflix outing, The Leather Special (March 7). It's so named because, as she notes in the trailer, "Every comic has some special where they wear all leather and they regret it later." March will also see the drop of two Dave Chapelle specials on the 21st, but we're really craving some female laughs at the moment. Let's not pretend we don't all want the inside scoop on Kim Kardashian's Paris Fashion Week robbery and ensuring Kanye collapse. We're all friends here. Her family's show is back Sundays at 9 p.m. on E!
Music: Nelly Furtado – "The Ride" (out March 31) Nelly Furtado finally returns. We heard her sing a few tracks off the album at an Art Basel Miami Beach party in December and kind of wished she performed "Promiscuous Girl" instead, but the final recorded version will play a lot better when you're not three glasses of champagne deep. The Magnetic Fields's *50 Song Memoir* five-disc set (March 10) includes one song from each year that leader Stephin Merritt has been alive and might be some of his frankest songwriting yet.
Book: "All Grown Up" by Jami Attenberg (March 7) The latest from the wickedly funny Attenberg tackles what it's like to be single, childless and almost 40 in New York City. Sure, the main character might have a burgeoning drinking problem and a failed dream of being an artist, but at least she finally has some nice furniture. Then, there's The Lucky Ones, by Julianne Pachico. One of the stand-out characters in this novel is a New York fashion student who ends up dealing coke to hipsters (spoiler alert: she gets high on her own supply). That has "guilty pleasure" written all over it, but the wider arc of the book focuses on two decades in Colombia's drug war.
Movie: "Beauty and the Beast" (March 17th) and "Ghost in The Shell" (March 31st) Two live action remakes of two (very different) animation classics from the '90s. You knew whether you wanted to see these or not from the second they were announced, for better or worse.
What You Can Ignore:
Film: "Power Rangers" (March 24)
The only thing vaguely interesting about the trailer is the fact that Elizabeth Bank's Rita Repulsa look suspiciously like New York party promoter Susanne Bartsch. What is Wilson, out March 24? Oh, boy, a movie about a middle aged man-child who is forced to connect with a teenage daughter he never had. Why is this basic plot recycled for one movie or another every single year?
TV: "Time After Time" (March 5 and 9 p.m. on ABC)
Did anyone want a TV series about a sexy and oft-shirtless Jack the Ripper being pursued through time by H.G. Wells? It may be a remake of a cult sci-fi film from the '70s, but Westworld this is not.
Music: Bush – "Black and White Rainbows" (March 10) Some misguided mix of '90s nostalgia and a desire to get the other perspective of Gwen Stefani's divorce may tempt you to check out Black and White Rainbows, the latest from Stefani's ex Gavin Rossdale's band. Don't. The first single "Mad Love" is more painful than one of Stefani and Blake Shelton's duets.
Subscribe to the daily In & Out Newsletter here.
Our Favorite Celebrity Looks of All Time
Emily Ratajkowski in Jonathan Simkhai with a Tory Burch bag in Paris, France, March 2017.

Marc Piasecki
Gugu Mbatha-Raw in Oscar De La Renta at the premiere of Beauty and the Beast in Los Angeles, California, March 2017.

Jeffrey Mayer
Solange Knowles in Chloé at the Chloé Fall 2017 show in Paris, France, March 2017.

Peter White/Getty Images
Brie Larson in Ralph & Russo couture at the premiere of Kong Skull Island in London, England, February 2017.

Samir Hussein/Getty Images
Bella Hadid in Area in Paris, France, February 2017.

Marc Piasecki/Getty Images
Emma Stone in custom Givenchy couture at the 89th annual Academy Awards in Los Angeles, California, February 2017.

Kevin Mazur/Getty Images
Bella Hadid in Alexandre Vauthier at the Bulgari dinner party in Milan, Italy, February 2017.

Venturelli/Getty Images
Kiernan Shipka in Prada at the launch of the Mad Men book in Beverly Hills, California, February 2017.

Frazer Harrison
Katy Perry in Adam Selman at the Brit Awards afterparty in London, England, February 2017.

David M. Benett/Getty Images
Céline Dion in Schiaparelli couture at the launch of Céline Dion Collection in Las Vegas, Nevada, February 2017.

Denise Truscello/Getty Images
Suki Waterhouse, in La Perla and Burberry, at the Burberry Spring 2017 show in London, England, February 2017.

Mike Marsland/Getty Images
Frances Bean Cobain in Marc Jacobs at the Marc Jacobs Fall 2017 show in New York, New York, February 2017.

Jamie McCarthy
Lottie Moss in Marc Jacobs at the Marc Jacobs Beauty party celebrating Kaia Gerber in New York, New York, February 2017.

Jamie McCarthy/Getty Images
Hanne Gaby Odiele in Proenza Schouler at the Proenza Schouler Fall 2017 show in New York, New York, February 2017.

Gilbert Carrasquillo
Kate Bosworth in Calvin Klein for the Calvin Klein Fall 2017 show in New York, New York, February 2017.

Raymond Hall/Getty Images
Selena Gomez in Proenza Schouler in New York, New York, February 2017.

Robert Kamau/Getty Images
Lady Gaga in Gigi x Tommy at the Tommy Hilfiger 'TommyLand' Spring 2017 show in Venice, California.

Jeff Kravitz
Hari Nef in Alexander McQueen with a J.W. Anderson bag and Tiffany jewels at the Tiffany HardWear preview party in New York, New York, February 2017.

Angela Pham/BFA.com
Ruth Negga in Miu Miu at the nominees' luncheon for the 69th annual Academy Awards in Beverly Hills, California, February 2017.

MARK RALSTON/Getty Images
Dakota Johnson in Valentino at the premiere of 50 Shades Darker in Los Angeles, California, February 2017.

Gregg DeGuire
Lady Gaga in Versace at a press conference for the Super Bowl in Houston, Texas, February 2017.

Jeff Kravitz/Getty Images
Leelee Sobieski, in Raf Simons, at the designer's Fall 2017 show in New York, New York, February 2017.

Jared Siskin
Dakota Johnson in Gucci on The Tonight Show with Jimmy Fallon, January 2017.

NBC
Natalie Portman in Proenza Schouler at Jimmy Kimmel Live! in Los Angeles, California, January 2017.

PG/Bauer-Griffin
Kerry Washington in Rodarte at the 28th annual Producers' Guild Awards in Beverly Hills, California, January 2017.

Todd Williamson/Getty Images
Elle Fanning in Lanvin at the premiere of Sidney Hall at the Sundance Film Festival in Park City, Utah.

C Flanigan/Getty Images
Lily-Rose Depp in Chanel at the Sidaction gala dinner in Paris, France, January 2017.

Dominique Charriau/Getty Images
Isabelle Huppert in Armani at the Armani Privé Spring 2017 show in Paris, France, January 2017.

Dominique Charriau
Bella Hadid in Dior at the Christian Dior Haute Couture Spring Summer 2017 Bal Masqué during Paris Fashion Week in Paris, France, January 2017.

Getty Images for Dior
Thandie Newton in Schiaparelli at the Schiaparelli Haute Couture Spring 2017 show in Paris, France, January 2017.

Getty Images
Watch W's Most Popular Videos: