What to Watch This Weekend: Documentaries, Dystopias, Tearjerkers, and American Farces
Let these 30 movies and television shows give you a good cry, a loud laugh, a visual escape, and the motivation to move forward next week.
---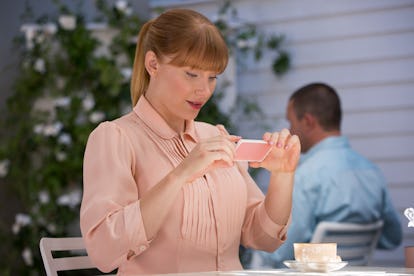 Courtesy Netflix
Following the election of Donald Trump as President on Wednesday, those who voted for Hillary Clinton reacted to the devastating blow in a variety of ways. Some immediately took to social media or donated to organizations like Planned Parenthood online, while others marched in the streets of New York City and Berkeley, California. Female creatives gathered to share ideas and express themselves visually, and many visited museums, galleries, and theaters to escape into the art world for a few hours or simply put on their headphones to tune out.
This weekend, as you decompress and regroup to face another challenging week ahead in Trump's America, here are 30 movies and TV shows to watch for a good cry, a loud laugh, a fantastical escape, and the motivation to move forward.
For a Good, Long Cry: Brooklyn Selma Brokeback Mountain A Better Life The Color Purple
For a Laugh So You Don't Cry: "Veep" Talladega Nights In the Loop Bulworth Election "Fresh Off the Boat"
To Believe In Democracy: Do the Right Thing Lincoln The American President "The West Wing"
For a Strong Female Lead Thelma and Louise Hunger Games Dear White People "The Good Wife" The Iron Lady
To Escape Harry Potter National Lampoon's European Vacation A Bigger Splash Interstellar Mad Max: Fury Road
To Get Motivated Trumpland Malcolm X The 13th An Inconvenient Truth
To Savor Every Last Minute of the Obamas Southside With You
A Picture Is Worth a Thousand Words: 29 Photographers React to the 2016 Election
"Now more than ever it is apparent that we need to reach out to one another and hold on tight. It is true that together we are stronger, and together we can truly be heard and move forward." – Katie McCurdy

Photo courtesy of Katie McCurdy.
"I woke up at 7:30 a.m. in Kazbegi, Georgia (30 minutes from the Chechen border.) Look at the view. Look at the beautiful dawn. A new day. Then I opened my laptop. Fuck. My day was destroyed. How could this happens. Horrible day. Then I opened my emails. I received my Danish residency and work permit. Beautiful day. I'm outta here." – Adam Katz Sinding

Photo courtesy of Adam Katz Sinding.
"Since coming here at 15-years-old alone to pursue my dreams as an artist, I have always loved and believed in the ideals that America stands for. But yesterday, I was so heartbroken and it almost felt like I lost someone I love dearly. But what's done is done, we will look ahead and we will fight for what we believe in through any means we can. I believe in resiliency and the power of creativity and knowledge." – An Le

Photo courtesy of An Le.
"I visited the Statue of Liberty on Election Day. It has always been a symbol of positive American values, and inclusiveness for all. My feelings were initially of sadness and loss. The next day, however, I remembered that the pendulum always swings the other way and have hope for all Americans. Love is inherent in all human beings." – Pablo Enriquez.

Photo courtesy of Pablo Enriquez.
"In hard times, whichever color, shape or form..together we stand, divided we fall." – Davey Adesida

Photo courtesy of Davey Adesida
"I believe that it is difficult to kill an idea because ideas are invisible and contagious, and they move fast."

Photo courtesy of Driely S.
"This photograph is one I made of my friends Logan and Quinton. They have been together for two years. They're absolutely beautiful. A Trump presidency makes me fear for them, myself, and other LGBTQI+ people. As an artist, though, I'm motivated. Now is the time to subvert and teach with our work. I am devastated by the results of this election, but we have to keep fighting together." – Michael Beckert

Photo courtesy of Michael Beckert.
"I haven't been feeling as much rage or fear or loss as I anticipated. It's more of a haze of misunderstanding of our country and its citizens as a whole. Living and photographing in New York, you lose touch with how everyone else in the country may be feeling. Theres an impulse to lean into a 'bubble' and barricade yourself from this sort of disappointment, but I think we are required to leave our comfort zone to photograph and try to understand our collective national culture that I feel so disconnected from." – Eric Chakeen

Photo courtesy of Eric Chakeen.
"The fact of the matter is that as a LGBT person I have been suppressed my entire life, partially because I have felt uncomfortable and have held myself back for the sake of not upsetting people especially my family and/or coworkers and clients, well fuck it. Clearly this feeling isn't going away anytime soon. Taking a photo of myself naked was about trying to make myself feel good, I start everyday naked and I also end it naked. I needed to remind myself that I still exist, that I'm still important and that I'm strong enough naked to handle the next four years." – Hunter Abrams

Photo courtesy of Hunter Abrams.
"I guess we have to pick ourselves up and try to find a way forward, but this has been a night of terrible revelations, and I don't think it's self-indulgent to feel quite a bit of despair." – Paul Krugman in The New York Times.

Photo courtesy of Nolwen Cifuentes.
"I didn't think it could happen. I am afraid for my friends. I am afraid for my neighbors. But I am not without hope. The social media posts I have seen in the past 24 hours have been almost universally smart and proactive and have come from places of compassion. It is heartening to be reminded that I am surrounded by so many bright and deeply caring people. How this election might impact my work is yet to be seen. For now, I just want to try to be there for those who are being impacted on a far more existential level." – Jonah Rosenberg

Photo courtesy of Jonah Rosenberg.
"When you vote in anger, you vote for hate. When you vote with ignorance, you vote for inexperience. When you vote in protest, you vote for extremism. Divided we are controlled but together we are stronger, stand united and challenge hatefully rhetoric with love and compassion." – Ed Singleton

Photo courtesy of Ed Singleton.
"I started Tuesday excited and optimistic – we were about to elect Hillary Clinton to be the first female president. Barack Obama's legacy would be protected. Our civil liberties would be protected by the her supreme court justices. And then, as the votes started to be counted, I felt the world turn upside down. I felt scared–not just for myself but for my friends and family, for women, for people of color, for the LGBTQ community, for immigrants. Going out onto the streets of New York on November 9th was just a little bit scarier than it was the day before. The colors of the world seemed more garish and chaotic. I tried to channel my unease in photography, to focus on something else for a moment. In some ways it was therapeutic, but it didn't ease the fear that I have for our country's future." – Teddy Wolff

Photo courtesy of Teddy Wolff.
Photo courtesy of Tyler Mitchell.
"The other day while coming back from Canada, an airport employee began talking with me about the circus that was our election. 'Are we the laughing stock of the world?' I asked. He replied, simply, 'Yes.' And so, here we are. An ignorant, orange-skinned reality TV star becoming president? This is a camp movie I'd like to watch, not a reality that I want to live in. I underestimated him–we all did. The media not taking Trump seriously and failing to acknowledge the people who live beyond our liberal bubbles only strengthened him. This is a time where we need to come together. We need to understand the pain happening on all sides and every part of the country here so we can start to create the future we want to live in–not this." – Amy Lombard

Photo courtesy of Amy Lombard.
"It just almost doesn't seem real. It's almost as if we're all in a movie waiting for it to end. I'm not huge on politics at all but I know right from wrong. It's human nature to understand what's wrong and Donald Trump being president is just simply wrong." – Gunner Stahl

Photo courtesy of Gunner Stahl.
"I woke up this morning and it hit me right away. It wasn't a bad dream. It had happened. Somehow this is reality now. I didn't leave the house till late. I couldn't, but when I did I saw friends and it was reassuring to commiserate together, to know there were other people out there suffering too and were as disgusted as I was. At dinner we explained democracy and the election to Ava who is 6. Something about this felt right. Not much felt right today. I attended a rally after. I didn't know what to find. I didn't feel better. Angry misplaced feelings. Empty chants. I saw this guy strumming his guitar. He looked lost too." – Harry Eelman

Photo courtesy of Harry Eelman.
"At the Trump event, because I was shooting on assignment for U.S. News. I submit this photograph without comment." – Lexie Moreland

Photo courtesy of Lexie Moreland.
"America on the rocks." – Joshua Woods

Photo courtesy of Joshua Woods.
"The hardest part of today is thinking about the direct effect that Trump will have on the future of life on this planet. As an artist it motivates me to create new photographs that respond to life now—because for the second time in my lifetime—the first being September 11th—it may never be the same again. The first instinct I had was to actually photograph the screen of the TV as I watched him win the election." – Landon Nordeman

Photo: Screen shot of Trump's acceptance speech, November 9th. Almost 3 a.m. Courtesy of Landon Nordeman.
"After the Brexit referendum I realized how dark the future it is. I can't understand why people would like to destroy all the efforts that humanity did for having a better and respectful world. I can't imagine who the Trump voters are, or why, but it seems to me that our society is sick and full of hate… Maybe is time to get back to nature and remember the basics about what it means to be a human being." – Anabel Navarro Llorens

Photo courtesy of Anabel Navarro Llorens.
"Last night I participated in my first protest. Although I've always been strongly opinionated when it comes to politics, I'm on the quieter side and don't tend to be incredibly vocal about my views. While walking the streets yesterday, I could see the sadness on faces in my neighborhoods and realized that things need to change. Every voice matters. Moving forward, I see myself putting out work that sends more of a message. We all need to step up, stand more united than ever, and do our part in whatever ways we can." – David Urbanke

Photo courtesy of David Urbanke
"Election night kept me up till 6 a.m. Between editing photos from the night's heartbreaking events and laying silently unable to quiet the storm in my head, I was unable to sleep. The day after I spent naked swaddled in a purple bed sheet clutching a stuffed animal. I've been playing Magic the Gathering lately and found solace in organizing and building out my decks. Being able to decide exactly what did or didn't make it into my deck gave me a sense of control that I had lost the night before." – Zak Krevitt

Photo courtesy of Zak Krevitt.
"Take time to mourn today, but get to work tomorrow. It's time to activate, volunteer, donate, rally, demonstrate. It's time to motivate with love, openness, kindness, and faith that the human condition will be stronger than fear, hate, oppressions. To POC, WOC, non binary, queer, LGBT, undocumented, incarcerated, people with disabilities, immigrants, I am glad you are here. I am proud you are American, America is nothing with out you." – Taea Thale

"THE PRACTICE OF LOVE IS THE MOST POWERFUL ANTIDOTE TO THE POLITICS OF DOMINATION" – Bell Hooks

Photo courtesy of Taea Thale.
"I have three daughters, and this is my five year old, Maryn. There is an aching, constant need to protect my children, and urgency was of course heightened long before Trump won. It feels like betrayal to be on the losing side of an election like this, but I'm using this as a call to action. I've never felt more driven to stand for equality and human rights with my art and every other area of my life, and to push my daughters toward the same goal – empowerment through empowering those around them." – Matthew Priestley

Photo courtesy of Matthew Priestley.
"It's all 'us and them.' Why can't it just be 'us'?" – Stephanie Wilson

Photo courtesy of Stephanie Wilson.
"My girlfriend woke me up at 5 a.m. in a panic because she just heard the news the Donald Trump was elected President of the United States. That was the first emotion we experienced; Fear. I fear the landscape of our democracy will change drastically over the next four years. I fear for those who spent years fighting tirelessly for equality will have their rights stripped away. I fear there will be an insurmountable amount of hardship, but I choose to remain by my core values. Treat others with respect. Fight for equality. Preserve the planet. Work hard. Practice self-reliance. Be patient. Be humble. Be kind. I was raised to stand for what I believe in even in the face of tribulation. I don't plan on stopping now." -Thomas Sawyer

Photo courtesy of Thomas Sawyer.
"We are proud to live in one of the most diverse and multicultural cities in the world. We are thankful to call this city our home because it has evolved to become the epitome of what truly defines this country – the freedom to be whoever you want without infringing on other people's freedom. It is sad to realize just how divided we are as a country and how our values got corrupted resulting in the political tragedy of the election. We can see it as we walk down the street. We can see it on the subway. In the face of the woman at the deli. Today in New York we all see the same thing: sadness and disillusionment." – E and Roso

Photo courtesy of E and Roso.
"I spent the night shooting at the Trump election party and as the night progressed, I realized it was turning into a real victory celebration. Shooting all the exalted, happy faces around me felt like being stuck in a speeding train heading for a crash with upbeat music blasting from the speakers. It was a surreal experience, but it made me even more determined to record what was happening around me. What the Trump presidency signifies to me is entering an era of misinformation. Documenting and having a voice in what's happening is my personal way of fighting against it". – Dina Litovsky

Photo courtesy of Dina Litovsky.