What You Need to Know About Turner Prize Winner Helen Marten
The 31-year-old artist just won Britain's most prestigious art award, in the best class of nominees in recent memory.
---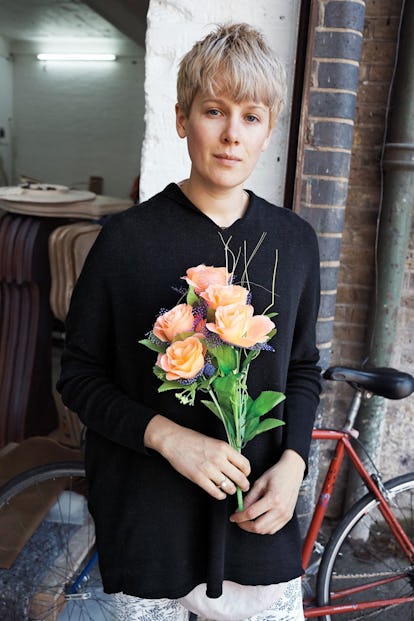 © 2014 Juergen Teller, All rights Reserved
With Helen Marten's Turner Prize win last night, Britain's major contemporary art award has finally got its mojo back. The artists shortlisted in recent years have meant the prize has, thankfully, broken free from a tabloid-baiting rep cemented in the 90's by enfants terribles YBA nominees like Tracey Emin and her unmade bed. Yet the lineups since then have also veered from disappointingly safe to overly obscure. Marten, by contrast, makes work that is thoroughly zingy, as playful with ideas as it is materials. And with her recent win of the first £30,000 Hepworth Prize for Sculpture in November and a major solo show having just closed at London's Serpentine Galleries, this is clearly the 31-year-old artist's moment.
That's not to say that her brain-teasing puzzles of everyday flotsam and meticulously handmade objects were a lock to take the prize. Michael Dean's downtrodden abstract cement sculptures and gigantic pile of pennies — one penny less than the amount the UK government decrees a family can survive on each year — was the bookies' favorite. Josephine Pryde's slick conceptual games with photography might have made her the art world insider's choice. And it's hard not to love Anthea Hamilton's giant butt. It's been a vintage year, in fact.
Nonetheless, when it comes to singular vision and an evident pleasure in nitty-gritty objecthood, it's Marten who stands out. Her Turner presentation involves three sculptural collages that in various ways make you think of what archaeologists might excavate, like burial chambers and shrines — though this is just one way of looking at it, and in Marten's work the suggestions keep multiplying. It's the first of many visual and verbal games, a possible analogy for the way we dig down into her work, excavating metaphors and meanings.
There's the giant casket with a doll's house-type front and little drilled holes suggesting a speaker, through which its hidden contents might make themselves heard, perhaps. Before this, objects have been laid out on a pallet marked with colored lines, like offerings or useful things for the afterlife found in a Pharaoh's tomb. These include an engraved knife and embroidered glove with rubber-tipped fingers as well as moldy cotton buds, oxidized copper, a dried fish skin and skeleton, and delicate arrangements of nails. Everything is tactile, intricate and very appealing.
For Turner jury chair and incoming director of the Tate Britain Alex Farquharson, Marten is "a kind of poet." Attempting to pin down her work with language though is a bit of a fool's errand — there are just too many elements, for a start. The show functions as a series of interconnected fragments, micro-worlds to get lost in. Among the items on a kind of ad hoc plinth-come-coffee table, there's a pair of cartoonish stuffed fabric legs (for fleet-footed mental games?). Rolls of snakeskin and more fabric embroidered with tiny pearls provide other luxuriously ornate surfaces. A pair of clay hands offers up tiny teapots and shiny marbles. It all begs you to consider the familiar anew. A huge painted ceramic resembles an overgrown chimney pot. Squint a little, and the welded steel sculptures could be old-school CD racks.
In past interviews Marten has implied she's not a fan of the attention prizes like the Turner or the Hepworth inevitably bring. She used the public platform her acceptance speech afforded to talk about global issues, from cuts to arts education in the U.K. to the rise of the so-called alt right and homophobia. Nor does she like the idea that art can be competitive, with one artist ranked above another. "I could not think of a more brilliant and exciting shortlist of artists to be part of," she said of her peers. She's even pledged to share the prize money with the other artists, making this a Turner year where everyone is literally a winner.