What's Going On in the Lingerie World Today
Girls stars Lena Dunham and Jemima Kirke debut a new, unretouched campaign for Lonely, while Zuri TIbby gets a promotion at Victoria's Secret.
---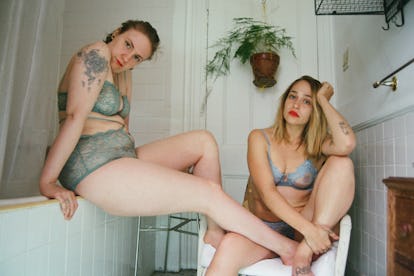 Courtesy The Lonely Girls Project
Banks She's always been a noir-ish kind of chic, but now she's got Dior's stamp of approval.
Dunham, Lena Modeling for cult lingerie brand (turned-swimwear brand) Lonely alongside Girls co-star Jemima Kirke.
Girl, White Meet the white girls behind the provocative new film White Girl.
Hindmarch, Anya Guest-curating a Sotheby's auction. Because if the luxury market is flagging and the art market is flagging, it makes sense to put them together and see what happens.
Nirui, Ava The photographer, freelance writer, and master DIY-er turning bootleg into bougie. Who knew Canal Street knockoffs could be such a source of inspiration?
Prince The late musician's estate, Paisley Park, is opening for business.
Rykiel, Sonia The French fashion designer died Thursday at age 86. We'll always have her stripes.
Tibby, Zuri The newest face of Victoria's Secret Pink — which makes her next in line to claim Gigi Hadid's throne.
Wilson, Charlotte Day From "Halifax-famous" to known the world over. Musician Charlotte Day Wilson is about to break out.
Watch W's most popular videos here: