When the Architect Behind High End Prada Stores Designs a Fast Food Restaurant
Ole Scheeren's concept for Dean & DeLuca, which rolls out across the U.S. in 2017, aims to change the look of fast food.
---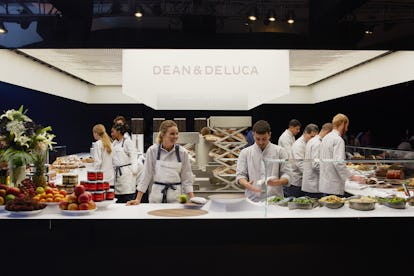 Photo: James Harris.
At this year's Design Miami, one of the biggest presentations — alongside those of conceptual design installations and exhibitions of rarefied 20th-century Modernist furnishings — was that of a fast-food restaurant. Ok, a very stylish, "chef-driven," fresh-made fast-food restaurant, from the gourmet market brand Dean & DeLuca, which was founded in 1977 by Joel Dean, Giorgio DeLuca, and Jack Ceglic. STAGE, as the concept is called, is designed to be both "portable" and scalable: a physical design that fits easily into any existing space, of any architectural stripe, around the U.S. and around the world "times 1,000," as its marketing materials put it. STAGE — the first examples of which will roll out in the U.S. next year — is designed by Ole Scheeren, the architect who went from working on international mega-projects with Rem Koolhaas at his firm OMA, including a number of Prada stores around the world, to designing equally high-profile megaprojects — like the under-construction Guardian Art Center, a hybrid of museum and auction house in Beijing — at the head of his own firm, Büro Ole Scheeren. (Another of the architect's projects, the recently-completed MahaNakhon, Thailand's tallest tower, was developed by Sorapoj Techakraisri, the CEO of PACE Development, which purchased Dean & DeLuca in 2014.)
Unlike the Dean & DeLuca aesthetic, which requires a store space to be completely fitted with the brand's signature white subway-tile walls and metro shelving, STAGE's design is based on a freestanding, rectangular volume of polished stainless steel — an "energy center," as Scheeren describes it — that reflects the environment into which it's inserted. The design treats an existing space as "a found object," and engages in "an active visual dialogue" with its surroundings. (There is no "back wall," so to speak — all sides are visible and engaged.)
Floating Corian planes, lit from below, support a topographic landscape of serving plates, while the actual cooking functions take place in the center of the volume, in full view of the customers, thus adding performance and interactivity to the mix; the kitchen staff become part of the show, as do the customers. A "two-speed" system allows one flow of customers who just want to grab a cup of coffee and go, and another for those who are looking to have a made-to-order meal on-site.
Developing an offshoot of the Dean & DeLuca that bears its DNA without trying to mimic it was easy for Scheeren, who knows the brand well; when he was working on Prada's Soho Epicenter, which opened in 2001 in New York, "we spent lots of time getting coffee at Dean & DeLuca," he recalls. "It was never only about food; design played a role of equal importance." (Scheeren is also at work on subtly "redefining" Dean & DeLuca's iconic location at Broadway and Prince Street.)
Asked whether it's a challenge to toggle between the scale of a giant apartment development and a chain of high-end fast-food shops, Scheeren says, "Jumping between the scales is important. While the small scale doesn't dominate my work, I've had experience with it, in the Prada stores. What was new was to do food. It's quite simple to put a handbag on a pedestal, where it can stay for three months, but food on display goes bad after a couple of hours if you don't care for it properly." Judging by the nonstop lines at the Design Miami prototype of STAGE, Scheeren would appear to have to have mastered design on an organic scale, too.