When Traveling for the Holidays, Bella Hadid's Stylist Can't Go Without Technology
Elizabeth Sulcer, who styles for Victoria's Secret as well as Hadid, shares her style dos and don'ts in the midst of the holiday season.
---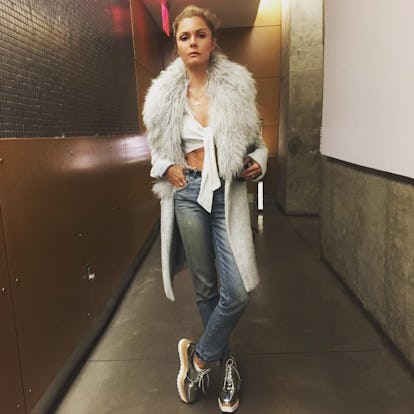 @elizabethsulcer
Supermodel Bella Hadid and stylist Elizabeth Sulcer met almost a year ago at a dinner in Paris — they hit it off immediately, and they've worked together ever since. But Sulcer isn't just a celebrity stylist — she also juggles work styling for Victoria's Secret (most recently, working on the blowout Paris fashion show) and other models like Lily Donaldson and Taylor Hill. She's also something of a fashion plate in her own right; part of the reason she and Bella have worked together so effortlessly, she recently explained over the phone, is that they share an eye (especially, it appears, for oversized outerwear and slinky separates). "Fashion is my life," she said. She's a regular red carpet presence, where her own looks rival those of her clients — just one of the perks of a career built around creating show-stopping red carpet moments. (We're still thinking about Bella Hadid's custom Cannes look by Alexandre Vauthier.) "But just as much so, I'm influenced by film and art." Here, she runs down her key influences pulled from fashion, music, film, and photography, and offers a peek inside her holiday travel and style essentials.
Age: 32.
Describe your style: High fashion glamour meets '90s street style.
Favorite stores in Paris: Colette, Maria Luisa, Yves Saint Laurent, Montaigne Market.
Daily uniform: Vintage light blue denim, white Nike Air Force Ones, Saint Laurent sunglasses, bag, and belt and white t-shirt.
Nighttime look: Black Saint Laurent, Alexandre Vauthier, or Balmain.
Style icons: Grace Kelly, Jane Birkin, Saint Laurent, Helmut Newton, Kate Moss, Bridget Bardot, Angelina Jolie, Michelle Pfeiffer.
Best recent discovery: Dogpound.
Last purchase: Anita Ko and Isabel Marant.
Travel essential: Headphones, computer, iPhone & workout clothes.
Holiday travel plans: Colorado, Florida, Costa Rica.
Something you would never wear: Plaid leisure suit.
Favorite accessories you own: Too many to count.
Holiday ritual: Going uptown to see all the Xmas decorations & windows.
Holiday wish list: Fun and relaxing time with my family and friends on vacation.
Something you always carry in your bag: Kiehl's lip balm and iPhone.
Most prized possession in your closet: Diamond Cartier ring.
Fashion week go-to: Thigh high black leather Gianvito Rossi boots & Saint Laurent sunglasses.
Something you're excited to wear through the winter: Mr & Mrs Italy Fur Bomber jacket.
Music you're listening to right now: Yann Tiersen, Billy Holiday, Phillip Glass, New Order, Pacha, The Rolling Stones.
5 Instagram accounts you like to follow: My friends.
See W's most popular videos: