Where the Fashion Crowd Went for Thanksgiving, From National Parks to the Beaches of Tulum
From Taylor Swift and Brandon Maxwell to Martha Stewart and Liu Wen, models, designers and celebrities did Turkey Day proud.
---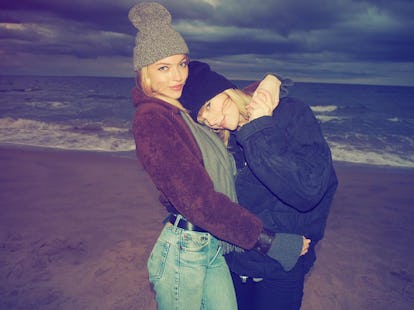 When the fashion crowd gets a weekend off to rest and recuperate, they're bound to do it well — and document the whole experience on Instagram. Brandon Maxwell jetted off to the north, taking in the sights in Maine, as did Martha Stewart, while model Liu Wen stayed a bit closer to home, venturing up to Storm King for one of its last weekends (and one of its best for leaf peeping). Taylor Swift invited her clan of BFFs to her Watch Hill, Rhode Island, estate, where they galavanted about her massive home. Others went south, to Tulum, or west, to Hawaii, in search of warmer, beachier pastures. These are the fashion insiders doing Thanksgiving their own way, whether it's escaping the city to a cozy small town or seeking out bright sun and tropical waves.
Maine
Brandon Maxwell and his dog, Stella Maxwell (not to be confused with that Stella Maxwell), flew north to coastal Maine; Martha Stewart likewise made Maine her destination, exploring Acadia National Park over the weekend.
Tulum, Mexico
Tulum is still one of the It destinations for models and designers no matter the time of year — just ask Jason Wu — and Ji Hye Park took advantage of the long weekend to get in some time in the sun.
Bali, Indonesia
Lindsay Lohan opted for some quiet time at a Bali resort in order to work on her forthcoming book. At least, that's how she told it on Instagram.
Mifflintown, Pennsylvania
Australian model Bridget Malcolm embraced Thanksgiving wholeheartedly, heading up to rural Mifflintown, Pennsylvania, to celebrate Turkey Day surrounded by some New England history.
Honolulu, Hawaii
Mariah Carey continues to prove she's the ultimate diva #goals with every move she makes — including a post-breakup Thanksgiving spent among the pineapples and pies of Hawaii.
Storm King Art Center, New Windsor, New York
Storm King is closing soon, but that's not stopping Liu Wen from taking advantage of the recent crisp, fall weather to see the leaves turn.
Carmel-By-The-Sea, California
"Sweetest place in the sweetest town to spend Thanksgiving!" actress January Jones wrote of the quaint L'Auberge Carmel in Carmel-By-The-Sea, California.
Watch Hill, Rhode Island
Taylor Swift brought Martha Hunt, Lily Donaldson, and a whole cadre of their friends up to Rhode Island for a wintry beach break — it's not quite Tulum, but it'll do.