Where to Shop in Copenhagen Right Now
The new boutiques and stylish mainstays worth a detour to Denmark's capital.
---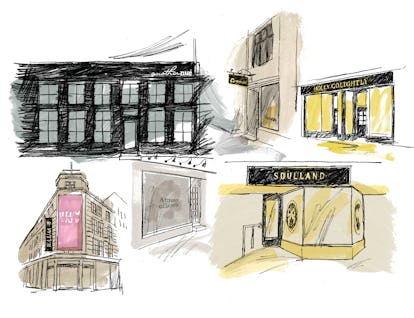 Illustrations by Jonny Ruzzo. Editor: Biel Parklee.
Copenhagen's shopping scene boasts a mix of affordable local brands, vintage treasures, and global luxury labels. Recently, the Scandinavian city added several new boutiques worth a detour, and some noteworthy new updates to mainstays (like a Prada flagship store coming this fall). Here, all the important shopping intel for the next time you're in the Danish capital.
Illum The high-end Copenhagen department store has been undergoing some major changes in the past year, with more on the way. Recently, they announced a new Prada flagship is slated to open in Illum's first floor in November, and there's also an Eataly set to open before the end of the year.
Another Nué The Nué Group owns several cool multibrand stores, including Nué and their online store nuecph.com, and a flagship for their brand Lovechild 1979, but Another Nué is the fashion crowd favorite.
Holly Golightly A longtime favorite of the style set, Holly Golighty boasts an excellent collection of high-end brands as well as a stunning interior space.
Armoire Officielle The Scandinavian contemporary fashion brand for men and women opened its new flagship store in the heart of Copenhagen during Fashion Week earlier this month. Make sure to stop by their shop at Kirkestræde 3 for their effortless, chic basics.
Soulland Danish fashion brand Soulland, helmed by Silas Adler and partner Jacob Kampp Berliner, just launched its Nike SB skate collaboration this month. Their store on the corner of Gl. Kongevej and Tullinsgade is a must if you are in the Vesterbro/Fredriksberg area, one of Copenhagen's hippest neighborhoods at the momen).
Resecond Vintage lovers will want to stop at this small boutique on Jægersborggade, which is bustling with some of the city's coolest restaurants and stores. You can download the store's iPhone app to do clothing swaps (for the store's small monthly fee), and in return you'll be getting gems from top designers around the world.
Watch W's most popular videos here: