White Ankle Boots Are the Must-Have Item of the Season
From Bella Hadid to Kendall Jenner, here's why white ankle boots are the latest trending accessory.
---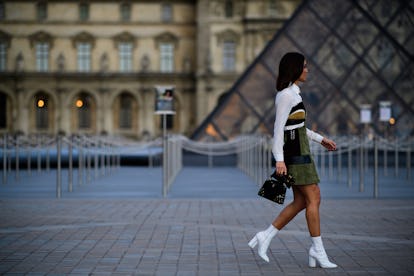 Photo by Adam Katz Sinding
Believe it or not, when Nancy Sinatra sang the song, "These Boots Are Made for Walkin'" in 1966, she was talking about white boots. And 51 years later, a version of them are still a-walkin', from the runways to the streets. You can find them at Balenciaga, Vetements, or Céline, plus on models and street style stars like Bella Hadid and Kendall Jenner. As evidenced by they're staying power, they'll always be the perfect go-to boot to take you from winter to spring.
The original white, low-heeled, mid-calf go-go boots were introduced by designer André Courrèges in 1964, and later called the Courrèges boot. The term go-go, however, is derived from the French expression à gogo, meaning "in abundance," which is in turn derived from the ancient French word la gogue for "joy." It's also derived from the slang term "go", which was perpetuated around the same time to mean "all the rage." So, in sum, "go-go boot" stands for some amalgamation of the three: never-ending fun.
Interestingly, the white boot that Courreges popularized in the 1960s coincided with his futuristic "Space Age" look, which we're seeing once again on the runways—from Karl Lagerfeld's space ship to Gucci's post-apocalyptic green house. Back then, it was a trend that emerged with Buzz Aldrin landing on the moon and a growing curiosity regarding the future. (NASA even invited the designer to Cape Canaveral.) But today, space carries a different promise, as the future Courreges saw isn't so wonderful in reality. For designers now, Space Age style is about escaping the earth.
Of course, when Bella Hadid and Kendall Jenner step out in their white ankle boots, they're likely not making a statement about global warming or the future of fashion. But hey–they look cool; they're the perfect transitional accessory and they go with everything. And there's something to be said for standing out amongst other earthlings.
Related: Shop the look below with 10 ways to style white ankle boots.
10 Pairs of Bright White Boots to Buy Now
Bella Hadid is spotted in Paris, seen wearing Stuart Weitzman boots.

Getty Images.
Celine boots, $1,190, at Celine, New York, 212.535.3703.
Butterflies of Paris: How Street Style Stars Do Paris Fashion Week