Straight Shooting with Shailene Woodley
The actress steals the show at the New York screening of White Bird in a Blizzard.
---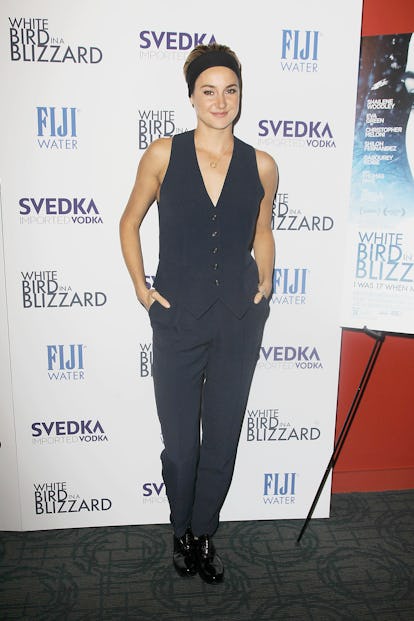 On Wednesday night, Fiji Water and Svedka Vodka presented a special screening of director Gregg Araki's new psychological drama, White Bird in a Blizzard, at the Landmark Sunshine Theater on New York's Lower East Side. The star of the film, Shailene Woodley, along with her cast mates Shiloh Fernandez and Mark Indelicato, braved the less-than-perfect weather to introduce the latest creation from the notable indie director. Wearing a backless navy suit from Temperly London, Woodley gracefully dodged questions from restless fans, who eagerly pounced on the fashion choices of the evening's only A-lister. "I think I am wearing a shirt. It's a vest? I don't know enough about fashion, man." After the screening of his haunting new flick, Araki and Woodley lead the charge further downtown to the after-party at The 303 club, where guests like Jessica Joffe and Ellen von Unwerth mingled with the young stars and swayed to DJ Salinger's '80s-centric playlist. "The thing about doing small movies like this is that nobody is making money, no one is there for the glitz and the glamour," Woodley said of White Bird in a Blizzard, which was shot in only 19 days. "There is something so beautiful about realizing you don't need all the excess." Based on their resounding applause, the audience concurred.