"White Girl," a Film Attacked For Dangerous Depictions of Youth, Now Being Promoted With Fake NYU IDs
Continuing its campaign to be the film most hated by parents in 2016.
---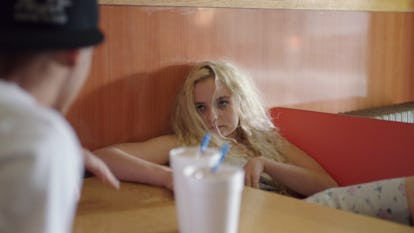 Ever since its polarizing premiere at the Sundance Film Festival in January, White Girl has been a movie so alive to discussion it's practically hovering in the particles of air around you, always waiting for a charge. Directed by Elizabeth Wood and starring Morgan Saylor and India Menuez, the film follows a group of college freshmen set loose in New York City. The title and controversial subject matter (the privileged white heroines become entangled with a Puerto Rican drug dealer named Blue) have elicited both moral hysteria and more measured, positive reviews.
The film's content and its air of cool practically sells itself, but its promotion has been particularly shrewd. In fact, it has leaned directly into the controversy. This week, fake college ID cards with the words "White Girl" below a picture of Saylor (herself still an undergraduate IRL, at the University of Chicago) have been spotted around the city. "We actually made them for NYU, the New School, Columbia, and Hunter, 'cause these white girls on an adventure are everywhere," said Wood.
Inventive guerrilla marketing has been the domain of indie films with tiny budgets since the slow-boil hype produced for 1999's The Blair Witch Project, which included a mysterious website, message board plants, and spookily low-fi trailers. On a much smaller scale, Wood, her production company Bank Street Films (whose team came up with the idea on a conference call), and White Girl's publicists have managed to evoke in one object the peculiar head rush of starting college in downtown Manhattan.
"I think that [the fake IDs] are smart marketing!" said one NYU undergraduate. "Especially because it's 'Welcome Week,' so walking around you really do see all these lost ID cards. I've seen some people be insulted but, like, 'Why?' It's just a clever little trick to get all these snarky NYU kids to talk up your movie for free. It's only trying hard because it's capitalism."
From the mouths of babes.
Meet the white girls of White Girl:
The White Girls Behind the Film "White Girl"
Watch W's most popular videos here: