The Millenial Biennial: Meet the 20-Something Artists of the 2017 Whitney Biennial
Get to know up-and-comers like institutional critics Casey Gollan and Victoria Sobel, who met protesting in art school, and the enigma Puppies Puppies.
---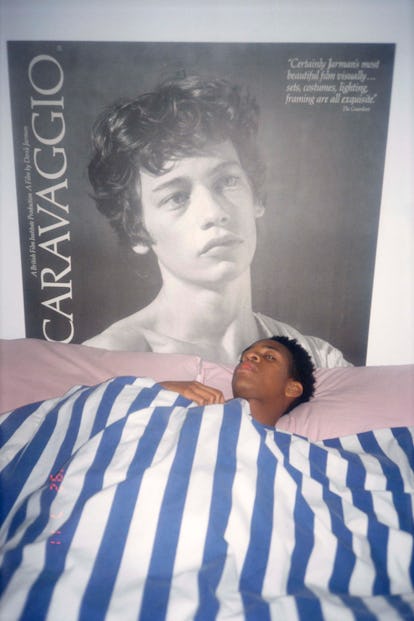 It hasn't even opened to the public yet, but there's a lot to talk about with the 2017 Whitney Biennial: It's the first in the museum's new downtown, Renzo Piano-designed home, the first in 20 years to coincide with a presidential election, and, thanks to its 30-something curators Christopher Y. Lew and Mia Locks, one of the riskiest and most in-touch editions of the survey yet. With young curators usually comes a young crop of emerging talent—and these six artists and collectives really do stand out among the 63 included in the survey. Meet the 20-somethings making their mark alongside heavy hitters like Larry Bell and Dana Schutz before the show opens on Friday, here.
Puppies Puppies, b. 1989
Though the biennial has brought certain pieces of information regarding the artist Puppies Puppies to light—the moniker belongs to a single person, who was born in Dallas in 1989 and now lives in Roswell, New Mexico—the art-world enigma has managed to keep things largely under the wraps. Not that they've been entirely out of sight: earlier this year, at Art LA Contemporary, the artist showed up in a head-to-toe red bodysuit and laid on their backside on a matching red carpet outside. For the biennial, they also took things outdoors, installing an image of Sauron's eye on the exterior of a building on the street outside the museum, a hint of their darker pieces inside, like sculptures composed of the triggers of machine guns, as well as, in the stairwell, a performer dressed as the Statue of Liberty standing sentinel en plein air.
Torey Thornton, b. 1990
Nail polish, mattresses, roadside rocks, and enormous industrial saw blades are just some of the unexpected materials the Brooklyn-based artist Torey Thornton has turned to recently for his signature blend of sculpture and painting. Born in Macon, Georgia, Thornton graduated from Cooper Union in 2012 and has shown his work in group exhibitions at the likes of the Studio Museum—and stuck to the same collage-like approach to tackle themes like gender and intimacy ever since.
Cameron Rowland, b. 1988
Born in Philadelphia, Cameron Rowland headed up to Wesleyan University to study studio art before moving to Queens, which is also where he ended up taking part in "Greater New York," MoMA PS1's city-spanning survey show, alongside local heavyweights like Lorna Simpson and Collier Schorr. In line with a critically adored solo exhibition at Artists Space, where he did a deep dive into the ills of prison labor, his biennial project involved having the Whitney Museum agree to Rowland's request to invest $25,000 in a Social Impact Bond, or a "Pay for Success" contract that arranges for the government to support social-service organizations. The document of their compliance—a framed print-out of a wire transfer—functions as the physical manifestation of his work.
Casey Gollan, b. 1991, and Victoria Sobel, b. 1990
Casey Gollan and Victoria Sobel didn't just meet in art school; they also occupied and organized resistance against the very art school in which they met. Both were part of the original student force behind Free Cooper Union, the movement to keep New York's storied Cooper Union for the Advancement of Science and Art tuition-free, often through renegade moves like sit-ins inside the president's office. Since graduating, the pair has only kept up with their institutional critique—an example can be seen from the street outside the Whitney, thanks to their installation in one of the museum's windows, which they've covered with inspirational text that reads facing out, rather than in.
Porpentine Charity Heartscape, b. 1987
Porpentine Charity Heartscape may describe herself as a "dead swamp milf," but the Oakland-based artist is also a video game designer and a writer, who brought together both of those skills for an internet café of sorts in the biennial, where visitors can play Heartscape's latest design: a choose-your-own-adventure game where users are tasked with recovering from childhood trauma by performing a series of tasks. In essence, it's a mini-retrospective of Heartscape's pared-down games that she's made with the open-source program Twine—an examination of power, narrative tropes, and mental illness that echoes the themes of her past creations.
Julien Nguyen, b. 1990
Given that this is the museum's most politically charged biennial in decades, it's hardly a surprise that the Washington, D.C.-born painter Julien Nguyen's canvases depicting front pages of the New York Times also feature both eerie di Chirico landscapes and Hieronymus Bosch-like fantasy figures that seem to foreshadow the apocalypse. Nguyen, though, has always been far-reaching with his references: the artist, who studied painting at the Rhode Island School of Design, often mixes inspirations like Renaissance architecture with modern-day politicians. These days, though, Nguyen can be found in Los Angeles, where he now keeps his studio and shows in galleries like Freedman Fitzpatrick, which, last fall, hosted his election season solo exhibition, "Superpredators."
See Kendall Jenner, Performance Artist, Channel Icons Like Marina Abramovic and Yoko Ono: