Meet the Kids in the Hall at the Whitney Biennial
Ajay Kurian's steel-and-resin epoxy creations are breaking for recess in the museum's stairwell, to the delight of Biennial instagrammers.
---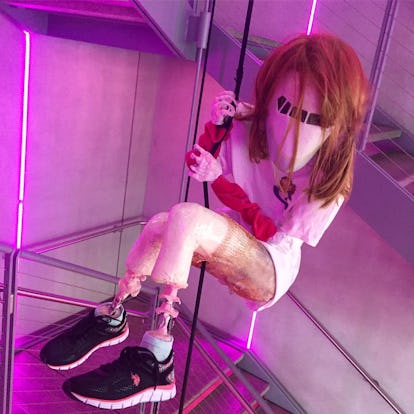 From the handful of 20-something artists that snuck into the latest Whitney Biennial to the 30-something curators that organized it, the Whitney Museum suddenly seems awash in youth (not to mention it's the first biennial in its brand-new building). That's especially true now that the show has opened to the public, revealing a crew of kids camped out directly at its center—a set of eerie, Nikes-wearing figures created by the Brooklyn-based artist Ajay Kurian, last seen hanging (literally) in the main stairwell on a series of wires that stretch from the museum's basement to its fifth floor.
Made of steel, epoxy resin, and polystyrene foam, and altogether titled Childermass, some of these youth sculptures seem downright diabolical, with features like metal claws for hands and a t-shirt emblazoned with the questionable slogan "ALL HOLES MATTER." But other than a giant figure with underwear pulled woefully over his head, as if he had been bullied, most appear to be simply misbehaving, like a disco ball-headed one or a glitzy chameleon with retroreflectors for eyes that seems created to show off its fur stole. Kurian may have intended the latter as "simultaneously open, changeable, and tyrannical"—as an allegory for today's political climate—but it's actually the most delightful of the bunch, especially for all the Instagrammers out there.