Whitney Houston's Friends and Family Share Previously Unseen Stories in Whitney Trailer
The documentary will debut in July 2018.
---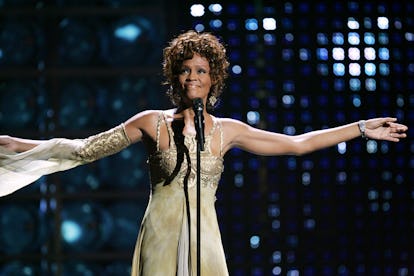 Tony Barson/WireImage/Getty Images
"People think it's so damn easy…but it's not." So says Whitney Houston in a snippet of archival footage featured in the first trailer for Whitney, the upcoming documentary about the pop star's life in and out of the spotlight. Houston's quote, delivered as she lounges on a couch in a bathrobe and stares blankly ahead, seems to serve as the thesis statement for the film, in which many of Houston's friends, family members, and colleagues speak candidly about the parts of Houston's life, leading up to her 2012 death by accidental drowning, that her millions of fans never saw.
The trailer, which made its debut Friday morning, gives a preview of these revealing interviews, which were conducted by the filmmakers with everyone from former husband Bobby Brown to record producer Clive Davis and her The Bodyguard costar Kevin Costner. Spliced between the interviews are "previously unreleased recordings, rare never-before-seen footage and live performances recorded by Houston at various stages her life, as well as original studio recordings and a cappellas of some of the late singer's greatest hits," according to a March 2018 statement from Houston's estate, which provided much of the documentary's footage, per Rolling Stone.
Whitney, which will premiere on July 6 in the U.S., was directed by Kevin Macdonald, who has previously helmed documentaries about Bob Marley and Mick Jagger and won an Academy Award in 2000 for his film about the terrorist attack during the 1972 Munich Olympics. "I approached Whitney's life like a mystery story; why did someone with so much raw talent and beauty self-destruct so publicly and painfully?" Macdonald said in a statement to Variety earlier this year. "I was lucky enough to have the support of Pat Houston and the Whitney Houston estate in this quest. They entrusted me with the 'keys to the vault' while giving me complete freedom to follow the story wherever it went. At its heart, Whitney is an intimate family story that reveals a new side to a woman that even her most die-hard fans never knew."
The Whitney Houston Biennial Is Not Messing Around
Kira Nam Greene, "Grab It By the Papaya," 2016.

Kira Nam Greene
Haley Hughes, "Amerikkka," 2017.

Haley Hughes
Nicole Maloof, "I Drink to Make Them Go Away," 2016.

Nicole Maloof
Marzena Abrahamik, "Jade," 2016.

Marzena Abrahamik
Cat Del Buono, still from "Tears," 2015.

Cat Del Buono
Elizabeth Bick, "Street Ballet," 2016.

Elizabeth Bick
Qinza Najm, "Groom Hunter," 2015.

Qinza Najm
Jenny Kemp, "Dream Team," 2016.

Jenny Kemp
Haley Hughes, "Dead Fish Flood," 2016.

Haley Hughes
Beka Venezia, "Women's March on Washington," 2017.

Beka Venezia
Maxi Cohen, "Area," 1985.

Maxi Cohen
Victoria Sambunaris, "Specimen 40," 2015.

© Gerard Franciosa
Ingrid Baars, "Lucrezia," 2015.

Ingrid Baars
Natalee Cayton, "Caddoan Whalebird," 2017.

Natalee Cayton
Haley Hughes, "Standing Rock," 2017.

Haley Hughes
Patrice Helmar, "The Arctic," 2016.

Patrice Helmar
Sarah Alice Moran, "Sweater Eater," 2017.

Sarah Alice Moran
Saira McLaren, "Untitled," 2017.

Saira McLaren
Maureen St. Vincent, "Rock, Tit, Lipstick," 2016.

Maureen St. Vincent