For Salman Toor, Art Functions as an Anti-Anxiety Practice
The New York-based artist's works feel more relevant now than ever, and will be part of his first solo show at The Whitney museum, How Will I Know.
---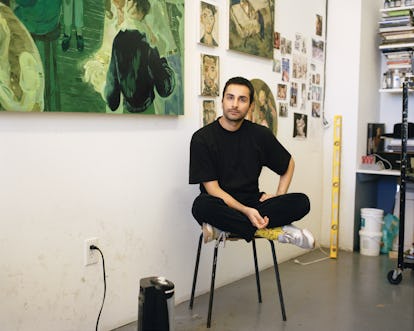 Salman Toor in his studio. Photograph by Justin Leveritt for W Magazine.
In the artist Salman Toor's hallway-size studio, located on a side street in Brooklyn's Bushwick neighborhood, there are at least 15 large paintings hung up on the walls, all done in his signature style. They are mostly portraits of people, usually in groups, surrounded by swirling concentric lines and the ephemera of everyday life (phones, chargers, food and drinks), rendered in muted greens and browns with a pop of pink or yellow. Their faces convey strong emotions, whether elated, dazed or stressed, and body hair is visible on their arms and legs. But there's one tiny painting that's different from the rest, hung higher than most of its neighbors. It depicts two people—his father and his aunt—sitting at a table in the front yard of their family home in Lahore, Pakistan, having tea.
"That's a personal painting, and I'm very attached to it, which is why I've put it up," Toor, 36, said on a recent morning, standing next to a rack filled with tubes of paint, brushes in Ball jars, and books. "I remembered the old house that I grew up in, and I wanted to paint it for about a year. I was revisiting this memory that I used every now and then, if I was very anxious, to calm down. Weirdly, for some reason, I use that image, among other images, to relax myself."
Toor knows all about anxiety—it's at the very center of his work. He paints people, like himself, who stand at the crux of two societies: one being developing countries; and the other, the "developed" West, he said. (The artist spent the first 14 years of his life growing up in Lahore before moving to suburban Ohio.) He portrays the Western world's fears of immigrants, the stress of New York City, a post-9/11 America.
Toor's work has gained traction over the past few years, with group shows at Galerie Perrotin and solo exhibitions at Nature Morte in New Delhi and Aicon Gallery in New York. But never before have his pieces—which some art critics have compared to a young Vincent van Gogh's style—been featured in a major institution. Now, Toor is experiencing a massive moment: for the first time, his works will be displayed inside a major American museum. Toor's solo show, How Will I Know, is opening soon at the Whitney Museum of American Art—it was originally scheduled to begin on March 20, but that was before the coronavirus arrived in New York, and the museum has since closed its doors indefinitely, waiting out the pandemic with the rest of the world. Toor's exhibition will open when things return to normal.
It feels appropriate, given the current state of affairs, that Toor's tiny painting of his family members in the garden stands out as a method of de-stressing. He said that he must be completely calm and isolated to create a painting—that's when he's happy, comfortable, and has what he calls "Play-Doh time."
"Not every painting is fun to do, because I can reach a corner with a painting and when I go home, I'm still thinking about it, and I'm really frustrated," he said. "That makes the works that come easily very special. Whenever that happens—maybe every three paintings, that happens—it just is a, whoosh! And it's done. It's like, oh wow, I just feel like a genius, I'm so special. I can do anything!"
In September 2019, Whitney curators Ambika Trasi and Christopher Lew visited Toor's studio to chat with him. The artist figured they just wanted to buy a painting.
"Ambika had been following my work for a while," Toor said. "I'd see her at different openings. They came to my group show at Perrotin gallery. We kept meeting. When they came to the studio, we talked for 20 minutes, just kind of chatting. Then they were like, 'Well, we have something special to talk to you about.' Obviously, a show is not something I was expecting at all. I thought they were joking about filling up a whole floor with work. They were like, 'The catch is, it's gonna have to be in nine months.' I usually like to stay on the safer side because I'm just afraid that I won't like everything that I do. But I was like, 'Of course, I'll do it, I'll work something out.' It was completely terrifying at first, but I had a plan within a week about what I wanted."
The result was a group of semi-autobiographical works that moved between the extreme freedom of life in New York, where Toor has lived for a decade, and those tinged with memories of growing up in Pakistan. Most, if not all, depict the lives of queer, brown people, Toor said. Their looks might be based on friends of his, people he sees, even himself—but the artist stressed that he doesn't ever draw real people. He just imagines them.
"The reason that I do that is, I didn't do that for a long time," Toor said, adding that before moving to New York and getting his masters degree at The Pratt Institute, he went to school in the sleepy town of Delaware, Ohio. There, he obsessed over the work of whom he refers to as "the masters": Baroque artist Anthony Van Dyck, canvas and fresco painter Bernardo Strozzi, and Rococo icon John-Antoine Watteau. "I really envisioned that I was going to spend my life doing that. There are lots of people who do that, and they can be very good, but really—you can just do that and die. You could never be as good as [Diego] Velázquez, and even if you are, it was done."
Lately, he's gone back to a number of images from his childhood—whether to soothe him or give him inspiration for new paintings. There are pictures tacked up on the wall, directly below the painting of his father and aunt—Pakistani and Indian soap operas from the 1970s, photographs of friends's parents when they were at college, images from the 17th century. They're grouped in a little circle together, off to the side from the paintings that will appear in How Will I Know.
"I was excited to execute these number of paintings because I knew what they were going to be before I even started. They kept changing in my head until I actually did them, and now they're solid and still," Toor said. "That was something that I had to struggle with a little bit. I had to forget the self-consciousness that comes with something like this. It's totally essential that they come from a playful place, which is free of consequences. A lot of these paintings, when they're not super sad, they're a way of summoning happiness. Summoning the interiors that make me feel safe. And warm. And summoning the spirits of my friends and family."
Related: In the Studio with Collina Strada Designer Hillary Taymour