The Mature Person's Guide to Understanding Olivia Rodrigo
If you've had your own drivers license for 10 years, you might need some help.
---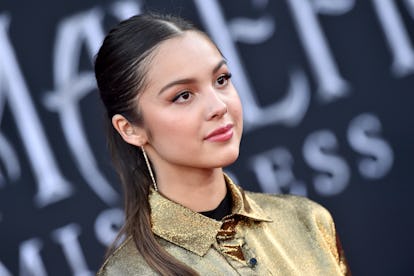 Photo by Axelle/Bauer-Griffin/FilmMagic
One day you're a fully grown adult trying to figure the latest $600 stimulus check into your budget, and the next you are blindsided by someone you have never heard of named Olivia Rodrigo suddenly having the biggest song in the world called "Drivers License." You hear she's the "next Taylor Swift," but you still think of the current one as a scrappy, young talent. How did this happen? You're an adult, but you're not that old. You've been on TikTok. You have a general idea of the rumors surrounding Zendaya's dating life. You're not immersed in it, but you thought you had a sense of who the kids are into. Timothée Chalamet and Harry Styles, right? How could the impending superstardom of Olivia Rodrigo have snuck up behind you without warning?
Well, at the very least, there's a simple and comfortingly familiar reason for Rodrigo's fame: she's a Disney Channel star. Like Miley, Hilary, Zendaya, and Selena before her (and, technically, Britney and Christina too) she was nursed in the environs of Mickey Mouse's tween-friendly cable channel. Tween culture these days may have evolved, but not to the point where they don't watch Disney. You already have the tools to understand how Rodrigo became famous, no new app download required.
But that doesn't mean Rodrigo's journey, nor her particular talents, are exactly the same as the other Disney kids like Bella Thorne or Vanessa Hudgens. Here, a quick guide to understanding who exactly Rodrigo is.
Her First Major Role Was as American Girl's Version of Emily in Paris
Remember American Girl dolls? Yeah, they're still around and occasionally put out direct-to-DVD family films. In 2015, Rodrigo, who was born in Temecula, California and is of partial Filipino heritage, was plucked from obscurity to star in one after showing an interest in acting in school plays and appearing in an Old Navy commercial. An American Girl: Grace Stirs Up Success co-starred Oscar nominee Virginia Madsen, and is about a girl (an American girl, naturally) who suddenly has to go to Paris to help save her grandparents' bakery through a cooking competition. It was kind of like Emily in Paris before Emily in Paris existed. Look at that box cover. The fashion choices are basically the same.
Disney Channel Cast Her in Its Take on YouTube Culture Soon After
Back in the day, Disney's biggest competition for young eyes were Nickelodeon and MTV's afternoon block. These days, they're also competing with apps and social networks. Disney, though, doesn't back down, and leaned in to its audience's affinity for YouTube stars with the show Bizaardvark. Rodrigo was cast to star as one of two young vloggers whose videos go viral and eventually work out of the same studio as other famous video makers (though in the series, the platform is called Vuuugle, not YouTube). Controversial YouTuber Jake Paul even co-starred in early episodes of the series before the word "controversial" was permanently attached to his de facto descriptor. The series didn't cross over into the consciousness of childless adults, but it tapped into the same "ordinary girl who is also sort of famous" fantasy that helped propel Hannah Montana to icon status. It was a hit by the channel's standards and was a regular part of their programming from 2016 to 2019, making Rodrigo a known face among the tween set.
She Then Made the Jump to Disney+ With The High School Musical Reboot
Disney sensed star power in Rodrigo, and almost as soon as Bizaardvark came to an end they signed her up to star in High School Musical: The Musical: The Series on Disney+. Turns out there's more than Baby Yoda on that app.
As the title would suggest, the series is a meta take on the franchise that made Zac Efron a star. It follows a high school drama program as they stage their rendition of the actual High School Musical musical. Rodrigo stars as Nini Salazar-Roberts who, in turn, is picked to play the part of Gabriella Montez (played by Vanessa Hudgens in the original). Do you follow? It's sort of like that Nicole Kidman-starring reboot of Bewitched where Nicole plays an actual witch who stars in a reboot of the Bewitched series. You're a mature person—you probably saw it on an airplane or something.
Anyway, the show is a solid hit, and actual mainstream TV critics praised Rodrigo's performance and charisma in particular in their reviews.
Interestingly, it's also more mature than your typical Disney Channel fare. Rodrigo's character is raised by two moms, and two of the kids in the drama program are also openly gay. There's a bleeped-out curse word in the official trailer. There are cut scenes in the style of The Office. A lot of the jokes are actually funny to people who have long since completed Algebra II. Millennials who enjoyed the original are very much invited to watch this take, too. It's not quite Glee, but it's not exactly Adventures of the Gummy Bears either.
Disney Gave Rodrigo an Early Chance to Show Off Her Songwriting Talent
Almost any Disney kid who can carry half a tune is given a shot at a music career; it's practically perfunctory at this point. Very few of those kids, though, actually make it beyond Radio Disney playlists. Likely because while they're great little hoofers and belters, not all of them have actual creative and artistic inclinations. Rodrigo, however, is different, and the Disney Industrial Complex noticed that early on.
Rodrigo posted an excerpt of a song she had written on her Instagram page. A producer of the High School Musical series heard it, and thought a song that sort of sounded like that might make sense for the series. The story goes that, eventually, they realized they should just let Rodrigo herself write it (to put it in perspective: Zac Efron does not have any writing credits on the HSM soundtracks).
The result was "All I Want," on which Rodrigo has the sole writing credit. She had no help—it was like that time Gwen Stefani wrote "Simple Kind of Life" without any of the other guys in No Doubt.
The song was a hit among its intended audience, and actually snuck onto the Billboard Hot 100 at number 90 despite little promotion outside of the show. It's since gone gold. She then went on to co-write the soundtrack song "Just for a Moment" with co-star Joshua Bassett (the Efron to her Hudgens).
Then Came a Record Deal and "Drivers License"
Based on the success of "All I Want," Rodrigo signed a record deal with Interscope in 2020 and released her official debut single "Drivers License" on January 8th.
The song certainly doesn't sound like your typical tweeny pop. It's more of a soaring power pop ballad filled with teen angst. Perhaps playing against expectations helped Rodgrio, because suddenly, the song was everywhere. It broke numerous Spotify records and debuted on the Billboard Hot 100 at no. 1. She's now only one of four artists born in the 2000s to ever have a no. 1 song.
While the song is a hit on TikTok, you could also just as easily imagine it playing in a Banana Republic fitting room. Its lyrics zero in on teenage heartbreak, but its sound is timeless. In other words, it's only a matter of time until your own mother asks you to explain who "that little 'Drivers License' song girl is."
You Might Know Her Co-Producer
Rodrigo collaborated with producer and writer Dan Nigro on the project. Recently, he's become an emerging power player in the sad Gen-Z music scene. He's the main collaborator of softboy icon Conan Gray (don't worry, we can explain who he is here).
Before all of that, though, Nigro was a member of Aughts indie band As Tall As Lions. In between, he also collaborated with several pop stars and indie pop icons like Carly Rae Jepsen, Kylie Minogue, Sky Ferreira, and Caroline Polachek.
Yes, the same guy who co-wrote "Drivers License" also co-wrote and co-produced 2019's verified Bushwick hipster bop "So Hot You're Hurting My Feelings."
There's Gossipy Backstory to the Song's Success, Of Course…
Rodrigo is still just 17, and it feels gross to delve too deeply into her personal life. Yet, the rumors of a Disney Channel love triangle may be fueling some of the song's success.
Rodrigo may or may not have dated her HSM co-star Joshua Bassett. They may or may not have broken up. Bassett then may or may not have started dating fellow Disney star Sabrina Carpenter (who definitely is the niece of the woman who voices Bart Simpson).
Thus, "Drivers License" is possibly informed by this drama, but Rodrigo refuses to really comment on the mater—and really, who cares? Taylor Swift built an entire career off of speculation about whether her lyrics were about Joe Jonas or Taylor Lautner.
"I totally understand people's curiosity with the specifics of who the song's about and what it's about, but to me, that's really the least important part of the song," Rodrigo told Billboard. "It's resonating with people because of how emotional it is, and I think everything else is not important."
Since the song's release both Bassett and Carpenter have put out what some fans consider response songs. Bassett's new ditty "Lie Lie Lie" is about the breakdown of a relationship from another perspective, but his fans point out that it was written two years ago, long before this drama.
The lyrics to Carpenter's new song "Skin," however, leaves little doubt it's about the controversy. It's literally about how someone has written a song that mentions her, but she's not bothered by it, because she still won the guy in the end. The irony, of course, is that rushing to write and release a song is the exact opposite of being not bothered.
Unlike Taylor Swift, Rodrigo Has Always Been Openly Political
Swift, a hero of Rodrigo's, famously took her time before opening up about her politics, but Rodrigo has no such worries. On Instagram, she's not afraid to post about Black Lives Matter, LGBTQ+ history, and the Chinese government's prosecution of Uighur Muslims. She also lent her burgeoning star power to the Joe Biden campaign by going Live on Instagram with Biden's granddaughter Maisy.
And Her Style?
Rodrigo's red carpet style is already promising based on her Disney days alone, but what struck us while browsing her Instagram is her penchant for vintage '80s and '90s band shirts. She really, really seems to like The Cute, Siouxsie and the Banshees, Weezer, Nirvana, and The Smiths.
So, What's Next For Olivia?
A second season of the High School Musical series is expected later this year, and future seasons wouldn't be a surprise.
Obviously, we can expect either an album or an EP at some point in the future, but no details have been released. According to Billboard, Rodrigo already has other songs written and ready to go, but "Drivers License" stood apart as the obvious first single.