Unraveling the Mystery of Sadie Sink, Stranger Things' Infatuating Skater Girl Max In Season 2
Meet 15-year-old Sadie Sink, who plays the newcomer Max in Stranger Things 2 on Netflix.
---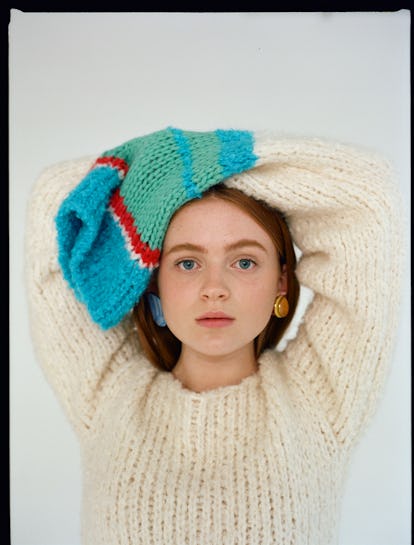 Photographed by Katie Mccurdy, styled by Caroline Grosso
Given the cult around Millie Bobby Brown's Eleven, the tortured tween with a shaved head who disappeared at the end of Stranger Things season one, it's only natural that season two, which dropped at midnight PST on Netflix, begins with the four boys obsessively tracking down a girl.
But it isn't Eleven they're looking for. In fact, she's out-of-sight-out-of-mind when a mysterious, flame-haired new cool girl shows up to the small town of Hawkins. The new arrival turns heads the moment she skateboards out of her stepbrother Billy's car and into school. Her name is Max—Mad Max, when she's obliterating the boys' top scores at the arcade—and the only thing anyone can be certain about with her, besides the fact that she can really game and really skate, is that you absolutely cannot call her Maxine.
Max remains a mystery until two-thirds of a way through the season—both for viewers and for the 15-year-old actress who plays her, Sadie Sink. Until she found out Max's backstory when she finally got the script for episode six, Sink was just as much in the dark as everyone else—maybe more so, since she's never seen Mad Max, or pretty much any movies from the '80s, including E.T. and the Breakfast Club. (To her, Winona Ryder isn't Veronica from Heathers or Lydia from Beetlejuice. She's Winona, from work.)
Sink also doesn't play video games (except Pac-Man), and didn't even know how to skateboard until she found out she got the part around this time last year. (The very next day, Netflix sent over a skateboard—and a heads up that an instructor would soon be arriving to her home in New Jersey to help her through three-hour-a-day practices.)
None of that really matters, though, because the thing that Sink already had is Max's defining quality: "I don't really give a crap what you say about me, and Max doesn't either," she said matter-of-factly on a Sunday afternoon, right before she had to head back to Jersey to finish up a project for her high school French class. Sink seemed unperturbed about being the new girl in school on Stranger Things. "I didn't feel out of place whatsoever," she said of her late arrival to the cast.
Sadie Sink Explains the Biggest Trends of the '80s:
That might be because Sink's red hair has made her used to standing out. When she was seven, her mother finally got so fed up with her and her brother recreating High School Musical in their living room that she sent them off to acting classes in nearby Houston, at which point Sink began what was essentially an Annie residency; she played the famously redheaded starring role "like, five times," Sink recalled, sounding a little exasperated.
The last time, though, was on Broadway. Her family relocated from Texas for Jersey to accommodate their children's increasingly busy schedules (her brother Mitchell is also an actor). For Sink, that included appearing in the Emmy-winning series The Americans while starring in the play. At that point, she'd realized that film was "where [she] needed to be," but not before going out with a bang onstage: Sink was just 13 when she found herself being dragged onto the red carpet at the Tony Awards by Helen Mirren, after she'd costarred with her in The Audience on Broadway.
Mirren isn't the only one who's already taken a liking to Sink. She got so close with Woody Harrelson—and particularly his daughter Makani, whom she had many a sleepover with while filming the recent drama The Glass Castle—that she decided, like Harrelson and his family, to go vegan. A year later, she said it's still "honestly one of the best decisions I've ever made." (She recently went to Baltimore to see David Blaine with the Harrelson clan.) When her iced coffee with non-dairy milk arrived in the photo studio for this shoot, I started to ask her about an old interview she gave to Broadway.com, in which she confessed her obsession with chicken and waffles. Sink interrupted so excitedly that she accidentally spit out a piece of her kale salad.
"That was the one thing that was so hard for me when I first went vegetarian," she explained after apologizing. Until, that is, she discovered a vegan version of her favorite dish in Atlanta, where they shot Stranger Things 2. "I. Lost. It," she recalled.
Sink has plenty of memories of goofing off in class and going to Six Flags with the rest of the cast, and insists that she "love[s] all of them equally." But when she wasn't at Café Sunflower for the vegan chicken and waffles or skateboarding around set, she could be found constantly having sleepovers with Millie Bobby Brown, whom she immediately had a special bond with "because we're the only the girls." You only need to watch their Pitch Perfect duets to see their bond.
The pair even took a much Instagrammed (and sponsored) trip to Cabo together this summer, where they "went to the beach every day," Sink reminisced cheerily. "Even though you can't swim in the beaches in Cabo—there are sharks and the undertow is crazy, so no thank you."
Sink, for her part, has decided to take a step back from social media ever since the news came out that she'd be joining the cast, which brought with it a barrage of Instagram comments that redheads weren't tough enough to play tomboys, and that Sink's Max would ruin the show by splitting up Mike and Eleven.
"It was funny, but at the same time it was like, Come on, guys. You need to learn how to separate a character from the actress," Sink said. This actress, though, is as tough and interesting as her character.
Related: Millie Bobby Brown on the Aftermath of Stranger Things: "My Whole Life Changed"