Who Will Actually Dress Melania Trump for the Inaugural? Designer Calvin Klein is Latest to Raise His Hand
Only a handful of designers have admitted they're willing to dress the First Lady to be and today Calvin Klein, who doesn't actually have a label anymore, threw his hat into the ring.
---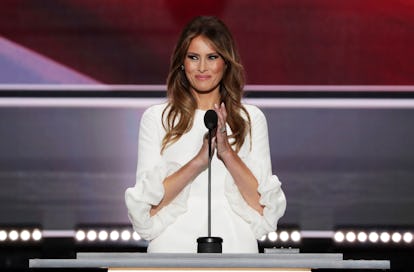 Alex Wong/Getty Images
Who will dress Melania Trump for the inaugural ball?
The question of who will dress an incoming First Lady, both at the various inaugural balls and in the future, is one that usually concerns women's magazines and fashion trades. But like much having to do with Donald Trump's transition, Melania Trump's wardrobe has drawn an unusual share of controversy and handwringing from the fashion crowd, with designers as varied as Sophie Theallet and Tommy Hilfiger staking diametrically opposed positions.
Well, now you can throw Calvin Klein's hat into the ring.
The designer, who has not regularly designed since leaving his namesake brand more than a decade ago, was asked by TMZ whether he'd take the job to dress the future First Lady for the ball if he "got the call." Klein, who seemed bemused by the question, wasn't shy about his affirmative response. "Of course I would," he said.
Despite the casualness of Klein's response, his answer is a highly divisive one for the fashion industry, with some designers taking the stance that to dress Trump would be to endorse her husband.
Sophie Theallet, a designer who has frequently dressed Michelle Obama, wrote an open letter about the need for designers to disavow dressing Trump, with Tom Ford, Derek Lam, and Marc Jacobs all also giving the prospect a hard pass.
Meanwhile, Klein is not alone in his willingness to work with any and all First Ladies. Tommy Hilfiger, who argued that people shouldn't "become political about it," as well as Thom Browne and Diane von Furstenberg, are some of the designers who say they'd have no problem with it.
The question has become something of a flashpoint issue for those interested in the political power of fashion, particularly as Michelle Obama became an advocate for American designers throughout her eight years as First Lady.
While much of the fashion industry's resistance is obvious, given the overlap between its demographic and those made most vulnerable by a Donald Trump presidency, it's clear that the question is not a straightforward one of political alignments. As New York magazine recently pointed out, Klein is a Democrat who donated $43,000 to Hillary Clinton's campaign and his namesake label, which has had different creative directors since his departure, has dressed Obama in the past.
Pragmatic though it may be, lein's stance will undoubtedly come as a disappointment for those looking to avoid the normalization of a presidency that's anything but.