Whoopi Goldberg, Curator, Has a Pragmatic Approach to Vetements
She just conquered fashion, now she's taking on the art world. See what else Whoopi is devouring in her culture diet, here.
---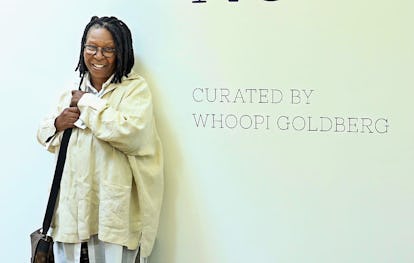 Jim Spellman/Getty Images
Whoopi Goldberg has officially entered the fashion circuit, and the industry is welcoming her with open arms: At New York Fashion Week, she snagged front-row spots at shows like Thom Browne and a center-stage appearance at Opening Ceremony. On Monday, she returned the love by kicking off her new season of "The View" in a Vetements hoodie. (Its defiant message, Goldberg thought, matched the ethos of "Strut," her new Oxygen reality show following a group of transgender models.) Now she's rounding out a very full month with an exhibition of Marilyn Monroe's dresses, poems, and drawings that she curated at the Mana Contemporary. (Her favorite item in it? Monroe's shopping list.) Read on for more of what she's been up to, including her medical marijuana line, in her culture diet, here.
First thing you read in the morning: Emails. Books on your bedside table right now: I'm on a kindle so I have hundreds of books on my bedside table. The TV show keeping you up at night: "Stranger Things." Last movie you saw in theaters: Star Wars… the most current one. Last thing you saw at the theater: The Color Purple.
Last piece of art you bought: Snake bracelet. I wore it at Fashion Week. Last museum exhibition that you loved: All the exhibits at Mana Contemporary.
The release you're most eagerly anticipating: "Don't Breathe."
Best new discovery at New York Fashion Week: Asher Levine. Favorite place to shop: Everywhere. Hood by Air or Vetements? Both! And Gypsy Sport and Opening Ceremony. (Nothing is ever simple with me.) Vaping or smoking? Whoopi & Maya Rub. Last song you had on repeat: "Masters of Chant." Last concert you saw live: Coldplay and Jay-Z. How you get your news: I go to work. Favorite Instagram and Twitter accounts: Mine! Advice for curators: Stand your ground! Last thing you do before you go to bed: Rub.