"Why Did You Do That?" From A Star Is Born Wasn't Meant to Be Bad
We can thank the songwriter Diane Warren for the iconic line "Why'd you come around here with an ass like that?"
---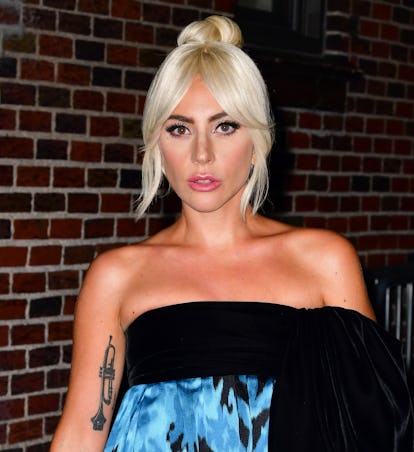 James Devaney/Getty Images
Although it was a highlight of the trailer, it turns out "Shallow" was just one of the many memorable songs from the A Star Is Born soundtrack.
"Why Did You Do That?" which is sung by Lady Gaga as Ally during her Saturday Night Live performance at the height of her career, has accidentally become the most divisive track from the movie. The song, which features the iconic opening line "Why'd you come around here with an ass like that?" has received a slew of mixed feedback. A Star Is Born appears to have a complicated relationship with pop music, or, at least, Bradley Cooper's character, Jackson Maine, has a distaste for it, favoring his whiskey-soaked brand of country-rock as more authentic instead. Many assumed the song was written to be purposefully bad to underscore Maine's point of view.
In an interview with The New York Times, the song's co-writer Diane Warren (incidentally better known for writing soaring ballads like Aerosmith's "I Don't Want to Miss a Thing") reveals the truth about the song: that it isn't meant to represent the worst of pop music. "I would never purposefully sit down to write a bad song, although I guess I've done some without trying that turned out that way," Warren told the publication. "This was a fun song, and I love fun pop songs. Not everything has to be serious all the time.… The directive was just to write a fun song, something that shows she's becoming this pop artist."
But Warren was thrilled to see the song getting attention. "It's getting a life of its own!" she said. "I have to take guilty credit for that [opening line]. I remember when we were working on it, I said, 'Can we say that?' And Gaga went, 'Yeah, why not?'"
Warren was "surprised" by Maine's criticism of the song when she saw the movie. "I was sitting next to my friend, and I jabbed her in the arm and went, 'That's my line he's quoting!'" she said. "I love that [Gaga's] character defended her music. It doesn't have to be what he thinks music should be—music can be everything. It can be a serious song, it can be a pop song, it can be a song about an ass."
We're glad that the songwriter thinks pop music can both serious and fun. Plus, we have to commend her for creating perhaps the most iconic line to ever exist in pop music.
Related: Bradley Cooper on Making A Star Is Born, Against the Odds