Why Don't We Take Kristen Stewart, Actress, Seriously?
With five films helmed by acclaimed auteurs this year, it's about time we did.
---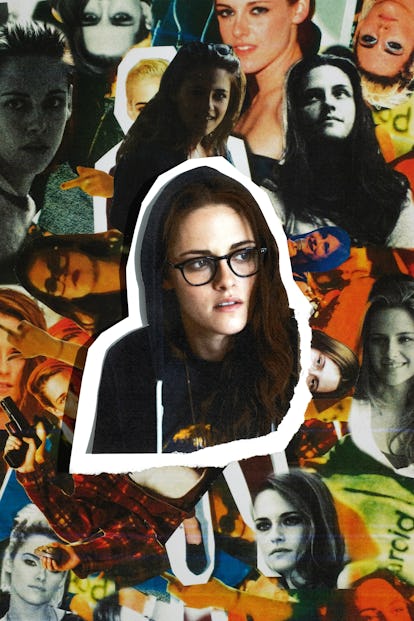 Last night, the New York Film Festival threw its annual "An Evening With …" dinner, where in the past the likes of Cate Blanchett, Kate Winslet, and Nicole Kidman — Oscar winners all — have sat down with moneyed film patrons to discuss their exquisite craft. Last night, the evening was spent with Kristen Stewart.
This year, Stewart became the first actor to have three films (Personal Shopper, Certain Women, and Billy Lynn's Long Halftime Walk) in the festival. She is also one of the most recognizable humans in the world, and yet only the French have recognized Stewart for her acting, when earlier this year she became the first American to win a César, the French equivalent of an Oscar, for her role in Olivier Assayas's Clouds of Sils Maria. More recently, in an interview with Screen Daily, Assayas asserted that Stewart is "the best actress of her generation," to much Twitter uproar.
Hyperbole? Certainly. But why, in a year during which she stars in five films directed by Assayas, Woody Allen, Kelly Reichardt, Drake Doremus, and Ang Lee, do we not talk about Kristen Stewart when we talk about Emma Stone, Brie Larson, Alicia Vikander, and Jennifer Lawrence?
This oversight is all the more frustrating because if there's one thing that Hollywood loves more than a comeback, it's a reinvention. It loves a Disney star who does a Harmony Korine film, a comedian who slays drama, a forgotten child star who re-emerges on a hit Netflix series. But it seems that no matter how many ambitious indie films Kristen Stewart makes, she continues to be seen as the sullen teenager from the Twilight franchise, and the endless tabloid fodder that followed it.
It might still be partly because Bella Swan, her character in the Twilight series, was designed to be nothing more than an avatar for the hormonal teenage fan of the books. Bella is unremarkable in every way, a blank canvas upon which the audience projected their desire for Edward Cullen, played of course by Robert Pattinson. So Kristen Stewart is left with nothing more but to mope around various landscapes over the course of five movies, totaling seven and a half hours. That is a damning, extended first impression, and instead of blaming the material, we blamed Stewart. (Not to mention that Brie, J-Law, and Vikander all made their first impressions in critically acclaimed indies before moving onto the likes of Marvel, Hunger Games, and Jason Bourne, respectively.)
When Pattinson and Stewart started dating in parallel to their characters, that only made things worse. Even when pictured getting Starbucks on the pages of Us Weekly, they still looked like Edward and Bella, hardening the impression that Stewart was the same dour, empty young woman she was contractually obligated to play for five years.
And then came the scandal: In 2012, Stewart was photographed in the arms of Rupert Sanders, the married older director of her post-Twilight blockbuster, Snow White and the Huntsman. In the aftermath of tearful recrimination and a public apology to Pattinson from Stewart, her fate was sealed. At the age of 22, Stewart was the highest-paid actress in Hollywood, but also first — and sometimes to the exclusion of all her other accomplishments — an object of tabloid speculation supreme.
But then something wonderful happened. As her notoriety grew, the size of Stewart's films shrunk. Unlike many movie stars who wish to prove their chops in the indie film world, Stewart had the chops. Last week, Assayas did not back down from his bold claim when I reached him on the phone in Paris: Stewart "radiates something" to the camera, he said. "You have good actors, you have great actors, and every once in a while someone who really stands out."
Stewart is an anxious young woman in real life, and that manifests itself onscreen in different but effective ways. She's cool and confident, but palpably uncomfortable. She's captivating to look at, but relatable. She's tough, and completely vulnerable at the same time. She never looks like she's acting, but when the camera is on Kristen Stewart you always feel something stirring in her, and in you the viewer.
Take her performance in Clouds of Sils Maria. In this meta take on aging in Hollywood, Stewart plays Valentine, the personal assistant to Juliette Binoche's older actress. Through subtle glances and changes in tone, the two women present a complicated, well-textured relationship. And while Binoche delivers raw, unfiltered emotion, Stewart masks her deep well of feeling with a bristly exterior. The performance is masterful, and all the more for it since Stewart has often described herself as unable to keep her true feelings in check, even when speaking to the media.
Stewart can do more than just telegraph internal anguish. She has an effortless, unshowy charm as the leading woman in Woody Allen's Café Society, eliciting our sympathy even as she navigates a relationship with a married man. Clad in pastel-hued dresses with Peter Pan collars, a bow in her hair, this is a softer, more feminine side of Stewart. In 2015's American Ultra, an off-kilter action comedy, she is delightful as a stoner trying to escape the clutches of the CIA. In both films, Stewart plays opposite Jesse Eisenberg, another young actor whose anxious charm makes him a compelling presence. It seems unlikely, but Stewart and Eisenberg are two of one kind.
While her directors, co-stars, and some critics continue to praise Stewart's performances — the New Yorker's Richard Brody wrote that "she shines even in such a narrow and inconsequential film as Still Alice" — the public has yet to catch on. This might be because they continue to be distracted by Stewart's refusal to act according to Hollywood conventions, and in doing so providing them with ever-more tabloid gossip (her recent relationships with women, including the singer Soko, being foremost on the mind). Or it might be because she has shied away from starring in surefire prestige fare with a budget to promote her; she doesn't pop up in December Oscar bait the way Jennifer Lawrence does without fail every year. That may change with her role in Ang Lee's Billy Lynn's Long Halftime Walk, which is premiering October 14 at the New York Film Festival and is in theaters next month. A sophisticated drama filmed in 3-D, the film expects to contend in award season.
Whether or not Stewart will be swallowing her anxiety on-camera as the winners are announced at the Oscars next year, it's time to revisit her filmography. If you haven't observed her carefully calibrated performances in Wild, Still Alice, Clouds of Sils Maria, or even Adventureland, do so now. And then reconsider Kristen Stewart. It's about time we took her very, very seriously.