Why Everyone From Rihanna to Harry Styles Loves Glitter Shoes
No one is immune to the powers of a sparkly shoe.
---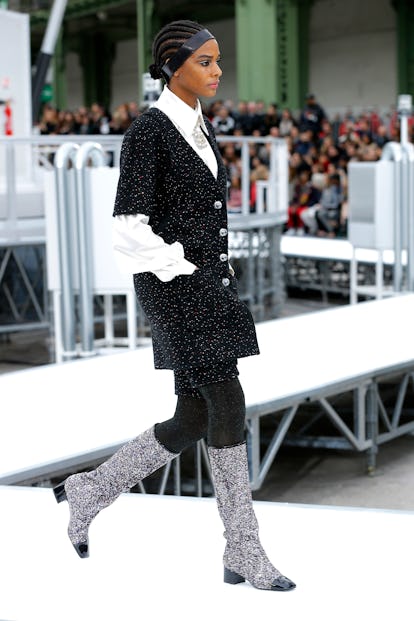 Estrop
When it comes to fashion and film, there are plenty of standout footwear moments that stick with you well beyond the credits. There's the royal blue Manolo Blahnik that Mr. Big uses to propose to Carrie with in Sex and the City's big screen adaptation, Marty McFly's self-lacing Nikes in Back to the Future II, and, of course, Cinderella's fateful glass slipper.
But no shoe, heel or otherwise, is quite as iconic as Dorothy's ruby slippers in 1939's The Wizard of Oz. In the original story, written by L. Frank Baum in 1900, the protagonist's shoes are in fact silver, not the bright crimson hue we've come to know, but in order to better show off the movie industry's new technicolor technology, screenwriter Noel Langley opted to amp up the color. Done in full sequins, the bow-adorned shoes gave off just the right amount of sparkle—one apparently valued at over $300,000, which was raised by the Smithsonian in a Kickstarter fund to help preserve the original pair.
But while Dorothy may have been the first to make a splash in glittery shoes, she's certainly not the last. For Fall 2017, sparkly, notice-me shoes were all over the runways, most notably at major fashion houses Chanel and Saint Laurent, as well as cool brands like Isabel Marant and Marco de Vincenzo.
Taylor Swift, Harry Styles, and More Love Wearing Glitter Shoes
Katy Perry arrived at Nickelodeon's 23rd annual Kid's Choice Awards in a pair of sparkly wedges that matchd her dress.

Getty Images
Paris Hilton attended 2006 American Music Awards in a ladylike pair of Mary Janes.

Getty Images
Selena Gomez supported then-boyfriend Justin Bieber at the premiere of his film Justin Bieber: Never Say Never in towering stilettos.

Getty Images
Hailee Steinfeld jazzed up an otherwise plain ensemble with a pair of silver pumps.

Getty Images
A fresh-faced Elle Fanning attended the 2011 Children of Chernobyl's Children at Heart Gala in a sweet pink dress and matching heels.

Getty Images
Before she was an Academy Award winner, Emma Stone stopped by the 2011 National Board of Review Awards Gala in sparkly peep-toes.

Getty Images
In the midst of her Red world tour, Taylor Swift performed at JingleBall in silver oxfords.

Getty Images
Nicki Minaj wore a relatively toned down look, in a white mini-dress and towering platforms.

Getty Images
Harry Styles, center, stood out during One Direction's Saturday Night Live Performance in Saint Laurent boots.

NBC
Hanne Gaby Odiele spiced up a classic LBD with hot pink, square-toed boots.

Getty Images
Blake Lively stepped out in New York City in a pair of iridescent pink boots.

Getty Images
Sarah Jessica Parker matched her cobalt blue dress with a pair of shoes by her own design.

Getty Images
Gigi Hadid dressed up denim earlier this year in a pair of gold Saint Laurent boots.

Getty Images
Rihanna nabbed a pair of Saint Laurent Fall 2017 slouch boots straight off the runway.

Courtesy Saint Laurent
Over the past few years, the notion of a glitter shoe has evolved beyond a go-to prom look into something much cooler, and street-focused. In the late aughts, it was the footwear of choice for top pop-stars, including Selena Gomez, Katy Perry, and Taylor Swift, who wore a pair of silver oxfords for the majority of her Red tour and even designed a similar style in collaboration with Keds.
The sartorial shift for the edgier style came with the Fall 2011 season, when Miu Miu showed a subdued, particularly by Miuccia Prada standards, collection of printed dresses in dark colors. The catch? Most looks were paired with candy-colored, open-toed booties covered in silver and gold glitter. The model was a hit; and come next season, there was hardly a single influencer or street style star without a pair. (Seven years later, the boots are still a hot ticket item on resale sites like The Real Real and eBay).
The Miu Miu effect went beyond street style bait, as well. In the following months, up-and-coming starlets, including Emma Stone, Elle Fanning, and Hailee Steinfeld, all now fashion-plates in their own rights, showed up on the red carpet in sparkly heels of their own. But unlike their pop-star peers, these were chunkier, a bit lower to the ground, and altogether chicer.
And then came Hedi Slimane. For Fall 2014, two years after taking the helm at Saint Laurent, the designer outfitted his punk rock princesses in a whole closet's worth of glitter shoes. The post popular offering? A pair of ankle Chelsea boots offered in a variety of colors, which were soon seen on everyone from Hanne Gaby Odiele to Gigi Hadid to Harry Styles, who wore his for a performance on Saturday Night Live (all the better for his continuous Mick Jagger impression).
This season's sparklers come in a variety of styles befitting of those not formerly in a boy band, ranging from Chanel's knee-high boots to Sonia Rykiel's ladylike pumps. It's a range that will satisfy everyone from the biggest magpie to the more sartorially shy. And, as seen on the runway, they can compliment any ensemble, from ultra-feminine dresses to structured suiting, making it the ultimate wardrobe accoutrement for fall.
And after-all, when Rihanna handpicks something straight off the Saint Laurent runway to immediately wear out and about, it's a sign that the trend is back in a big way.
Related: How Street Style Stars Do Paris Fashion Week
Chanel Leaves Earth Behind at Paris Fashion Week With an Actual Rocket Launch
The presentation of Chanel's Fall/Winter 2017 collection, during Paris Fashion Week. Photo by Ambra Vernuccio.

AMBRA VERNUCCIO
The presentation of Chanel's Fall/Winter 2017 collection, during Paris Fashion Week. Photo by Ambra Vernuccio.

AMBRA VERNUCCIO
The presentation of Chanel's Fall/Winter 2017 collection, during Paris Fashion Week. Photo by Ambra Vernuccio.

AMBRA VERNUCCIO
The presentation of Chanel's Fall/Winter 2017 collection, during Paris Fashion Week. Photo by Ambra Vernuccio.

AMBRA VERNUCCIO
The presentation of Chanel's Fall/Winter 2017 collection, during Paris Fashion Week. Photo by Ambra Vernuccio.

AMBRA VERNUCCIO
The presentation of Chanel's Fall/Winter 2017 collection, during Paris Fashion Week. Photo by Ambra Vernuccio.

AMBRA VERNUCCIO
The presentation of Chanel's Fall/Winter 2017 collection, during Paris Fashion Week. Photo by Ambra Vernuccio.

AMBRA VERNUCCIO
The presentation of Chanel's Fall/Winter 2017 collection, during Paris Fashion Week. Photo by Ambra Vernuccio.

AMBRA VERNUCCIO
The presentation of Chanel's Fall/Winter 2017 collection, during Paris Fashion Week. Photo by Ambra Vernuccio.

AMBRA VERNUCCIO
The presentation of Chanel's Fall/Winter 2017 collection, during Paris Fashion Week. Photo by Ambra Vernuccio.

AMBRA VERNUCCIO
The presentation of Chanel's Fall/Winter 2017 collection, during Paris Fashion Week. Photo by Ambra Vernuccio.

AMBRA VERNUCCIO
The presentation of Chanel's Fall/Winter 2017 collection, during Paris Fashion Week. Photo by Ambra Vernuccio.

AMBRA VERNUCCIO
The presentation of Chanel's Fall/Winter 2017 collection, during Paris Fashion Week. Photo by Ambra Vernuccio.

AMBRA VERNUCCIO
The presentation of Chanel's Fall/Winter 2017 collection, during Paris Fashion Week. Photo by Ambra Vernuccio.

AMBRA VERNUCCIO
The presentation of Chanel's Fall/Winter 2017 collection, during Paris Fashion Week. Photo by Ambra Vernuccio.

AMBRA VERNUCCIO
The presentation of Chanel's Fall/Winter 2017 collection, during Paris Fashion Week. Photo by Ambra Vernuccio.

AMBRA VERNUCCIO
The presentation of Chanel's Fall/Winter 2017 collection, during Paris Fashion Week. Photo by Ambra Vernuccio.

AMBRA VERNUCCIO
The presentation of Chanel's Fall/Winter 2017 collection, during Paris Fashion Week. Photo by Ambra Vernuccio.

AMBRA VERNUCCIO
The presentation of Chanel's Fall/Winter 2017 collection, during Paris Fashion Week. Photo by Ambra Vernuccio.

AMBRA VERNUCCIO
The presentation of Chanel's Fall/Winter 2017 collection, during Paris Fashion Week. Photo by Ambra Vernuccio.

AMBRA VERNUCCIO
The presentation of Chanel's Fall/Winter 2017 collection, during Paris Fashion Week. Photo by Ambra Vernuccio.

AMBRA VERNUCCIO
The presentation of Chanel's Fall/Winter 2017 collection, during Paris Fashion Week. Photo by Ambra Vernuccio.

AMBRA VERNUCCIO
The presentation of Chanel's Fall/Winter 2017 collection, during Paris Fashion Week. Photo by Ambra Vernuccio.

AMBRA VERNUCCIO
The presentation of Chanel's Fall/Winter 2017 collection, during Paris Fashion Week. Photo by Ambra Vernuccio.

AMBRA VERNUCCIO
The presentation of Chanel's Fall/Winter 2017 collection, during Paris Fashion Week. Photo by Ambra Vernuccio.

AMBRA VERNUCCIO
The presentation of Chanel's Fall/Winter 2017 collection, during Paris Fashion Week. Photo by Ambra Vernuccio.

AMBRA VERNUCCIO
The presentation of Chanel's Fall/Winter 2017 collection, during Paris Fashion Week. Photo by Ambra Vernuccio.

AMBRA VERNUCCIO
The presentation of Chanel's Fall/Winter 2017 collection, during Paris Fashion Week. Photo by Ambra Vernuccio.

AMBRA VERNUCCIO
The presentation of Chanel's Fall/Winter 2017 collection, during Paris Fashion Week. Photo by Ambra Vernuccio.

AMBRA VERNUCCIO
The presentation of Chanel's Fall/Winter 2017 collection, during Paris Fashion Week. Photo by Ambra Vernuccio.

AMBRA VERNUCCIO