Why Houston Should Be Your Next Long Weekend Destination
Texas's biggest city is a little less country and a lot more luxe these days. Houston is exploding with high fashion shops, world-class art exhibitions and James Beard Award-winning restaurants.
---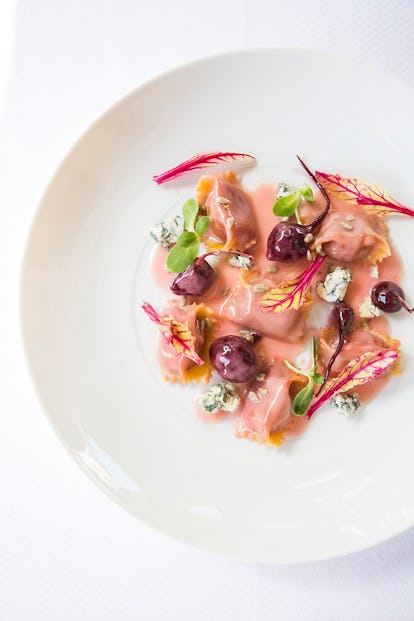 Austin is undeniably Texas' hottest city these days, thanks to its booming food and music landscape, the rise of hip boutique hotels, and its annual South by Southwest conference (happening now, running through Sunday). But consider, if you will, Houston.
Situated a few hours east of Austin, makes for a perfect long weekend destination that offers both down home, Texas charm and an exploding food, art, and shopping scenes that could rival those of top cities around the globe.
On the food front, Houston had a big showing on the James Beard Award nominee list this year, with ten of the city's chefs and restaurants earning recognition. The city has also become a mecca for opera lovers and contemporary art enthusiasts in recent years, thanks to institutions like the Menil Collection and rotating exhibitions at Rice University. Simultaneously, Houston has seen a rise in high end shopping, most notably with the arrival of The Webster, a multi-brand luxury boutique that originated in Miami, just last year.
Whether you are already in Austin for South by Southwest and looking to extend your time in Texas (stuck in Texas due to the storms sweeping the East Coast?), or planning a weekend escape, here's what you need to know, do, and see in Houston.
When to Go:
Right now. This is a perfect time to go before it gets too hot and humid. Also, Houston is currently hosting the world's biggest Livestock Show and Rodeo through March 26th. If you are there during this time, this is truly a can't-miss event. Even if you think you might not really be a rodeo person, there's something for everyone here. See below.
What to Do:
Houston Livestock Show and Rodeo
This annual event, which draws more than 2.4 million visitors from around the world, certainly offers up its fair share of country charm, including fried delights (from butterballs to Oreo's, you name it), bar-b-que, country music (performers this year include Alan Jackson, Luke Bryan, and Willie Nelson), and of course, cowboys. But if you're after a more sophisticated experience, buy out a box and invite your friends. Make sure to stop by the wine garden, where they have more than 70 top-tier wines from around the globe and even wine seminars (make sure to purchase online in advance), stop by M.L. Leddy's to buy some designer cowboy boots (and be prepared to spend thousands of dollars on them), and pick up a Stetson cowboy hat at one of the many shops in the surrounding stalls (we suggest Cavender's). Stay for the evenings for the nightly concerts—the all-star lineup includes everyone from Alicia Keys and Demi Lovato to the country stars listed above.
The Webster
The fashion world has been flocking to South Beach for years just to shop at Laure Heriard Dubreuil's now iconic, multi-brand boutique. Now you can find The Webster, which carries everyone from Alaia to Gucci to smaller labels like Edie Parker, in Houston. Don't miss this opportunity to stock up on all your favorite luxury and specialty brands.
River Oaks District
If you're looking to continue the retail therapy, hit up the River Oaks District for high end shops like Tom Ford, Dior, and Moncler, and chic stores like Dallas-based retailer Forty Five Ten. Also, Ann Mashburn, is just down the street.
Menil Collection
The Menil Collection houses some of Houston's most impressive art. The building itself is a work of art—it was the first U.S. commission by Renzo Piano (his second was the Cy Twombly Gallery nearby). The main building houses special exhibitions and the permanent collection, while the nearby buildings that are also part of the 30-acre campus include Rothko Chapel and the Byzantine Fresco Chapel and another dedicated to the illuminating works of Dan Flavin.
Cullen Sculpture Garden
If it's nice outside, make sure to stop by the Lillie and Hugh Roy Cullen Sculpture Garden on Montrose Boulevard. The garden, conceived by Isamu Noguchi, incorporates works by famed 20th and 21st-century artists like Henri Matisse and Auguste Rodin, surrounded by bamboo and native trees.
Inn at Dos Brisas
Tack on a few days before or after you visit Houston and hole up the Inn at Dos Brisas. (If you are planning to go to the Rodeo, opt for the hotel's Urban Cowboy/Country Cowboy special.) The award-winning, five-star Relais & Chateaux ranch is just over an hour's drive (depending on traffic) from Houston and it's truly a secret gem worth discovering. As you enter the idyllic 313-acre property, you'll pass horses, bluebonnets (the Texas state flower) sprouting everywhere and the resort's various certified organic gardens, where they grow everything from watermelons to tomatoes to herbs.
Check into one of the hotel's Spanish-style, spacious haciendas (3,000-square-feet total) and unwind with a guided horseback trail ride, an in-room massage, fishing or clay shooting, or a cooking or cocktail class at the hotel's restaurant (the state's only Forbes five star-rated restaurant) helmed by executive chef Matt Padilla. Chef Padilla, who worked at top restaurants like Noma, Benu and Element47 at Aspen's The Little Nell hotel prior to landing in Texas last year, serves up a mix of his freshly made pastas, innovative veggie dishes (depending on what's in season in their garden), and a wagyu ribeye dish that's hard to beat. His wife, Tara Padilla, is the restaurant's general manager and oversees the wine and beverage program. (She was previously the manager at chef Nobu Matsuhisa's famed Aspen outpost, Matsuhisa.) She works closely with the culinary team to offer excellent wine pairings, which range from funky, New World wines to Old World French varietals. The restaurant alone makes for a compelling reason to visit the Inn at Dos Brisas.
Where to Eat and Drink:
Houston boasts plenty of Mexican restaurants but chef Hugo Ortega's spot in the Montrose area, Hugo's, is hands down one of the city's most standout options. Go for brunch on the weekends (trust us, it does not disappoint) or dinner, and make sure to try one of the many fantastic tequila or mezcal-based cocktails as well as the succulent lamb barbacoa __wrapped in a banana leaf. Oh, and whatever you do, don't skip out on the churros. One bite of these fried delights and you'll be chowing down on the whole dish. Ortega is also the mastermind behind Xochi, a new-ish Oaxacan restaurant at the Marriott Marquis. Anything and everything topped with his signature mole sauce is worth your while. For barbecue, make the trek to Pearland for chef Ronnie Killen's mouthwatering smoked pork and brisket. (If you want something closer, head to Brookstreet Bar-B-Que.) On the opposite end of the spectrum, if you are looking for the It spot for the ladies who lunch, 51fifteen at Saks is your answer. Other restaurants/cafes/bars to add to your 'good eats' list include Tiny Boxwoods, Pax Americana, Coltivare, Oxheart Restaurant, Blacksmith or Catalina Coffee for your morning java fix (or Common Bond for good coffee and killer pastries), Julep for cocktails and oysters, Helen Greek Food & Wine, Underbelly, State of Grace, or Anvil Bar and Refuge for amazing cocktails.
Where to Stay:
The city plays home to both big, luxury hotel brands, like the newly renovated Four Seasons (which has a fun pool scene and an excellent spa) and Omni Houston Hotel next to The Galleria. For a more local spot, look no further than the Houstonian Hotel, a lodge-style resort which rests on an 18-acre pine forest. The hotel's restaurant is beloved by the likes of former president George H.W. Bush and his wife, but it's the massive spa and health club that you can't miss. It has everything from a rock climbing wall to a full-service gym and it's free for all hotel guests. (Great for sweating it out after a big night of indulging on the city's excellent eats.) If you want something a little more boutique and funky, consider the 315-room Hotel ZaZa in the Museum District. ZaZa has one of the city's best hotel pool scenes and Monarch, the hotel's bar and restaurant, does not disappoint.