Will I See You At Art Basel?
Every December, Miami becomes the capital of the art world, and it's now more vital than ever with skeptics questioning the value of art fairs and the health of the market.
---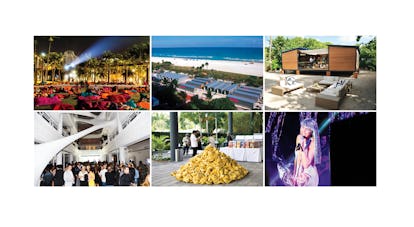 Basel, clockwise, from top left: courtesy of art basel; Courtesy of Art Basel; courtesy of Billy Farrell/BFA; courtesy of Billy Farrell/BFA; courtesy of the artist; Courtesy of Joe Schildhorn/BFA
A recurring question at seemingly every social gathering before the holiday season is, Will I see you at Art Basel Miami Beach? The answer, for me, is an unequivocal yes—more than ever, in fact, now that many people are questioning the value of art fairs and the health of the market those fairs helped create.
"Weren't things better in the old days, when collecting was left to the experts?" gripe some well-heeled patrons and curators. I find the question rhetorical. Art Basel, which kicks off this week, was founded in Switzerland in 1970, when the art world was, indeed, a tight-knit club, and arrived in Miami 14 years ago. Since then, every December Miami becomes the capital of the art world, hosting the best galleries and the best collectors from all over, and putting on first-class exhibitions in museums and private institutions. It also inevitably attracts luxury brands eager to be a part of the excitement; and unlike its elitist forebears, Art Basel has become known for its roaring dinners and parties, at which gallerists, museum directors, and penniless young enthusiasts happily converge.
It's clear that art has changed the fabric of Miami, but it could also be argued that Miami has changed art—that is to say, making art more accessible and participatory has affected the nature of the work being produced, and not always for the better. But artists often find themselves at the forefront of the zeitgeist. Historically, they embraced photography, cinema, and video when they were new creative forms, and made theater and dance essential components of performance art.
Nowadays, artists are experimenting with widespread technology and social media, so it makes sense that they would respond to an art system that is global, omnipresent, and integrated with the entertainment and financial industries. For instance, Kanye West was recently invited to show in an established gallery; artists like Steve McQueen routinely join forces with Hollywood to make movies; and many others are more than happy to collaborate with luxury brands.
Art is just one area in which we strive to give our readers insider access. In W's Holiday issue, we wanted to surprise everyone by spotlighting a true star who is not a regular on the celebrity-cover circuit. Who better than Barbra Streisand, whose latest album (her 70th!), Encore: Movie Partners Sing Broadway, debuted this summer at No. 1?
The imperious legend, who was photographed by Steven Meisel, is a striking example of a triple threat: She has been hugely successful as a singer, an actor, and a director. She is also the only artist who has had six No. 1 albums in six different decades—and, can we just add, one who, after all that, can pull off wearing nothing but fishnets and a plain white button-down shirt!
The supermodel Naomi Campbell is following Streisand's lead, boldly exploring a variety of creative possibilities. To get in the mood for her role in Lee Daniels's new television series, Star, Campbell showed up at photographer Steven Klein's studio with her acting coach in tow, showing off not just some of the season's best sporty looks but also her acting skills.
Finally, the artist and photographer Tim Walker sent us a truly extraordinary gift: a visual love letter to the home country of his partner, the stylist Jacob K. The duo took us on a romantic trip exploring the culture and people of Copenhagen, mixing historical and artistic references, remembering childhood fairy tales, and introducing us to personal heroes and local celebrities.
My favorite picture? The one of a couple of majestic polar bears frolicking underwater. Happy holidays!
Watch W's most popular videos here: