Will the Academy's Attempts to Diversify Its Membership Actually Change the Oscars?
Big changes are coming to the Oscars, as more women and people of color join the Academy than ever before.
---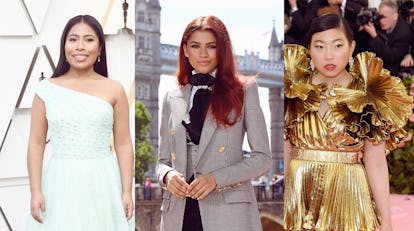 After years of criticism for its lack of diversity—in terms of both nominees and individuals that vote—the Academy is taking a step forward with shaking things up.
In 2015, only 25 percent of Academy members were women, and only 10 percent of Academy members were people of underrepresented ethnic or racial identities. The Oscars have caught flak for a dearth of nominees of color each year in various acting categories (hence the popularity of the hashtag #OscarsSoWhite, which was coined five years ago). Not only was there a lack of inclusion and diverse representation apparent in terms of the nominees, but there was also a clear lack of representation amongst the members who vote for the films to be nominated (and win) in the first place.
A year after the #OscarsSoWhite hashtag took off, the Academy pledged to make "inclusion" one of its specific goals to reach by 2020. This inclusion initiative involved the Academy pledging to double the number of members who are women and who identify as part of an underrepresented ethnic or racial group. As of yesterday, the goal was surpassed as 819 artists, actors, directors, and executives were invited to join as members—including Lulu Wang, Zendaya, Awkwafina, Olivia Wilde, Yalitza Aparicio, Natasha Lyonne, Zazie Beetz, Park So-Dam, Mati Diop, and Niecy Nash.
Some of the new Academy members, like Wilde and Lyonne, expressed their excitement on social media, with the former revealing she did not realize she had been invited when she received a candle in the mail from the Academy.
Now, nearly half of the Academy member invitees are women, and nearly half are from outside of the United States. Additionally, 36% of the invitees are now people of color. This is a good start for an institution that has been criticized for its lack of efforts to be inclusive in the past—if there are more voting members who reflect the reality that there are many talented filmmakers and performers who are not solely white men, then perhaps the films and performances and crafts that become nominated at the Oscars may reflect the diverse member body, and there will be more nominations and wins by international films, films created by women, or films with predominantly Black casts. But the Academy will have to do more than make a cosmetic change to include more women and people of color in the voting process, they will have to restructure elements of the Oscars ceremony, too.
According to a press release announcing the new member invitations, more big changes are coming: the Academy also announced a new initiative called Academy Aperture 2025, the goal of which is to "further the dialogue and challenge our history to create a more equitable and inclusive community."
The Academy promises to collaborate with the Producers Guild of America to "encourage equitable hiring practices and ensure more diverse representation on and off screen," and create a task force that develops and implements new inclusion standards for the Oscars.
The Best Picture category will also change beginning in 2021, as there will now be a standard 10 nominees fo Best Picture each year, rather than the previously fluctuating number between five and 10. And rather than only offering a short screening window closer to the ceremony, there will now be an Academy Screening Room website for members. "By making it possible for members to view films released year-round, the Academy will broaden each film's exposure, level the playing field and ensure all eligible films can be seen by voting members," a statement on the Academy's website said. This could be especially useful for the 94th Academy Awards, considering the coronavirus pandemic has delayed many film premieres (and the date of the ceremony itself, which has been pushed to April 25, 2021.)
Additionally the Academy announced that all governors (which include Laura Dern, Whoopi Goldberg, and Alfred Molina in the actors branch) will participate in mandatory unconscious bias training, and that the soon-to-be-open Academy Museum of Motion Pictures will reckon with American cinema's racist past. "The Academy Museum will also create spaces that highlight and prioritize the experience of traditionally underrepresented or marginalized people while advancing the understanding, celebration, preservation and accessibility of movies through its business practices, exhibitions, screenings, programs, initiatives and collections," according to the same press release.
These new inclusive will not "fix" Hollywood and its issues with supporting diverse storytelling (and it could be argued that looking to find equality within a historically racist and sexist institution that awards people with accolades in the first place is problematic), but Wang may have said it best: "Though there is still much work to be done, this class looks more like an actual jury of our PEERS than ever before, so that's a step in the right direction."