Willow Smith Is Really, Really Into Covering Joanna Newsom Songs
Wunderkind Willow Smith shares two different takes on a classic song from everyone's favorite elfin harpist.
---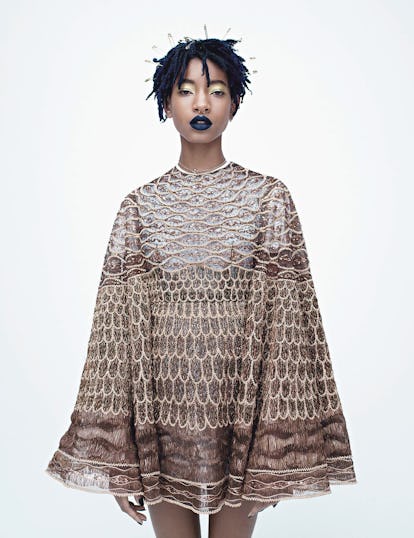 There's a lot of labels you can attach to Willow Smith: celebrity scion, Chanel muse, giver of bizarre quotes. But what the young Smith really wants to be known for is her music.
The now 16-year-old released her first album Ardipithecus (named after the first humanoid bone found on earth, because, of course…) in late 2015 to mixed reviews. She followed up just a few weeks ago with the low-key release of three-song EP Mellifluous. Both showed a decidedly more experimental side to Smith's music than what we got with her debut pop banger "Whip My Hair."
If Smith's latest influence prove significant, she's not going back to pop anytime soon. Apparently, Smith has been listening to a lot Joanna Newsom lately. She's the warbly-voiced freak folk hero and harpist who's a hero to sensitive music nerds (and, incidentally, a wife to Andy Samberg).
Smith seems particularly taken with Newsom's song "The Book Of Right-On" from The Milk-eyed Mender. She loves it so much that she's recently uploaded not one but two separate videos of her covering it on both Facebook and Instagram.
"I killed my dinner with karate," sings the daughter of a man who once rapped, "Getting jiggy with it, na na na na na…."
While everyone in the Smith family has a musical side project (even Jada fronted a metal band), Willow's affinity for college radio-approved tunes seems to be unique. She's also recently uploaded short covers of Sean Lennon's "Parachute," perhaps because she seems to be collaborating with him.
While the world will never see a John Lennon-Will Smith collaboration, at least we may a glimpse of what happens when their youngest children collaborate. Until then, enjoy the sounds of Willow's take on everyone's favorite elfin harpist.
Watch Willow Smith talk about the time she rocked a pink mohawk: