Photographer Willy Vanderperre On His Nude Shoots with Julia Nobis, Clément Chabernaud, and Mahershala Ali
The Belgian photographer is launching a fan zine dedicated to his favorite models—a list that now includes Moonlight's Oscar winner Mahershala Ali.
---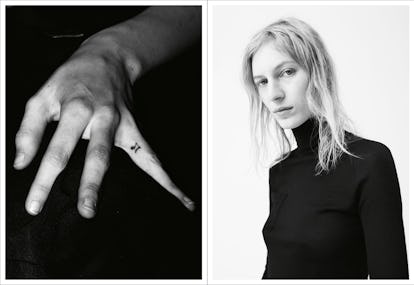 Willy Vanderperre
Last fall, shortly after he'd moved to New York, Raf Simons headed to the somewhat removed neighborhood of Red Hook, Brooklyn for an art opening: the first-ever New York show of one of his closest friends and collaborators, the photographer Willy Vanderperre. Now at home at the helm of Calvin Klein, Simons has been keeping Vanderperre busy: in the last few months alone, he's tapped the Belgian photographer to shoot everyone from Millie Bobby Brown to a significant chunk of the cast of Moonlight, including the jaw-droppingly chiseled Mahershala Ali, a campaign revealed the morning after both the actor and the film won Academy Awards on Sunday.
But Simons isn't hogging all of Vanderperre's free time. The photographer also just came out with /12, a new zine dedicated to his longtime muses, which is published by IDEA Books and launching Wednesday at the Comme des Garçons Trading Museum in Paris. The first two are dedicated to the models Julia Nobis and Clément Chabernaud, who both stripped down to the very minimum—assorted tattoos for Nobis, and a fresh buzz cut for Chabernaud—for the photographer, a preview of which you can see here. Back home in Antwerp before heading off to Paris Fashion Week, Vanderperre recalled his intimate afternoons with muses both old and new, here.
Julia Nobis and Clément Chabernaud Get Intimate for /12, Photographer Willy Vanderperre's New Fan Zine
Clément Chabernaud shot by Willy Vanderperre.

Willy Vanderperre.
Clément Chabernaud shot by Willy Vanderperre.

Willy Vanderperre.
Julia Nobis shot by Willy Vanderperre.

Willy Vanderperre.
Julia Nobis shot by Willy Vanderperre.

Willy Vanderperre.
Julia Nobis shot by Willy Vanderperre.

Willy Vanderperre
Clément Chabernaud shot by Willy Vanderperre.

Willy Vanderperre.
Why did you decide to make a zine? The idea has been on my mind for such a long time. Julia, for example, is one of my favorite models, and I've been shooting her almost 10 years now, so I've seen her almost grow into a woman in front of my camera. Same thing with Clément—I've shot him for 10 years now, more even, because he started when he was 15. And as a photographer, I want to share things with people, in the same way that people want to publish a book or do a show. You try to touch people, move, and reach out to people; that's sort of at the core of what I try to do. But this was also a sort of thank you to those models that are really a part of my life and have become my friends. Normally when you see those kids, you're in the "it's a fashion shoot" or "it's a campaign" mode, but you rarely speak to them on a more personal level. But you can also just approach them again as the people they are and have a more obsessive take on them. Like, Julia can do these weird things with her feet that most people don't know about, but it's beautiful to see because she's one of the only people in the world who can do it. [Laughs.] She has these tattoos that each have a story, like her brother's name. It's things like that people might not know that I want to share.
Is that why nudity plays such a central role in these photos? Yes, it's why I went for a very intimate approach. There's a lot of nudity in there, but it's about how there's a fear of nudity in the world we live in today because everything is over-sexualized. You forget how beautiful a person can be if you don't sexualize them and just portray them as somebody who is confident in themselves.
What was it like on set when you took these particular images? We shot Julia in New York, and Clément in Paris. Weirdly enough, they were both in the first studios where we ever shot together, which really added to the feeling of the shoots. You start to reflect on how long you really have know these kids—I keep calling them kids. [Laughs.] I'm astounded that Julia and Clément have spent 10 years in my life, and so they're number one in the series because they're the ones I've carried with me the longest. But we launched them together because it's not a competition. It's just an homage to the people who have been with me for a while and who I've been obsessed with, because that's a little bit of what the people I work with do: we work from obsession to obsession. There's people I'm really obsessed with now who I also really want to include, so there's 12 issues of 12 people that touch me, which are coming out the first of every month. They're not stapled, so you can change the order of the images and hang them up and turn them into posters—you have the liberty to rearrange it like a fan zine. It's really a testimony of today's youth and youth as an emotion. Julia, even 10 years from now, she'll always have that youthfulness to her, and I think I'll always be drawn to that spirit.
What are your fondest memories of working with her? There are so many, but I might have to say this one because there really was no pressure. She came in and looked so spectacular that hair and makeup only came after we'd been working already for an hour and a half, and then she even almost did it herself. The beauty of a shoot like that is something I'll cherish forever because there's something so honest about it, and it's also how you get to those emotional images of them, even in tight shots, like of Julia's neck. And Clément shaved his head for this shoot, which is a big deal for the place he's at now because he's one of the top male models, and everyone knows his hair, so for him to buzz it is really special and emotional. And you know, there's also something so special and emotional when people are so at ease with you being naked, even if you don't think of them as sexual beings. There's no tension or anything awkward about it.
You also just came out with a very stripped down shoot with Mahershala Ali, Ashton Sanders, Trevante Rhodes, and Alex Hibbert from Moonlight. How did that experience compare? The concept was that we'd shoot the entire male cast of Moonlight, which is of course a spectacular movie. So we shot it in Los Angeles right before Christmas, and it was one of those days that you'll always remember because everything went so smooth and the actors were so spectacular. They were really giving so much to the pictures. Mahershala was insane; I'm really excited about the images we did, and of course them winning the Oscars is such a big thing for him and for all of them. It's amazing that the campaign came out the very next day; it was like, Wow, that's good. [Laughs.]
Alex Hibbert looks like such a pro for being 12 years old. Was he just a natural at modeling? It was the same thing when we shot Millie Bobby Brown; actors of a young age are still actors, so they're sponges and the minute you let them know what you want, they know what to do. They were both so comfortable in front of the camera.
Was the whole cast all together on set? Yeah, there was some overlap, and there was a moment at lunchtime where we all made sure everyone was together, with Raf [Simons], too. There was something beautiful about that, and everybody was having a good laugh. Everyone has their own personality that comes through in the photos, too, from the more intimate ones to the smile on Trevante [Rhodes] that's almost cocky, like, Look at me with my perfect body. [Laughs.] It's really beautiful with him smiling like that.
See Mahershala Ali Recall His Best Birthday, Which He Spent Stranded with Video Games at Circus Circus: