Winnie Harlow Will Finally Walk in the Victoria's Secret Fashion Show and Couldn't Be Happier About It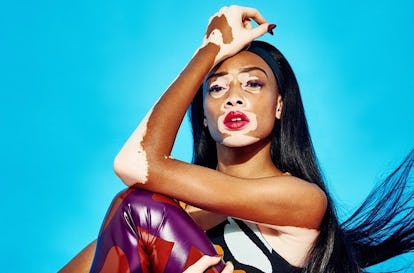 Branislav Simoncik
Take it from Winnie Harlow: If you dream it, you can achieve it. After putting it into the universe that she aspired to walk in a Victoria's Secret Fashion Show, the model is finally getting her wings.
While Harlow hasn't officially been announced as a part of the upcoming VS fashion show, a rep revealed to W that Harlow has already celebrated the achievement by busting open a bottle of her favorite Prosecco. "Winnie Harlow was spotted at the IMG VIP Lounge by Principessa Prosecco where she announced she has been appointed the next Victoria's Secret Angel with a glass of Principessa on hand," the rep emailed W.
We won't get to see Harlow walk the Victoria's Secret runway until November, when the show takes place, but you can see her reaction to finding out the news. After a Nicki Minaj fan account tweeted a video of Harlow learning that she would be walking in the show, the model retweeted it. In the emotional clip, Harlow says "Oh my God'" a handful of times before saying, "What!" All the while, she's crying tears of joy. The whole thing couldn't be any sweeter.
Even though Harlow hasn't given an official statement on the news, she also retweeted a fan's message that read, "@winnieharlow is a legend. You inspire me to keep going. You did it!!! Walking in VS is such a huge accomplishment I can only imagine the happiness and joy you are feeling."
It's much deserved. Ever since breaking out on America's Next Top Model in 2014, Harlow has become one of the most recognizable faces in fashion and pop culture. She appeared in Beyoncé's Lemonade visual album and has walked in countless shows, most recently Tommy Hilfiger.
But it's Victoria's Secret that Harlow has set her eyes on. Last year she told Elle, "It's a pinnacle for models. I'm so proud to see my friends walking on that runway and I'd be so honored to walk with them. Hopefully, somewhere near in the future." The future is now.