Resurrect Your Hair From the Wintry Dead With These Four Treatments
Celebrity hairstylists Philip B, Caile Noble, Adir Abergel, and Abby Haliti weigh in on their favorite new products.
---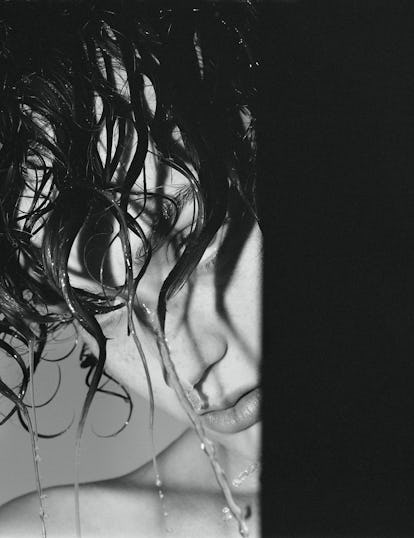 Theo Wenner
Great hair is like any substantial relationship or career—it requires consistent upkeep and effort. With that undertaking, there's usually a repetitive dilemma that also occurs in a hair care routine. We spend one half of our time damaging our hair by over-styling, overheating and over-coloring, then take time trying to reverse that damage with treatments—only to over-process again the following month. If you happen to be one of the many chasing their tails in this quandary, you also know that in order keep your hair healthy, you often need a new rotation of products to see a difference. Below are four of the latest standout hair treatments designed to protect your hair, and in turn, ensure you have more time to tend to the upkeep and effort for your career and your lovers. Ultimately, your hair should be the easiest thing to control this winter, even if your partner is not.
For Hydration
Philip B. Russian Amber Imperial Gold Hair Mask: A deep conditioning mask from hair-care veteran Philip B, who counts Nicole Kidman, Christina Applegate and Matthew McConaughey among his loyal product devotees. Why It Works: Pea peptides, Argan oil, L Amino Acids, Glycerin and Vitamin B5. Time-released oleosomes also act as a delivery system to keep hair continuously moisturized and soft. Says Philip B, "In winter I always advise shorter, cooler showers. You should also spend the extra time sitting with this masque. Use a microfiber towel to eliminate excess water and then apply the Philip B. pH Toner as well. It will help seal the cuticle to add a smooth shine and finish. The mask will make your hair silkier, and most importantly, healthier from within. No matter how much you are shivering with the mask on, suck it up. It's worth it."
For Scalp NourishmentSisley Hair Rituel Revitalizing Serum for the Scalp: A soothing pre-styling treatment of high-grade botanical drops developed by Sisley labs to nourish and feed the scalp while safeguarding hair from the outside elements. A favorite for celebrity hairstylist Caile Noble, who has created hair looks for Julia Roberts, Natasha Lyonne, Rainey Qualley and Sofia Carson. Why It Works: "There is a high concentration of minerals, vitamins, plant extracts, and proteins, so this serum immediately calms sensations of discomfort, encourages microcirculation in the scalp and adds volume to the hair," Noble says. "Specifically, Alpha-Bisabolol which soothes the scalp, along with rice proteins to densify the hair fiber, and Linseed extract and Einkorn wheat extract to protect the hair's natural color. Over time and use, the hair is going to appear stronger, healthier and more radiant."
For a Red Carpet-Worthy Conditioning Boost
Virtue Labs Restorative Treatment Mask: An intense three-minute conditioning treatment, a favorite of Charlize Theron and Jennifer Garner. The mask uses Alpha Keratin 60Ku, an ethically sourced human keratin to mimic the regenerative restoration of human hair, skin and nails to repair and shield hair against the colder climates outside. Celebrity hair stylist Adir Abergel (also creative director of Virtue Labs) recommends his clients use it especially before a big event. "It's a lightweight, hydrating formula that will allow even the finest hair to absorb the product without weighing it down. You can use it once a week to every other day depending on the damage, to reinvigorate, nourish and restore hair health. It just needs three minutes and it delivers an immediate and intense conditioning boost for shiny, red carpet hair." Why It Works: The formulation mimics human hair and skin to regenerate your hair faster and stronger to handle the effects of color, heating and changes in temperature.
For Strand Restructuring
Davines Oi Hair Butter: The latest restorative treatment from Davines, Oi Hair Butter is a reparative hair treatment formulated to lock in moisture and seal strands from weather damage. Why It Works: Roucou Oil, a component highly rich in beta-carotene, not only protects and softens hair, but stimulates hair's own natural pigment though melanin synthesis. This treatment is particularly helpful in guarding the hair structure if you are color sensitive. New York based colorist Abby Haliti, who has painted the locks of Olivia Palermo, Rita Ora and Gisele Bündchen, recommends this treatment particularly during the colder seasons. "As a color specialist, I always say that healthy hair is the foundation of beautiful color. During winter, treating yourself to a hair mask once a week can help keep your hair nourished and hydrated. The Oi Hair Butter is my favorite. Not only because it keeps your hair smooth and shiny, particularly with its antifrizz action, but the Roucou has an antiaging effect that makes hair more vibrant. Hair gets particularly soft and de-frizzed, and feels almost restructured against the brutal cold weather."