Why the Winter Olympics Sounds Like Spotify This Year
Twitter is having fun with all the pop music in skating.
---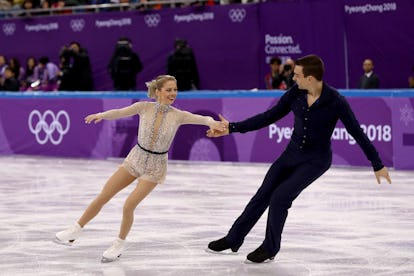 Photo by Ronald Martinez/Getty Images
Goodbye, "Swan Lake." Hello, Ed Sheeran? This is the first year that figure skaters in the Winter Olympics have been allowed to skate to songs with lyrics, and so far the choices have been both genius and corny. According to Yahoo! Entertainment, there will be five programs skated to Moulin Rouge! (skating to Moulin Rouge! is, apparently, a whole thing), three to Coldplay, three to "Despacito," three to "Papa, Can You Hear Me?" (WHAT?) and three to "Hallelujah.".
And oh yeah, people skated to a Paul Anka cover of "Wonderwall," Christina Perri's "A Thousand Years" (aka the song from the end of the last Twilight movie) and plenty of Ed Sheeran.
Another fun addition to the lineup of songs? "Yuri On Ice!" Yuri On Ice is a popular anime movie about figure skaters, so guess who did actual IRL figure skating to the theme? Japanese pair Miu Suzaki and Ryuichi Kihara. Synergy!
How is Twitter reacting to the pop-ified skating competitions? People seem to really like it, with many mentioning that the married couple skating to "Come What May" from Moulin Rouge! bring a tear to the eye. Though obviously, there are always a few skater haters.
Check out some of our favorite reactions to the routines and song choices below, and get ready to Shazam your way through the rest of the Games; it's like the Grammys, but with more falling down:
Lyrics or no, we will be tuning in. Come whaaaat maaaaay….
Related: Olympics Skier Gus Kenworthy's Cheeky Instagram Will Keep You Warm During the Winter Games