With an Edgy, Street-Cast Aesthetic, Midland Changed the Face of Modeling in 2016
Over the summer, Rachel Chandler and Walter Pearce launched Midland, a new boutique modeling agency—and now, they're subverting the industry one runway at a time.
---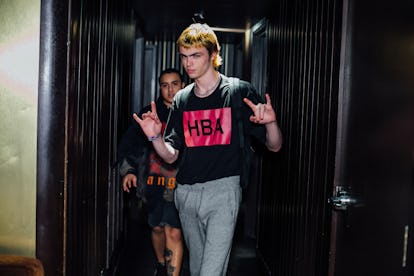 Photo by Emily Malan, Photo Editor: Biel Parklee.
Rachel Chandler and Walter Pearce are nearly a decade apart in age. Chandler, 29, is a photographer by trade, Pearce, 21, a casting director best known for his work with Hood By Air, where he's made street-cast models a brand staple. On paper, they're something of an unlikely pair; together, they comprise the brains behind Midland, the new New York-based model and casting agency they conceived and launched over the summer.
Midland is a hybrid organization: It acts as both a model management company and a casting agency, representing 16 models at the moment and working with an additional roster that is both street-cast and pulled from peer agencies. Though Chandler noted Midland's dual function has some parallels in Europe, it's unique among American agencies, where it fills a niche working with unconventional and often unsigned models—many of whom aren't really models, but rather artists, and musicians; there's even a lawyer-in-training. (The name, too, is an all-American reference, a Texas town where Pearce's father grew up.)
"There's a trend in casting towards a certain look, a more street-cast look," Chandler said, speaking over the phone earlier this month. In the course of her photography practice, Chandler found herself drawn to faces she encountered on the streets; as she turned increasingly towards fashion, friends in the industry (like Mike Eckhaus and Zoe Latta of Eckhaus Latta, whose Spring 2017 show was cast by Midland, or Shayne Oliver of Hood By Air) started asking where she found her models—and if they were available to walk their runways.
"I started doing it for other people and then as I expanded the practice of doing it, I realized I really enjoyed it, and it came very naturally to me," Chandler said. "I'd always been doing it accidentally."
Pearce started interning forOliver at Hood By Air at 16. "When I was an actual baby," he said, and he's been working with the brand ever since, ascending the ranks from intern to casting director, and that's where, nearly two years ago, he met Chandler when they collaborated on a casting assignment for the Hood By Air runway. At the time, he was a casting assistant, on the hunt for "the craziest people you could get," he said. That meant scouring Instagram and beyond, and in some cases, his own memory (Rai, a Midland signee, was a high school peer), to find models who weren't on the radars of other brands. He approaches his work with Midland in a similar way, bringing a street-cast ethos to even his research among agency-represented models.
"I have a rougher version of beauty," said Pearce, who had recently returned from casting the Hood By Air performance at Art Basel Miami Beach. Though certain models might be a "Walter kid or a Rachel kid," as Chandler put it, it's at the intersection of their aesthetic, each subversive in their own way, that Midland exists.
In many ways, Midland formalizes the work both Chandler and Pearce were already doing. When Pearce cast breakout model Hirakish in Hood By Air's Fall 2016 show, he catapulted the New Orleans native into the limelight (and into the pages of W, where he appeared alongside Rihanna in our September issue). Yet working on behalf of a label, rather than an agency, Pearce had little to offer the models he discovered. On occasion, they'd get scooped up by a major agency. By contrast, under the auspices of a label, Pearce is able to support, and in some cases sign, the models with whom he works.
And for those models Pearce and Chandler cast in their respective projects who went on to sign with major agencies, many reported to Chandler they didn't quite jibe with the agency's culture. That's where Midland came in: It's something of a harbor for models who have day jobs or who might not conform to conventional beauty standards.
Street casting has long been the domain of Eckhaus Latta, whose runways regularly feature friends of the designers like musician Dev Hynes and artist Susan Cianciolo; Telfar, whose Spring 2017 show was just one of several walked by Olympic fencer Miles Chamley-Watson; and Hood By Air, whose latest, Pornhub-sponsored show featured artist Wolfgang Tillmans. But recently, labels ranging from Gosha Rubchinskiy to Calvin Klein and J. Crew have recruited non-model models to represent their brands.
"There's a demand for it that might be speaking to some sort of cultural shift," Chandler said of the recent surge in street-cast shows and campaigns.
Still, Pearce, a bit of a self-professed anarchist, is reluctant to associate his work with a paradigm shift in standards of beauty — "even that sounds corny," he said. "It's hard to talk about." He'd prefer to work outside of, rather than as a counterpoint to, such standards.
"On the other hand, I think there is something about that that rings true. The reason my work exists is because there actually is a conventional beauty standard," he acknowledged—one reinforced over decades by the fashion industry. "If that wasn't the case, I would still probably be doing something similar, but it wouldn't necessarily hold as much weight."
Though the pair couldn't discuss their upcoming projects — when we spoke, they had already begun preparations for the Fall 2017 season — they could pinpoint the models they predict are about to have a breakout year. And given their track record thus far, Midland's blessing isn't one to take lightly.
16 Models to Watch in 2017, as Predicted By Midland Agency's Rachel Chandler and Walter Pearce
See W's most popular videos: