With Lady Gaga's Blessing — and a Bouquet of Shirtless Men with Balloons — Brandon Maxwell Shows Spring 2017
The designer and Gaga stylist presented just his third collection ever at Manhattan's old-school glamorous Russian Tea Room.
---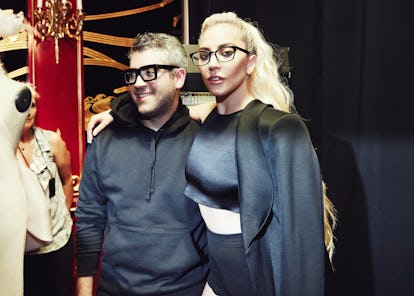 Katie Thompson
"This room is so fierce," murmured photographer Inez Van Lamsweerde as she entered the Russian Tea Room in midtown Manhattan. With its vaulted ceilings, gilt details, majestic chandeliers and mirrored walls, the room was a strikingly decadent setting for Brandon Maxwell's Spring 2017 show.
The show, just his third ever (he launched his collection with the Spring 2016 season), was something of a capstone for Maxwell's action-packed summer. He was named a finalist for the LVMH prize; he won the Swarovski Prize for womenswear at the CFDA Awards; and none other than Michelle Obama wore one of his designs, first for an appearance at the Democratic National Convention and then on the cover of InStyle magazine's October issue. And with all the attention came a radiant front row for his latest show: there was Lady Gaga, who's witnessed each one of his fashion week outings; supermodel Naomi Campbell, who wore a custom Maxwell design to the MTV Video Music Awards and accompanied the designer to the CFDA Awards; Jenna Lyons, Terry Richardson, and Empire actor Jussie Smollett; plus, Maxwell's whole family, including his mother who naturally wearing her son's designs
Backstage with Brandon Maxwell's Disco Beauties at His Spring 2017 Show
The cast of models he sent down the runway was equally impressive: Maria Borges, Taylor Hill, Lineisy Montero, Adwoa Aboah, Riley Montana, Ysaunny Brito, and Romee Strijd all walked — and, in Montana's case, twirled — down the catwalk as the jangly chords of Shania Twain's "Man, I Feel Like a Woman" opened the show.
It was a vibrant, energetic performance: "I really did feel a lot of love in my life as I was making this, so I think the collection for me was a bit more colorful and feminine," Maxwell said after the show. "I'm really just hoping to make beautiful clothes. I'm not trying to break the mold."
Notably absent from the festivities was Stella Maxwell, the designer's dog — not to be confused with the model of the same name — who hung out downstairs during the show. There have been plenty of front-row pets this season, but the Russian Tea Room proved too hot for Stella. After the show, and after the crush of friends, reporters, and photographers subsided upstairs, Maxwell and his family would join Stella downstairs for dinner, a brief moment of celebration before the designer returned to work at 7 a.m. the next morning.
"I'm not popping champagne," Maxwell said. "I'm just like, 'Okay, I need to go back to work tomorrow morning earlier, and probably try a little harder.'"
But for all Maxwell's single-minded focus, he had a brief celebratory moment the morning of the show. He had run out for a few errands and returned to a surprise: "There were all of these nude men outside of my house spelling out my name," he said. "I hadn't even had coffee yet, and I literally just went, 'What? No!' and ran inside my house." The culprit was Lady Gaga, the stunt a repeat of one she pulled for Maxwell's 30th birthday.
"I was like, I'm sure my neighborhood association is, like, very not-thrilled with this," Maxwell said. "But I was laughing hysterically, so it was good."
See W's most popular videos: