With Netflix's The OA, Brit Marling Has Finally Arrived at Her Best Medium
Always a confounding talent, the 29-year-old actress's mysterious sci-fi series is her strongest work to date.
---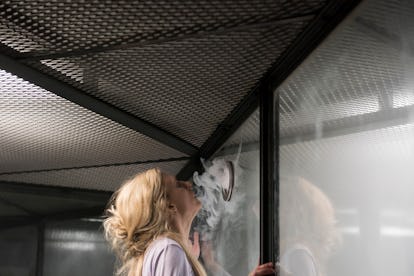 JoJo Whilden/Netflix
It was 2013, and Brit Marling was poised to make the leap from indie darling to bona fide movie star. Two years earlier, she had broken out at Sundance, not only starring in but co-writing and producing two cerebral sci-fi dramas, Another Earth and The Sound of My Voice. Her then-forthcoming film, The East, also co-written and produced by the actress, was set up as her tipping point; her co-stars Alexander Skårsgard and Ellen Page would propel Marling into the mainstream. (W even put her alongside Eddie Redmayne on the cover of the "Next" issue that April.)
As it turned out, Marling did not follow Redmayne's rocket trajectory to stardom. For fans of the actress and her existential storytelling, though, she returned this weekend with Netflix's best-kept secret, The OA, the eight-part sci-fi series she created and stars in, which everyone was binge-watching and which has received largely positive reviews.
But still: Whatever happened to Brit Marling, future movie star?
Despite its warm reception at Sundance, The East was a flop, taking in a measly $2.4 million at the box office (the budget was $6.5 million). While the festival circuit loved Marling's dystopian narratives, the movie-going public was less enthused. In hindsight, it was a little optimistic to think that people would show up in droves to see a film about an eco-terrorist group, even if Alexander Skårsgard takes his shirt off.
But there's more to her peculiar trajectory than one box office fail. Marling, who has what the press has depicted to be an adversarial relationship to her own beauty (the headline for a 2011 New York Times magazine story: "How to Succeed in Hollywood Despite Being Really Beautiful"), was always uninterested in the roles Hollywood had to offer her, to the point that she opted to write her own. "I wasn't prepared to be Bikini Girl Number 3 or star in Return of the Chainsaw IV," she told W editor at large Lynn Hirschberg. "Most of the storytelling in movies is by men, so I wanted to write complex narratives about women."
Here are the unexpected characters Marling has opted to play: a time-traveling cult leader (The Sound of My Voice), a hedge fund manager (Arbitrage), a scientist (I Origins) and a gun-wielding Civil War-era badass protecting her home against rogue soldiers (The Keeping Room). In The OA, she plays a blind woman who vanishes and returns years later, her vision mysteriously restored.
Her resume is full of such non sequiturs. She spent a summer interning at Goldman Sachs (they offered her a job; she turned it down). She also spent a summer living as a freegan alongside director Zal Batmanglij, one of her writing partners. "We spent time with people who live simpler, more community-based lives, who share things with and are accountable to each other," Marling told The Guardian in an article that labeled her a "Hollywood conundrum." "One night, everyone stripped naked and got into a fountain in the rain. It was a different way of seeing the world; suddenly you see everything as public space waiting to be reclaimed." Less romantically, the duo also froze their bank accounts and dived in the trash for food.
The OA makes a case that Hollywood movies may not be Marling's best medium. Television, specifically the sort that's released a full season at a time, feels like the better fit. It's the perfect platform for Marling and Batmanglij's intellectual sci-fi, offering them the necessary space to build their alternate reality, tease out the tricky conceptual stuff and space out twists and reveals. Directed by Batmanglij, who created, co-wrote and co-produced the series with Marling, it plays more like an eight-hour film than a series. It begs to be watched in one sitting.
Right now, high-drama sci fi TV is having a moment (Westworld, Stranger Things), and Marling might finally be on trend.