With One Day to Go Till the Presidential Election, Fashion Gets Political
Beyoncé and Lena Dunham hit the campaign trail, while Supreme tips its hat in favor of Hillary.
---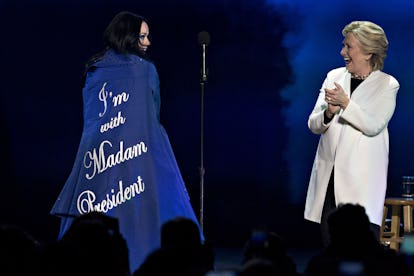 Bloomberg via Getty Images
Clark, Larry Padding his resume on both sides of the camera. The director was photographed for Dior Homme's latest campaign, and now, he's directed a video of Dior-ified skater boys for the brand.
Gaga, Lady Reportedly playing Donatella Versace in the upcoming American Crime Story season following the Gianni Versace murder.
Madonna Playing a last-minute pro-Hillary concert in an unknown location Monday night. Details forthcoming.
Plimpton, Martha Big fan of the history books. Also obsessed with Westworld.
Supreme There's just one day till the fate of our country is decided, and the endorsement you've all been waiting for has arrived: Supreme is #WithHer.
Stewart, Kristen Is it even news anymore when Karl Lagerfeld recruits the actress for another new Chanel project?
Voting Booth, The Celebrity selfie spot du jour. Just ask Beyoncé.
Wade, Cleo How the poet and It girl became woke to politics — because she wasn't always a natural on the campaign trail.