The Store Londoners like Cara Delevingne Go To for Under-the-Radar Brands Is Now Open in New York
The cult-favorite London store just opened up in New York.
---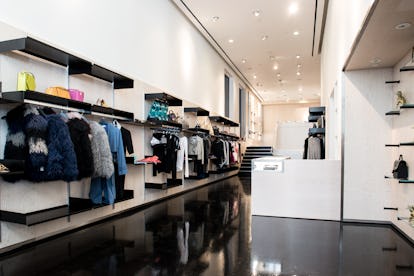 Wolf & Badger launched in 2010 in Notting Hill, the brainchild of two brothers who set out to create an online marketplace and showroom that could help bring hundreds of independent brands directly to London shoppers. The founders, George and Henry Graham, followed up their Notting Hill showroom with a shop in Mayfair in 2012. London It girls, including Cara Delevingne and Rita Ora, flocked to the store, in order to get their hands on the under-the-radar brands. But it's not just the Brits who are fans of the store: Evan Rachel Wood, a noted lover of chic suits, recently wore a three-piece option by the relatively unknown label Hebe Studio. Now, it just got easier to buy their designs, thanks to Wolf & Badger's first U.S. flagship location in New York City's SoHo.
The shop, located on Grand Street just a stone's throw from Alexander Wang and Acne, opened its doors in March. By being close to all the familiar shops, the brothers aim to offer something different. "Shoppers are bored of seeing the same designer brands on every street and on every e-commerce site they visit," George Graham said. "We can both support and nurture the most talented designers of tomorrow," adds Henry. Relatively undiscovered brands will be stocked on a three-month rotation, so that there is always new pieces in the shop. There is also a huge focus on fine jewelry, with the upper floors dedicated to a wide and varied selection.
Tribes:
Soho residents looking for something interesting they haven't already seen on the runway or someone's Instagram; Londoners who are familiar with the store's London flagship; young tourists curious for under-the-radar-cool.
Fans of the Store:
Solange Knowles, FKA Twigs, Cara Delevingne, and Rita Ora are known to browse the racks at Wolf & Badger's Mayfair boutique.
The Mix:
Independent brands only, for both women and men. Ready-to-wear and accessories are offered, and there are multiple cases full of jewelry.
Best Sellers:
Brands like Florence Bridge and handbag brand Okhtein, which Gigi Hadid was seen wearing out and about in Paris.
Price Points:
Starting at $9 for a headphone case and going up to $8,500 for a diamond bracelet.
Pièce De Résistance:
Fans of the former TradeMark store may remember the space's beautiful and modern staircase and basement-level changing rooms.
Watch: Paris Fashion Week's street style stars in action: