Wolfgang Tillmans's New Video Is An Ode To Nights On The Dance Floor
The Berlin-based artist's "Can't Escape into Space" features footage from an empty club in Fire Island Pines.
---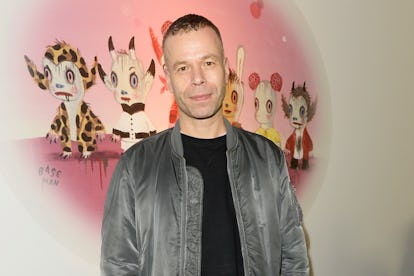 Getty Images for Coach
The artist Wolfgang Tillmans usually chooses to spend the holidays alone. In years past, he's taken the two weeks surrounding Christmas as an opportunity to "enjoy being quite solitary," he tells W. But in 2020, he has no autonomy in the matter: "It's involuntary, so let's see how that will feel," Tillmans adds. "We need patience with each other—mood swings and all the rest that will come with this."
During this strange period, Tillmans decided to look back in time as inspiration for his latest work—a short film titled "Can't Escape Into Space" that he released on Friday. The Berlin-based photographer pieced together footage he shot in 2018 of the empty dance floor at Sip 'n Twirl, a club in Fire Island Pines in New York, and set the visuals against music he co-created—the sound: a 1980s-esque synth, echoing vocals, and a reverberating handclap. "It was late summer, early autumn—possibly the best time on the island," Tillmans says. "Then the [club] had nothing—desolate as it was imbued with the memories of a busy summer season." In the context of the pandemic, the lone disco ball and flashing, multi-colored lights falling upon an unoccupied nightclub takes on new meaning, and evokes a special kind of nostalgia.
Tillmans began creating the film during spring of this year while in lockdown in Berlin. He made the soundtrack first, with music collaborator Tim Knapp. As the city opened back up, they were joined by Bruno Breitzke, who produced the tracks further over the summer. (Tillmans would drop by sessions regularly, as the two studios are located on the same street of the German capital.)
"We were also joined remotely from Fire Island by Jay Pluck and Kyle Combs, two New York artists and musicians and longtime collaborators of ours," he adds, noting that additional music they made over the summer will be released in an album next spring. "Some weeks ago, I realized that I wanted to release some of that work before the year's end—and my friend and video editor Michael Amstad dug out the footage of the empty dance floor and spacecraft-like disco balls."
The message of the video, as Tillmans puts it, centers around the dance floor: "We haven't stopped dancing yet." Meanwhile, the music, which he describes as "part comforting, part eerie," has hope for change running through it.
"I want to be back close to people and leave this time of distancing myself from others behind—but please, only when the pandemic is over," Tillmans says.
Related: Meet the Contributors Behind The New Originals Issue