Wolfgang Tillmans Made a Visual Album for the Post-Trump Era, Starring Hari Nef
On Wednesday, the German photographer, musician, and newly minted Hood By Air model released a new visual album, "Fragile," featuring a guest appearance by model and actress Hari Nef.
---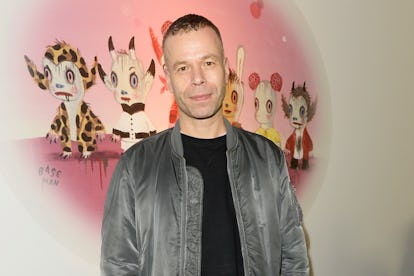 Getty Images for Coach
Hari Nef is to the art and fashion world what Martha Stewart is to the Art Basel party circuit: If she's not there, did it really happen? Most recently, Nef lent her presence to the latest project by the photographer-slash-techno musician Wolfgang Tillmans: a 27-minute visual album, That's Desire / Here We Are, with his band, Fragile, which premiered on Youtube mid-day Wednesday. It's the latest development in the artist's burgeoning music career: His song "Device Control" opened and closed Frank Ocean's own visual album, Endless, he broke the news of a forthcoming Salem album, and the visual album precedes a six-track EP (That's Desire / Here We Are) slated for release Friday.
The artist-musician and model-actress make a perfect creative coupling: They share a champion in Hood By Air's Shayne Oliver, who cast Nef in one of her first runway engagements and Tillmans in the brand's latest, Pornhub-sponsored Spring 2017 show. They're both also consummate multi-hyphenates and collaborators: Nef is a writer, actress, model, and activist, while Tillmans is a photographer, director, musician, and, however briefly, a model.
With the exception of the 1970 Kurt Marti track "Anderes Osterlied" and his own 1986 demo "Fast Lane," Tillmans composed the majority of the tracks on That's Desire / Here We Are in what he called in the video's description the "post Brexit, pre Trump" period over the summer. The tempest of this time is apparent, and not subtly: As he switches from English to German and back again, Tillmans slips in lines like "How did we end up in this shit?" — a chorus that reverberates throughout the penultimate track "Naive Me."
That's Desire / Here We Are is his music, his direction, his photography. Tillmans also recruited a few friends, including Nef, artist and model Karis Wilde, rapper Ash B., and actor Bashir Daviid Naim, who appeared on Transparent alongside Nef for four episodes. As he wrote in the video description, That's Desire / Here We Are was originally conceived as six separate, discrete videos; it was only when they reached the editing room that they became one, contiguous visual album. The album opens with frenetic energy, gradually petering out (both musically and visually — reds and greens give way to a softer, more ambient purple) towards the conclusion.
A new phrase in our vocabulary, visual albums are now trending: Frank Ocean released Endless as a kind of palate cleanser before Blonde; Beyoncé managed to make the entire nation stay in on a Saturday night with Lemonade; and Vince Staples rounded out his Prima Donna EP with a noir video reminiscent of The Shining (right down to that iconic carpeting). But Fragile is totally Tillmans's own. It has a choreographed spontaneity to it, much like Tillmans's best-known photography from his 90's heyday in the Berlin club scene, images he often staged to appear candid. It comprises looped images of hula hooping, head-standing, fist-banging bodies against vivid red, blue, and green backdrops. Nef looks mournfully into the camera, mouthing lyrics. Tillmans himself makes the occasional appearance, pulling off dance moves that recall the guy in your yoga class who shouldn't be able to hit all the poses, but somehow does.
Which is to say, Tillmans is a musician to look out for now. His latest release is full of retro techno influences, but with its Trump and Brexit subtext, it feels like 80's club kid music for the contemporary club kid scene.
See W's most popular videos: