Insider Artists
The six brothers of the breakout documentary The Wolfpack put on a show with Jeffrey Deitch.
---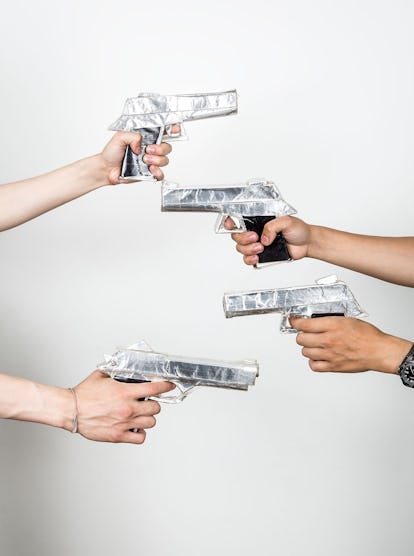 On Tuesday night, the narrow entrance of Jeffrey Deitch's project space on 76 Grand Street in New York was bottlenecked with cool kids and the adults who tolerate them. It was just like in the old days, when art stars like Kehinde Wiley were opening shows and crowds spilled onto the street—except now, everyone was angling to get in to check out the movie props and costumes made at home by the six Angulo brothers, who, until Crystal Moselle's recent documentary The Wolfpack, were unknowns in the most extreme sense: For most of their lives, Bhagavan, Govinda, Narayana, Mukunda, Krsna and Jagadisa Angulo were held captive in their Lower East Side apartment by a megalomaniac patriarch. (One especially cruel year, they were allowed outside just once.) The brothers survived because of their caring, if overmatched, mother—and because of movies. They watched, memorized, and at times gleefully re-enacted thousands of films while locked inside, doting on stylish cult favorites like Reservoir Dogs. As in Emma Donoghue's 2010 novel Room, which has been adapted into an upcoming Oscar contender, it became apparent that children in captivity can achieve some sort of escape through a heightened imagination. The many artifacts of the Angulos' inspired playacting, which has also been collected into a book of photographs by Dan Martensen, acquire a deeper resonance when you consider their therapeutic value. And the brothers do seem remarkably well adjusted, at ease even at a splashy gallery opening. In the heat of the action, I witnessed one of them sneak away—was it the brother with the trendy new bleach job?—with a young woman on his arm. The kids, it appears, will be all right.
"The Wolfpack Show" is on view through November 1 at New York's Jeffrey Deitch, Inc., 76 Grand Street. "Dan Martensen: Wolves Like Us" is available through Damiani now.