The Women Artists Taking Over Armory Week 2017
Louise Bourgeois, Betty Tompkins, and Yayoi Kusama are all here!
---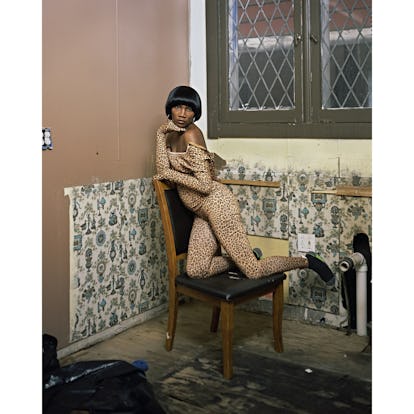 Courtesy of the Armory Show and Rhona Hoffman Gallery, Chicago
With venues like an abandoned office space towering over Times Square and the general hustle and bustle as collectors and dealers scramble to make a deal, sometimes the spectacle from the groupings of hundreds of galleries that make up Armory Week can take away from its actual focus: the art. This year's turnout of women artists, though, is definitely worth paying attention to, from retrospectives of stalwarts like Louise Bourgeois, Betty Tompkins, and Joyce Pensato to rising stars like Deana Lawson and Nikki Maloof (whose newer work is joined by that of Yayoi Kusama, she of eternal youth). As the Armory Show, the Independent, and ADAA's Art Show all kick off this week, see the fairs' best all-women's booths, here.
Betty Tompkins at P.P.O.W, ADAA: The Art Show Though the American artist has been a pioneer in feminist art since the '70s, lately, her themes like sexuality and desire have only grown more timely, drawing younger fans like Petra Collins. P.P.O.W. is looking back to those beginnings with a solo exhibition of rare, vintage works by Tompkins, from large-scale nude closeups to videos inspired by porn magazines.
Louise Bourgeois at Peter Blum Gallery, ADAA: The Art Show Peter Blum Gallery is going back to the 1940s and '50s with its showcase of rare and early works by Louise Bourgeois, a formative time of drawing and painting that mark her beginnings with themes like trauma, sexuality, and memory, with a little of Bourgeois' roots in France in there, too.
Joyce Pensato at Petzel Gallery, ADAA: The Art Show Bart Simpson, Mickey Mouse, and Batman all appear in Joyce Pensato's large-scale charcoal drawings and paintings, and have all joined together at the Park Avenue Armory for the first four-year retrospective of the Brooklyn artist's work.
Barbara Bloom at David Lewis, Independent Barbara Bloom is another name still going strong since the '70s who's suddenly found her decades-old work (unfortunately) relevant. Take her travel posters series, which she first showed in 1981, but whose slogans like "English spoken" seem all the more timely with Trump's embattled travel ban of today in her booth at David Lewis.
Deana Lawson at Rhona Hoffman Gallery, The Armory Show Before the American photographer unveils her contribution to this year's Whitney Biennial in a few weeks, she's showcasing her intimate portraits at Pier 92 with Chicago's Rhona Hoffman Gallery.
Nikki Maloof at Jack Hanley Gallery, Independent The Brooklyn-based artist Nikki Maloof is building out her menagerie-like solo exhibition at Jack Hanley at the end of last year with an actual porch, plus her usual fare of animals, most fittingly seen in paintings of moth screens.
Lygia Clark and Hannah Wilke at Alison Jacques Gallery, The Armory Show Before another landmark Brazilian artist, Lygia Pape, gets her due at the Met Breuer in a few weeks, the work of Lygia Clark, known for her interactive, neo-concrete works like folding metal bichos, will be showcased in Alison Jacques Gallery's booth of women artists, including the late American sculptor and photographer Hannah Wilke.
Yayoi Kusama, The Armory Show Platform Never not working, even as she's approaching her nineties, the Japanese artist Yayoi Kusama made an aluminum installation especially for the Armory Show, filling the fair's lounge space with her usual fare of polka dots as they truly take over her expansive retrospective, which just kicked off its tour in Washington D.C.
Huma Bhabha at Salon 94, ADAA: The Art Show The Pakistani-born sculptor Huma Bhabha's monumental, totemic cork sculptures have set up shop in the Park Avenue Armory, with references ranging from Africa to Antiquity.
See Kendall Jenner, Performance Artist, Channel Icons Like Marina Abramovic and Yoko Ono: