Women First: A Dinner for Ohne Titel
In honor of their 5th anniversary in the business, Ohne Titel—with the support of M.A.C Cosmetics— hosted a dinner last night in the back room of the Waverly Inn to celebrate not just themselves,...
---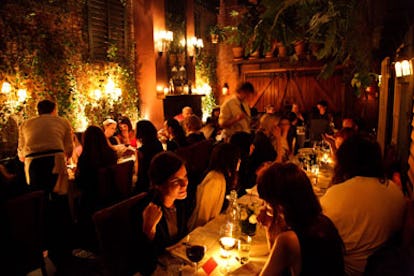 At another table, the stylist Patti Wilson recalled her early days, when she would get dolled up for her job as a cocktail waitress at the now defunct jazz club Russ Brown's. "Everyone went there—Lena Horne, Cassius Clay, Woody Allen…Even when I started working as a stylist, I didn't want to stop waitressing there." Opposite her, the musician Antony Hegarty, who recently performed a sold-out show at Radio City Music Hall dressed in a sublime Ohne Titel gown, discussed the need for a radical shift in consciousness in order to save the environment. "Women have to take control of the government—it is in their nature to tread more carefully on this planet and towards each other," he said. "You put a bunch of women in a room, and there's no problem they can't solve." Surely, none of the women in the room last night would have disagreed.
Photos: Matteo Prandoni/BFAnyc.com