Is London the Best Place to be a Female Fashion Designer?
Mary Katrantzou and other emerging designers say it's the one city where women are leading the new creative guard.
---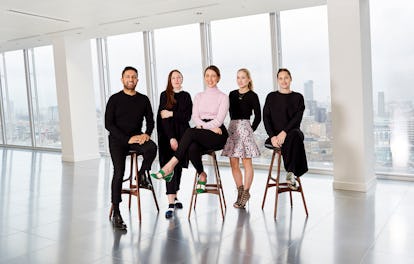 When the The British Fashion Council announced the shortlist for its British Vogue Designer Fashion Fund prize last week, a funny thing happened: all but one of the nominees —Osman Yousefzada—were women. They included womenswear brands Mother of Pearl, Osman, and Emilia Wickstead; resort brand Prism; and accessories designer Sophia Webster.
In an industry that's long been dominated by male designers and chief executives, the BFC's decision to highlight a mostly-female field of designers at its annual awards was refreshing, to say the least.
It's been said before that talent has no gender, but if you look at two of fashion's biggest luxury conglomerates, Louis Vuitton Moët Hennessy and Kering, you'll notice they both skew heavily male. At LVMH and Kering, many of the biggest houses are under the creative direction of men – Nicolas Ghesquière at Louis Vuitton, Riccardo Tisci at Givenchy, Hedi Slimane at Saint Laurent, and Tomas Maier at Bottega Veneta. When these companies choose to promote new talent, they often choose men – for instance, Alessandro Michele to succeed Frida Giannini at Gucci or Jonathan Anderson to head up Loewe. Meanwhile, Donna Karan was displaced from her namesake label and replaced at DKNY with Maxwell Osborne and Dao-Yi Chow. The exceptions to the rule are Stella McCartney, Phoebe Philo at Celine and Sarah Burton at Alexander McQueen.
Even if you look at the BFC's American counterpart, the CFDA/Vogue Fashion Fund, you'll notice that only three out of 12 finalists in 2015 were women, though Aurora James, of Brother Vellies, was ultimately among the winners besides Gypsy Sport and Jonathan Simkhai. The last woman to take the top prize was Sophie Theallet in 2009 and Doo-Ri Chung before her in 2006.
Which is not to say that it's all bad news. LVMH, for instance, is looking to Burton, for example, to follow Raf Simons at Dior. And Kering added a slew of female chief executives last year and has been working hard on its initiatives to support women in creative fields.
But the new roster of BFC Fund finalists suggests that, at least in London, the tide seems to be turning.
"I don't think that women in fashion is something new, but their growing number and exposure is something which is definitely exciting to witness," says Caroline Rush, chief executive of the British Fashion Council, referencing some of the many talented women in British fashion history, like Annette Worsley-Taylor (founder of London Fashion Week), Hilary Riva (former BFC chief executive), and of course, Natalie Massenet (BFC chair). "It's exciting to see that there are more and more talented women on the London Fashion Week schedule—this season we counted 48 female designers on schedule for 83 brands. This season, seven out of eight NEWGEN recipients [another prize for emerging designers] are women."
And that's a good thing for female designers specifically and fashion in general. There's a plethora of fashion awards out there for fledgling designers, but since its inception in 2010, the BFC Fund has come to be a particularly important launching pad for British brands for its exposure and financial support – the winner gets a 12-month mentoring support program and a £200,000 grant to provide the necessary infrastructure to take them to the next stage. Previous winners —Erdem, Christopher Kane, Jonathan Saunders, Nicholas Kirkwood and Peter Pilotto, and Mary Katrantzou among them—are a who's who list of British star designers right now, and almost all of whom have evolved from experimental young talents to global brands.
Katrantzou, who became the first woman to win the prize last year since its inception in 2010, says the funding she received was crucial to her business agenda.
"It's been very important, serving as a driving force to achieve the plans we set out for 2016," the designer says. "It allowed me to hire a CEO [Trino Verkade, who is also female] to support our growth, giving me the time to focus on the creative."
As for this latest crop of designers selected for the BFC Fund shortlist, (chosen by the likes of British Vogue editor Alexandra Shulman, Victoria Beckham, and Britain's first lady Samantha Cameron), Rush explains, "They were not selected because they are women but because they are incredibly talented and promising. The panel of this year's Fund judged the applicants on what they had to offer but also on their business acumen. We were impressed by the shortlist as it is very diverse and all designers are extremely creative."
As for Webster, she offers this: "I have not found being a woman is a hindrance, if anything being a woman and a mother makes me feel very connected to my customer, which can only be an advantage." Finalist Anna Laub says, "I think women, just from common sense, know more what women want and therefore design more practically for women and maybe that is a more viable business model." She adds, "I do feel like this [year's Fund finalist announcement] is a big moment for female designers. I was looking at an article the other day about all the up-and-coming womenswear designers in France and they were all men and that kind of struck me as so strange."
The gender gap in fashion is not something that's going to be fixed overnight, much like the sexism in Hollywood that's getting plenty of much-deserved attention right now. But at least when the winner is revealed March 22, a woman stands an overwhelming chance of taking the trophy for the second year in a row.
The Women (And One Man) Of the 2016 BFC/Vogue Designer Fashion Fund
The British Fashion Council/Vogue Designer Fashion Fund finalists: from left, Osman Yousefzada, Osman; Amy Powney, Mother of Pearl; Emilia Wickstead; Sophia Webster, and Anna Laub, Prism. Photo by Shaun James Cox for British Fashion Council.
Emilia Wickstead & models in Emilia Wickstead SS16 (Shaun James Cox, British Fashion Council)
Emilia Wickstead SS16, Backstage (Sam Wilson, British Fashion Council)
Emilia Wickstead SS16, Backstage (Sam Wilson, British Fashion Council)
Emilia Wickstead SS16, Backstage (Sam Wilson, British Fashion Council)
Sophia Webster & shoes from Sophia Webster SS16 (Shaun James Cox, British Fashion Council)
Sophia Webster SS16, Presentation (Kensington Leverne, British Fashion Council)
Sophia Webster SS16, Presentation (Kensington Leverne, British Fashion Council)
Sophia Webster SS16, Presentation (Kensington Leverne, British Fashion Council)
Sophia Webster SS16, Presentation (Kensington Leverne, British Fashion Council)
Osman Yousefzada & models wearing Osman SS16 (Shaun James Cox, British Fashion Council)
Osman SS16, Backstage (Kensington Leverne, British Fashion Council)
Osman SS16, Backstage (Kensington Leverne, British Fashion Council)
Osman SS16, Backstage (Kensington Leverne, British Fashion Council)
Osman SS16, Backstage (Kensington Leverne, British Fashion Council)
Amy Powney & models wearing Mother of Pearl SS16 (Shaun James Cox, British Fashion Council)
Mother of Pearl SS16, Backstage (Sam Wilson, British Fashion Council)
Mother of Pearl SS16, Backstage (Sam Wilson, British Fashion Council)
Mother of Pearl SS16, Backstage (Sam Wilson, British Fashion Council)
Mother of Pearl SS16, Backstage (Sam Wilson, British Fashion Council)
Anna Laub & models wearing Prism SS16 (Shaun James Cox, British Fashion Council)