Women's History Museum, Once an Underground Fashion Secret, Is Now Finally Available to the Public
The fashion-art label that's been making scrappy couture since 2014 made their big New York debut at Gavin Brown's Enterprise last week.
---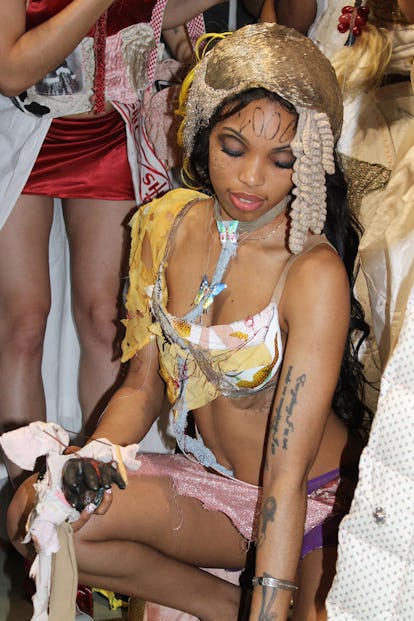 Kelley McNutt
For their first-ever official clothing sale and solo exhibition at Gavin Brown's enterprise, the two 27-year-old designers and multimedia artists behind Women's History Museum practically moved into the downtown Manhattan gallery, transporting huge pieces of furniture and much of their closets from apartments in Brooklyn. A little overboard, yes, but drama has been Amanda McGowan and Mattie Rivkah Barringer's forté, and in this case, it was definitely warranted—the show marked their long-awaited formal debut in the fashion and art scenes they've thrived in since 2014, elusively.
"It's nice that we have everything here so people can get a sense of what it is that we do, because a lot of people don't know," Barringer said the day before the opening last week, surveying the gallery that represents their back catalogue, not to mention the still unfinished ready-to-wear they would labor over until early the next morning.
The art-fashion duo is so mysterious and unconventional that I felt compelled to ask if they invite editors or curators to their fashion shows—standard practice for any designer, established or up-and-coming. "Um, we don't know who those people are," Barringer said. "We're not the best at being self-promotional," McGowan added. In fact, Women's History Museum doesn't even have a website, and pretty much the only way to find out about their shows, or to buy their work, is via word of mouth.
But the secret is unraveling. Barringer and McGowan not only made their big New York gallery debut last week, but are a month from being showcased in an exhibition curated by Bjarne Melgaard and Jenny Schlenzka that'll mark the buzzy re-opening of the performance art space formerly known as PS 122. Its opening just so happens to take place the same month as what will be their fifth fashion show, which this time will double as a play.
All in all, it's undeniably the most exposure the pair has ever gotten since their decision three years ago to devote their practically nonexistent free time after working full-time jobs to making couture, which at that point they had no intention of selling. "It was more of an art project, since we're totally self taught and didn't know how to construct clothing," Barringer said. Though still an art project of sorts, it's definitely now on a larger scale; they recently had to stage two shows in a row to accommodate the crowds that turned up, half of whom they don't even recognize, even though the invite list largely limited to collaborators and friends.
The mystery around Women's History Museum's slow burn has only added to their allure, naturally. They staged their first-ever, largely un-promoted guerrilla fashion show in 2014 on a day that saw what McGowan, a lifelong New Yorker, called "the most insane rain I've experienced in New York maybe ever." All of their models had to hole up in the basement of a local coffee shop before the designers could escort them to a tent, which they'd bribed a nearby closing Greek festival vendor into keeping up just a bit longer. The downpour was enough to stop the trains running, but 30 or so faithful friends still showed up, huddling under umbrellas.
The cult-y intrigue about their work does not come with unreserved praise for it. For some, there is what Barringer described as "a palpable reaction of discomfort or dislike toward our stuff, toward the reality we're proposing"—a reality which, according to McGowan, highlights "queer people and women being joyful and confident and celebratory." Hecklers aside, though, that mission is what's won them their own community of sorts; they collaborate with like-minded artists like Donna Huanca, and designers like Gogo Graham.
Graham, a bespoke designer for trans women who prefers to give away her designs rather than sell them, is not only the duo's "best friend," but also McGowan's roommate. She's served as both a hairstylist and a model for Women's History Museum's shows (she also pitches in as a seamstress from time to time). The story of WHM, in fact, is an accidental one: McGowan met Graham, for example, when they happened to walk through a subway turnstile at the same time one night, and she met Barringer at an N.Y.U. transfer orientation after Barringer spilled coffee on someone, causing McGowan to notice she was wearing the same Phillip Lim bag she'd been eyeing on eBay. The rest is, um, women's history.
Though some stores have reached out to stock their designs, Women's History Museum's tendency to show sporadically—basically, whenever they can find time between their full-time jobs—and the fact that they prefer making everything by hand has made production at scale largely impossible. To their surprise, though, the art world has been more enthusiastic about and receptive to their potential than the fashion industry. Then again, maybe that shouldn't be so surprising: One of WHM's exemplary early pieces, a striking pair of thigh-high, fur-lined boots that lace up the back and are made up of pearly, iridescent strips that are actually pieces of an exercise ball, is exactly the type of work that is not being recognized just as a one-of-a-kind couture piece, but also as art.
Some of their pieces lean towards art even more explicitly: The exhibition at Gavin Brown, titled "OTMA's Body," which is up until February 25, is replete with pieces of furniture, like a sofa in Barringer's living room that she likes to draw and paint on, and a giant stuffed sculpture from McGowan's apartment that her friends like to nap on. Domestic space is a major theme for McGowan and Barringer, who have long worked mostly apart, laboring over time intensive pieces in their homes. Looking at a dress sheathed in a pelt of fur cut into a web of barbed wire that hung from the ceiling of the gallery, McGowan recalled the hours she'd spent laboring over the intricate piece in her bed. "I would blow my nose and fur would come out," she said.
Domestic space, as the two pointed out, has long been of particular significance for women, and part of their homage to that history is to stay far away from fabric stores, upcycling materials dating back to the 1800s and patching them together in the same way women creators and craftmakers did centuries before them. And while history is of course at the center of their brand, their approach to it is smartly contemporary: Unlike many brands that are now unisex and would like to been seen as progressive, they've openly embraced femininity—as long as, McGowan said, "whoever wants to participate in it is free to."
Related: Donna Huanca's Nude, Statuesque Models Make a Colorful Splash at Frieze Week in London