Fashion Industry Gets Political Ahead of Saturday's Women's March
Marc Jacobs, Mary-Kate and Ashley Olsen and Rachel Comey are just a few of the bold-faced names planning to show their support – whether it be in person or hash-tagged – for what it expected to be the biggest inauguration-related demonstration in United States history.
---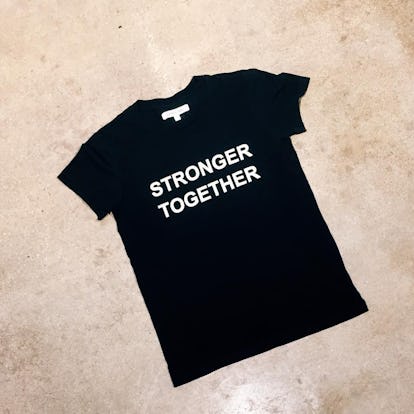 With less than 24 hours to go before Donald Trump gets sworn into office as 45th President of the United States, Washington, D.C. is the current fashion capital of the world–but not for the obvious reasons.
Sure, the ongoing debate of who will dress Melania Trump will finally be put to bed (current front-runners seem to indicate Ralph Lauren and Karl Lagerfeld may be doing the honors), but her one gown-to-be will be met with an estimated 200,000 attendees descending upon the country's capital for the Women's March on Washington–not to mention its numerous counterparts in cities worldwide.
Joining the masses and celebrity-folk alike (Cher, Amy Schumer and Jessica Chastain are just a few of the numerous stars who have announced they will be attending) will be the fashion industry, well its more liberal pockets.
In an open letter addressed to "designers and business owners," Rachel Comey asked her peers to take action, writing, "This is an opportunity for us, the fashion industry, to show that we stand in solidarity with the women who make up the majority of our customers—and the majority of our workforce. Women's rights are human rights. I propose that we, as an industry, seize this moment as the powerful leaders and influencers that we are and act to amplify this message. Please join me in a campaign to support, promote and endorse the march. I've outlined a few ideas for how we can organize; additional ideas are more than welcome."
The designer goes on to suggest that beyond marching, by donating a portion of sales over the weekend to support various human rights organizations. For her part, Comey will donating 50 precent of all brand sales on Saturday, January 21st to Planned Parenthood. Her New York and Los Angeles stores will be manned solely by the brand's male staff, as the women on her team take part in their respective cities' marches.
What to Wear to the Women's March this Weekend
Los Angeles-based leather goods designer Clare Vivier will be donating a portion of her weekend sales to charity, in addition to heading east to D.C.
"I'm truly looking forward to march in D.C. together with a group of incredible female designers and entrepreneurs, alongside the millions who are gathering to make their voices heard," Vivier told W about her decision to march. "It's never been more critical for us to come together to support the disenfranchised and those causes that feel most threatened."
Maria Cornejo, who will keep her demonstrations local by marching in New York, will be donating a portion of the brand's proceeds to three different organizations-Planned Parenthood, ACLU and Human Rights Watch. Other brands planning to be involved in the action–whether in person or via donations–include Apiece Apart, Ulla Johnson, Mara Hoffman, Orley, and Trademark, among others.
And while the march's official t-shirt, designed by Bob Bland, will surely be a popular uniform for Saturday's activities, it's not for a lack of options. Ashley and Mary-Kate Olsen's contemporary brand Elizabeth and James has released a cotton tee with the words "Stronger Together" emblazoned across the front, with twenty percent of proceeds from the sales will be donated to the non-profit organization Baby2Baby. And CherryBombe Magazine has also gotten in on the merch game, releasing what they're calling a "Protest T-shirt," which reads "Don't touch my pussy or the White House garden." Five dollars from each sale are going to support the March itself. For something a bit more weather appropriate for the expected chilly temperatures, Lingua Franca's Rachelle Hruska MacPherson will be donating half of all proceeds from the sales of the label's hand-stitched "I Miss Barack" cashmere sweater to the charity of the shopper's choosing.
Keep an eye out for those pieces – and plenty other sartorial statements – through the march's official hashtags, #WhyIMarch and #IMarchFor, where many major designers, including Marc Jacobs, are planning to pledge their social media support. No word on whether @NevilleJacobs will also be posting.
Meet the Women Who Are Making the Women's March on Washington Happen
The executive director of the Arab American Association of New York, Linda Sarsour — a Brooklyn native, mother of three, and now one of the national co-chairs of the Women's March on Washington — has been working at the crossroads of civil rights, religious freedom, and racial justice for 15 years. Once an aspiring English teacher, she joined the Arab American Association in its infancy, succeeding founder Basemah Atweh, her mentor, as executive director with Atweh's death in 2005. "I grew out of the shadow of 9/11," Sarsour said. "What I've seen out of bad always comes good, is that solidarity and unity, particularly amongst communities of color who feel like they're all impacted by the same system."

Photo by Driely S, Produced by Biel Parklee.
Tamika D. Mallory's roots in community organizing and activism extend back to her early childhood: her parents were two of the earliest members of the Rev. Al Sharpton's National Action Network nearly 30 years ago, an organization for which Mallory went on to act as executive director. But it wasn't until the death of her son's father 15 years ago that Mallory found her niche in civil rights and flung herself headlong into activism. Now, she's one of the four national co-chairs of the Women's March on Washington, balancing organizing the march with her day job as a speaker and civil rights advocate. "We're centering this march by having women to be at the helm of it, to organize it, and to be most of the speakers," she said. "At the same time I think it's very important that we never forget the fact that our men, our brothers, our young brothers particularly need this support."

Photo by Victoria Stevens, Produced by Biel Parklee.
Fashion entrepreneur Bob Bland was nearing the due date of her second daughter, now seven weeks old, when she posted a Facebook event calling for a march on Washington during inauguration weekend. Nine weeks later, she's one of four national co-chairs at the heart of the Women's March on Washington — where she'll march with her infant, her six-year-old daughter, and her 74-year-old mother. "We're activating people who were previously content with sitting behind their computer and posting on Facebook," she said.

Photo by Victoria Stevens, Produced by Biel Parklee.
For Carmen Perez, executive director of Harry Belafonte's Gathering for Justice and one of the four national co-chairs of the Women's March on Washington, work permeates everything else: "There's no real life outside of activism," she said. Just over two decades ago, Perez's elder sister was killed — the anniversary of her burial coincides with the march, and with Perez's birthday — and navigating the justice system motivated her to work with incarcerated young men and women, first as a probation officer and then with The Gathering, operating on the intersection of race, criminal justice, and immigration. "Oftentimes, when I'm in spaces, I am the only Latina and I have to speak a little louder for my community to be part of the conversation," she said. "The work that I do around racial justice, it's not just about Latino rights. It's also about human rights."

Photo by Hannah Sider, Produced by Biel Parklee.
Californian ShiShi Rose, 27, moved to New York a year ago to develop her activism and writing. She previously worked at a local rape crisis center and assisted in educating therapists and counselors before turning her focus more squarely towards race, first via her Instagram account and then through public speaking engagements and writing. As part of the national committee for the Women's March on Washington, Rose runs the group's social media channels, from Instagram (where she has a substantial following) to Facebook. "Women encompass everything," Rose said. "If you can fight for women's rights, you can fight for rights across the board."

Photo by Tyra Mitchell, Produced by Biel Parklee.
A law student-turned-actress-turned-activist, Sarah Sophie Flicker was born in Copenhagen, the great-granddaughter of a Danish prime minister who has been credited with bringing democratic socialism to Denmark. She grew up in California before moving to New York to found the political cabaret Citizens Band, eventually joining the production company Art Not War. "Once you start breaking it all down, you realize the most vulnerable people in any community tend to be women," she said. "All our issues intersect, and something that may affect me as a white woman will doubly affect a black woman or a Latina woman or an indigenous woman. So when we talk about a women's movement, we need to be talking about all women."

Photo by Victoria Stevens, Produced by Biel Parklee.
Vanessa Wruble, a member of the national organizing committee, is the uber-connector of the Women's March on Washington. She's also the founder and editor of OkayAfrica, a site connecting culture news from continental Africa with an international audience. It was Wruble who first messaged Bland on Facebook to connect her with the women who would eventually become her co-chairs: "She said, Hey, you know, you need to center women of color in the leadership of this so it can be truly inclusive,'" Bland recalled. Within a day, they were meeting for coffee; now, they're marching together in one of the largest demonstrations in support of a vast array of causes in United States history.

Photo by Amber Mahoney, Produced by Biel Parklee.
Paola Mendoza, artistic director of the Women's March on Washington, is a Colombian-American director and writer whose work has focused on immigrant experiences, particularly those of Latina women. "Women have never convened this way in our lifetime," Mendoza said of the march, "and it's being led for the first time ever by women of color."

Photo by Victoria Stevens, Produced by Biel Parklee.
Janaye Ingram, who Michelle Obama once described as an "impressive leader," is Head of Logistics for the March, in addition to being a consultant for issues like civil, voting, and women's rights in Washington D.C.

Photo by Kate Warren, Produced by Biel Parklee.
Cassady Fendlay, communications director for the Women's March on Washington, is a writer and communications strategist whose clients include The Gathering for Justice — the organization helmed by Women's March national co-chair Carmen Perez. As the spokeswoman for the march, Fendlay is tasked with acting as its mouthpiece, ensuring its message is accurate, unified, and coherent.

Photo by Victoria Stevens, Produced by Biel Parklee.
In addition to being a producer of the march, Ginny Suss is the Vice President of Okayplayer.com and the President and co-founder of OkayAfrica — she does video production for both. Her background in the music industry runs deep, and she's worked closely with The Roots for the past 13 years, serving as their Tour Manager for some time. She's also produced large outdoor events like The Roots Picnic, Summerstage, Lincoln Center Out Of Doors, and Celebrate Brooklyn — vital experience for organizing a march of this size.

Photo by Amber Mahoney, Produced by Biel Parklee.
Last year, Nantasha Williams ran for the New York State Assembly as a representative of the 33rd district — which encompasses a region just east of Jamaica, Queens. Though she lost to Democrat Clyde Vanel, she's putting her organizing skills to good use in the aftermath of the election, working on the logistics team for the march and assisting national co-chair Tamika Mallory.

Photo by Driely S, Produced by Biel Parklee.
When Alyssa Klein isn't managing the various social media accounts for the Women's March, she's writer and Senior Editor at OkayAfrica, the largest online destination for New African music, culture, fashion, art, and politics. Based in both New York City and Johannesburg, Klein's passion is movies and television, and has made it her profession to highlight creatives of color in both industries. Juggling social media is no easy side project, however. The Women's March has approximately 80,000 followers on Instagram and Twitter, plus a over 200,000 on Facebook.

Photo by Amber Mahoney, Produced by Biel Parklee.
Shirley Marie Johnson is the March's head administrator for Tennessee, as well as an author, poet, and singer. Primarily, though, she's an activist and advocate for those who are victim to domestic violence, a cause that's not only her focus at the March, but in her day-to-day life through her group Exodus, Inc., which aids those affected by rape, human trafficking, and other abuse.

Photo by Alysse Gafkjen, Produced by Biel Parklee.
Born in Shanghai, Ting Ting Cheng studied human rights at the University of Cape Town — and became an award-winning Fulbright scholar to South Africa — before heading to New York, where she's now a criminal defense attorney at the Brooklyn Defender Services. All that's no doubt come in handy for her role as Legal Director of the March.

Photo by Amber Mahoney, Produced by Biel Parklee.
Heidi Solomon is one of the three co-organizers for the Pennsylvania chapter of the Women's March. Although she doesn't have a long background in activism, Trump's election moved her to take action, and she's helped rally approximately 6,000 people from her home state.

Photo by Lauren Driscoll, Produced by Biel Parklee.
Deborah Harris is a grassroots organizer and feminist self-help author who lives in Las Vegas, Nevada, and served as a community activist for 10 years in the fields of fashion, healthcare, at risk youth, and supportive women's relations.

Photo by Heather Gildroy.
As Illinois' state representative for the Women's March, Mrinalini Chakraborty has taken the lead in coordinating the Chicago-area charge, organizing bus rides for well over a thousand women and other supporters. She's also on the National Committee and is a coordinator for all 50 states coming to D.C.. And that's in addition to her day job: She's a graduate teaching and research assistant at the University of Illinois at Chicago for anthropology, not to mention a student and a dedicated food blogger.

Photo by Alina Tsvor, Produced by Biel Parklee.
After earning her Ph.D in psychology, Dr. Deborah Johnson is now studying social work at the University of Oklahoma in Tulsa — and making sure she stands up for both her and her daughter's rights at the March, which she's helping lead the way to for other Oklahomans.

Photo by Sarah Roberts, Produced by Biel Parklee.
Renee Singletary is an organizer, mother of two, wife of one, marketing consultant, and certified herbalist living and working in Charleston, South Carolina.

Photo by Lauren Jonas, Produced by Biel Parklee. Hair by Katrina Lawyer, makeup by Elizabeth Desmond.
A yoga instructor, theater graduate, and local organizer, South Carolina native Evvie Harmon has brought her skills and energy to the march as its global co-coordinator alongside Breanne Butler. Together, they facilitate partner marches and local organizers around the world, bringing the whole thing into synergy.

Photo by Kate Warren, Produced by Biel Parklee.
See W's most popular videos: