Rodarte's Kate and Laura Mulleavy Release First Preview for Their Upcoming Film Woodshock, Starring a Particularly Haunting Kirsten Dunst
The film, out in September, marks the feature film debut of designers Kate and Laura Mulleavy.
---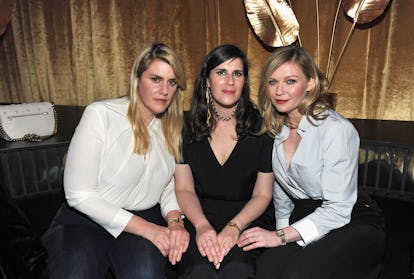 Donato Sardella
Watch out, Tom Ford: there are two new designer-turned-directors on the scene. Today, Rodarte's Kate and Laura Mulleavy debuted the first trailer for _Woodshoc_k, their highly anticipated debut film, due out in theaters on September 15th. News that the designers would be filming a feature length movie were first reported in 2015, when A24—the company behind indie hits such as Room, The Witch, and Moonlight—scooped up theatrical U.S. rights before shooting had even begun. Still, nearly two years later, little had been released about the plot—until now.
The film centers around Theresa, played by Kirsten Dunst, described as "a haunted young woman spiraling in the wake of profound loss, torn between her fractured emotional state and the reality-altering effects of a potent cannabinoid drug." The trailer makes that haunting part clear, featuring long shots of the actress walking slowly, barefoot on the beach and in the woods, collapsing in tears, and staring directly into camera. "That's just Theresa being… Theresa," explains a male voice-over at one point.
Of course, the two minute clip still lives much to mystery about the story at hand, which was also written by the Mulleavys. It does, however, give insight into just what a Rodarte-helmed film will look like: spellbinding, creative, and altogether dreamy, not unlike their clothes themselves.
While Woodshock marks the sisters' first film, they duo are no strangers to the industry. In 2010, the duo created many of Natalie Portman's costumes for Black Swan. ""Our first relationship to clothing didn't come from what our mom was wearing; it came from film," Laura told Vanity Fair at the time.
The film also marks the latest project in what has been particularly busy time for the pair. Last month, the sisters debuted their Coach & Rodarte collection, and come July, they will show their new collection in Paris during Haute Couture Fashion Week as official Chambre Syndicale de la Haute Couture guest members. Additionally, the National Museum of Women in the Arts in Washington, D.C. has announced plans to host a Rodarte exhibition in Fall 2018, marking the museum's first solo fashion exhibition.
In short, get ready for a whole lot of the Mulleavys in the coming months.
Related: Natalie Portman Might Still Think About Kissing Patrick Swayze