The 32 Hottest Players at World Cup 2018: One Very Good Reason to Follow Each Country
Need a reason to care about the World Cup? Here are 32 very good ones, one for each team.
---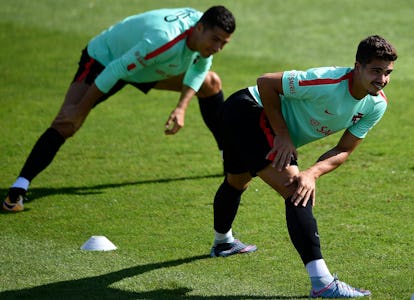 Photo by Francisco Leong/AFP/Getty Images
For most of the globe, World Cup 2018, which kicks off this Thursday in Russia, is the cherry atop a bottomless sundae of football obsession, all the more delicious for its only-every-four-years exclusivity. This go-round, however, the USA will be going to bed without dessert: Our national team didn't even qualify. But don't let the lack of an obvious patriotic bandwagon deny you the competitive joys of a bunch of dudes Doin' It For Their Country; even if you're not that invested in the actual outcome of, say, Iceland v. Croatia, there's still plenty to enjoy out on the pitch. And we do mean enjoy: We've bravely scanned the faces and physiques of all 32 national teams in the World Cup, and found at least one sweaty, sexy-as-hell athlete from each squad for you to keep an eye on for 90-plus minutes a match. Because while soccer is the world's most popular sport, everyone knows that the one true international language is love.
GROUP A
Egypt: Ramadan Sobhi.
We're coming out of the gate strong here with a team that is, overall, LOADED with hotness. It also boasts the oldest player in World Cup history (45-year old captain and goalkeeper Essam El-Hadard). We went back and forth between multiple Egyptian players—truly, our job is such a drudge—before giving forward Ramadan, 21, the ultimate nod. However, we're open to further discussions about the relative hotness of his teammates. May Egypt go far this year to facilitate this continued scrutiny.
Honorable mention: Abdallah Said.
Russia: Aleksandr Golovin.
Granted, as Americans, it does feel politically awkward right now to lust after a Russian. But there's a reason "star-crossed lovers" is a cliché, and great '80s romances were built from less. Here, our pick is team star Aleksandr Golovin—and, yes, it's at least partly because, in English, his last name literally spells out a command to make love, not war.
Uruguay: Nahitan Nandez
Uruguay's star player Luis Suarez is objectively handsome, but he's also noteworthy for having intentionally bitten three people during games, and was suspended for what England's Football Association terms "racial abuse." (He also got in trouble for head-butting a ref, and for making obscene gestures. He's… a lot.) Ergo, our nod goes to the much younger, much less problematic Nandez, 22, who both looks like he could easily star on a CW soap and also hasn't attacked anyone with his teeth. Yet.
Saudi Arabia (KSA): Mansoor Al-Harbi.
In the course of writing this piece, it became clear to us that many handsome footballers are only like 19 years old. Rest assured: Despite his appealing, youthful face, Mansoor is 30 and therefore totally appropriate for all of us to ogle.
GROUP B
Portugal: Andre Silva
Admit it: You expected Cristiano Ronaldo's name here, given that he's one of the most famous—and famously sculpted, in more ways than one—footballers in the world. But we believe Ronaldo has already begun passing the torch to his fellow forward: Silva, 22, is a touch more rugged, has an impressive head of hair, and for what it's worth, is clearly no stranger to abs himself.
Honorable mention: So many, but let's go with Adrien Silva and his if-Ben-Affleck-were-still-hot quality.
Iran: Ramin Rezaeian
Ramin, 28, is a defender for Iran, another team that is thrilled just to be there but isn't expected to go deep. So don't miss his superb head-suit on the field; sometimes, he gets sculptural with it. Oh, and his triceps also seem extremely relevant to our collective interests.
Extremely honorable mention: Morteza Pouraliganji.
Spain: César Azpilicueta
Again, we ignored the obvious choice, Gerard Pique, a.k.a. Shakira's hot piece. We all already know he's a babe, because Shakira's hips would never lie to us. Then we almost gave it to a dude who didn't make the team, and thus, hearts broke across our office. Fortunately, Spain's roster is lousy with dishes, so here's veteran defender César Azpilicueta, 28, whom we think of as If Sebastian Stan Were A Sexy Baller. Check him out in a suit. Rowr.
Morocco: Mehdi Carcela
Carcela is a midfielder for Morocco, and you'll have to drink him in early, as Morocco is not at all favored to advance. It takes a special kind of cute to carry a whole poster in which your face is superimposed on The Kremlin, though, and he's got more than enough.
Honorable mention: Youssef ait Bennasser.
GROUP C
France: Djibril Sidibé.
France is surely on edge waiting to find out if Djibril is fully recovered from the knee injury he suffered in April. We're also concerned—but mostly because we would miss his spectacular cheekbones if he had to sit this one out.
Honorable mentions: Olivier Giroud and Hugo Lloris.
Australia: Mathew Leckie
Sure, his face is model-handsome, but don't overlook his legs.
Peru: Andre Carrillo
As recently as March, Andre was blond; and before that, his hair was orange. We're excited to see him in action in Russia, but we might be more excited to see whatever he might do next to his hair.
Denmark: Mathias Jorgensen
If your primary goal in choosing which team you're backing in the World Cup is based on whether they boast players who believably could have been in a very attractive boy band, start with Denmark and start with Mathias.
Honorable mention: Nicolai Jorgensen (Related: Are all Jorgensens hot?!).
GROUP D
Argentina: Marcos Rojo
CALM DOWN, Argentina fans: We love Lionel Messi, too, and we're not trying to poke the devotees. But he is on his way out of international competition—he already briefly retired once in 2016—and it might be time to steel ourselves against that future loss by giving our hearts elsewhere. So, in the name of branching out, Marcos is an excellent (and excellently coiffed) option.
Iceland: Rúrik Gíslason
Listen, it's not the World Cup without a dude you think is good-looking despite his man-bun. And, to borrow from Zoolander, Rúrik is really, really ridiculously good looking.
Croatia: Duje Ćaleta-Car
Duje looks like the actor you'd cast to play the hero in your World Cup rom-com, where he falls in love with the young woman coach working her way up through the ranks with moxie. Do you think he can act? Someone get ahold of Netflix.
Nigeria: William Troost-Ekong
The Nigerian World Cup team is called the Super Eagles, and William definitely qualifies as super. On brand!
Honorable mention: Victor Moses.
GROUP E
Costa Rica: Cristian Gambo
Cristian is undeniably handsome, but he also gets bonus points for having fantastic eyebrows.
Brazil: Neymar Jr.
Neymar is extremely good at soccer, but noting that he's highly skilled in his profession of choice shouldn't also preclude us from ogling him. We can multitask.
Serbia: Filip Kostić
Many of the World Cup pundits have expressed concerns that Serbia's team is too old. Leaving aside the fact that we're offended by this as old people, Filip here is a spritely 25, so hopefully we'll get to eyeball him for many years to come.
Switzerland: Fabian Schär
It's fine. This dude just literally looks like a Disney prince. NBD.
GROUP F
Germany: Jérôme Boateng
Germany has a murderer's row of good-looking goalies. But there's something too enticing about Boateng's off-the-pitch glasses, as if he'd be just as delighted to bang around a football as he is to sit down and have a deep chat about quantum entanglement. On the field, Jerome, 29, is one of the best defenders in the game, so he's got that going for him too, we suppose.
Honorable mention: If we must choose one goalie, it's Marc-Andre ter Stegen.
Mexico: Rafael Márquez
Márquez, at 39, is essentially the team's hot dad, and is about to be only the third player in history to participate in five World Cup squads. However, we regret to inform you that Hot Dad might have a questionable streak: He's competing under a cloud of suspicion about whether his businesses have been fronts for drug traffickers. Should this disqualify him from his hotness? Well… it's not great. But the midfielder says he's innocent, and if we can be extra extra shallow for a second… look at that hotness. Let's just slip into denial about this problematic fave while the law works this out.
Honorable mention: The Dos Santos brothers, Giovani and Jonathan.
South Korea: Kim Shin-wook
Kim is listed at 6'5", so he's not just a refreshing drink of water; he's also the proverbial tall one. He's also apparently been nicknamed "Christian brother" by his teammates for the fact that he reads the Bible before games. Which is neither here nor there, but since we just endorsed a dude who might have ties to drug lords, we wanted you to know our tastes run to the virtuous, too.
Sweden: Martin Olsson
Olsson, 30, is plenty cute on his own, but he comes with perks: First, he has an equally adorable twin brother who also plays soccer. And his brother-in-law is Dirk Nowitzki of the Dallas Mavericks, so you can… fantasize about NBA tickets? Sure, let's go with that.
GROUP G
Belgium: Thorgan Hazard
Thorgan is a 25-year-old midfielder who's been nicknamed "Toto," and y'all, that's fine, because we are definitely not in Kansas anymore.
Honorable mention: Axel Witsel. Those eyes.
Panama: Michael Amir Murillo
We had a hard time researching this team fully—just try Googling a dude named "Alex Rodriguez" and getting anything other than A-Rod pics, no matter what descriptors you add. The good news is, we didn't need to dig that hard: Welcome to Michael Murillo, 22, a defender who plays in the U.S. for the New York Red Bulls. He's dreamy and he's (relatively) local, so you're more easily able to appreciate his, er, skills in person.
Tunisia: Fakhreddine Ben Youssef
This 26-year old forward is a tasty cross between Prince Harry and whichever your favorite Weasley is. And he owns a Roger Federer t-shirt, so maybe Fed will decide to swing by Russia and lend his own handsome support.
Honorable mention: Bassem Srarfi.
England: Jack Butland and Ruben Loftus-Cheek
This was a toughie. On the one hand, Butland, the 25-year old keeper, has more than a soupçon of Young David Beckham about him; on the other, BEHOLD RUBEN'S QUADS. And they both have such great names (Butland Loftus-Cheek would make a fantastic ad agency). In the end, we've decided this decision is above our emotional pay grade and we're choosing them both.
Honorable mention: Newbie Trent Alexander-Arnold.
GROUP H
Colombia: Radamel Falcao
"It's your turn soon, young one. But for now, the Falcao flies alone."
Honorable mention: The young one, aka James Rodriguez.
Poland: Łukasz Piszczek
This decision was made completely clear when we noticed that the muscles around the 33-year old defender's kneecap are the size of a young mountain range.
Senegal: Keita Baldé Diao
Keita, a 23-year old forward on the rise who plays in Monaco as his day job, is lauded for his quick feet and dribbling skills and yada yada yada come on, his abs win the day.
Honorable mention: Alfred N'Diaye
Japan: Yoshinori Muto
"I volunteer as tribute!"
TEAM TO WATCH:
What team shouldn't you watch? If we learned anything in writing this piece, it's that the old stereotype is true: Soccer players are hot. It must be all that fresh air and cardiovascular exercise. Having said that, England, Portugal, Spain, Egypt, Iceland, and Iran are all worth a more thorough ogle.
GROUP OF DEATH: GROUP B
In World Cup parlance, the "Group of Death" is the most competitive one, from which it will be the most difficult to advance to the next round. In our parlance, it is the group that made it hardest to choose any one display of hotness over another; the group that, in its entirety, could most feasibly immolate any competition simply by staring at them and flexing their thighs a bit. In the end, we cannot deny a group that boasts both Spain and Portugal, and did you see the Iranian team in suits?!? Bring it on, World Cup 2018!
Heather Cocks and Jessica Morgan write the snarky celebrity fashion website Go Fug Yourself, and are the authors of the best-selling novel, The Royal We.