Things Are Not What They Appear
Inside Xu Bing's new exhibition at SCAD.
---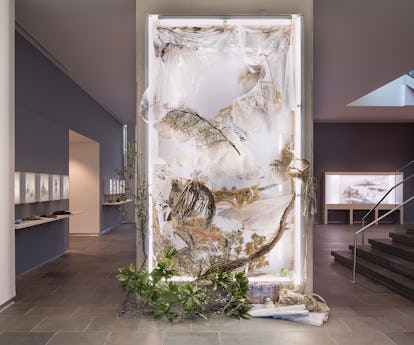 Bradley Cooper may have brought his mother as his date to the Oscars on Sunday, but that move isn't reserved for movie stars. Last week in Georgia, the celebrated Chinese artist Xu Bing had mom in tow when he was honored at the Savannah College of Art and Design, which was launching its sixth annual deFINE Art festival. SCAD, which has previously paid homage to Andre Leon Talley and Marc Jacobs at the festival, tapped Xu for the multiplicity of his output, from a 12-ton installation of construction-site detritus to his shadow-and-light box paintings to his piece Book from the Ground, in which he invented a universal pictorial language. "Where there are problems, there is art," said Xu, who is also the president of Beijing's Central Academy of Fine Arts. "No matter where or what era you live, you always share the problems of that place. The style or form is not important."
A survey of his work at SCAD, "Things Are Not What They Appear," which runs through July 3, revolves around his primary concern: language, and how it provokes and skews what we would deem as truth. It includes his animated film The Character of Characters, which breaks down the brutality of brushstrokes that make up Chinese characters. And there is also his series Tobacco Project, in which he uses the actual crop as his material to examine the "relationship between humans and tobacco." A tiger-skin rug is comprised of nearly 500,000 1st Class brand cigarettes and books printed on whole tobacco leaves retell an early-17th century account of Jamestown, Virginia.
Xu wasn't the only focus of deFINE 2015. A series of commissions, shows, and performances curated by executive director of exhibitions Laurie Ann Farrell, with the help of curators Storm Janse van Rensburg and Aaron Levi Garvey, include work by South African scupltor Serge Alain Nitegeka, who made his U.S. solo debut with the SCAD-commissioned Structural-Response II, a maze of black lacquered wood planks on view through July 19. Meanwhile, Jamaica-born Nari Ward created Spellbound, a visual ode to Savannah housed inside a salvaged historic candy shop. That piece accompanies a survey of his recent work on display until June 27. And there is also an unconventional material group survey "Linear Abstraction," at the Gustein Gallery on Broughton Street, featuring paintings by, among others, art world heavyweights Michelle Grabner and Walead Beshty. Time to head south y'all!
Photos: Things Are Not What They Appear