Yayoi Kusama to the Coronavirus: "Disappear From This Earth"
Rather than film yet another applause video, the 91-year-old artist expressed her gratitude for healthcare workers via poem.
---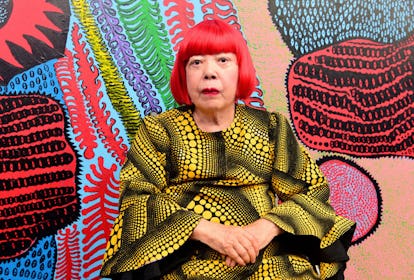 The Asahi Shimbun/Getty Images
At 91, Yayoi Kusama has never been more prolific—and more silent. As her retrospective continues to travel the world, the Japanese artist has repeatedly met the demand for her signature "infinity rooms," opened a number of (record-breaking) museum exhibitions, and planned public displays everywhere from the Brooklyn Botanical Garden to Paris's Place Vendôme. She's also given next to no interviews—including about the museum she opened in 2017, which she'd secretly been working on for years.
But there's nothing like a global pandemic to shake things up. On Wednesday, Kusama broke her silence to thank those who are fighting the coronavirus, following in the footsteps of celebrity after celebrity around the world. Of course, she did so in her own way. While the rest have been filming surreal videos clapping for an invisible army of healthcare workers, Kusama opted to express her "deep gratitude" in a poem.
"Today, with the world facing Covid-19, I feel the necessity to address it with this message," Kusama wrote by way of introduction. Like many Kusama works, it has an all-caps title: "A MESSAGE FROM YAYOI KUSAMA TO THE WHOLE WORLD." It's also uplifting, just like the last brief quote she gave to W, in 2016: "There is basically nothing to worry about."
"Though it glistens just out of reach, I continue to pray for hope to shine through," Kusama begins, setting the poem's uplifting tone. "Now that we find ourselves on the dark side of the world / The gods will be there to strengthen the hope we have spread throughout the universe." It's time, she continues, to "seek a hymn of love for our souls … to overcome, to bring peace … to fight and overcome our unhappiness."
From there, the positivity only ramps up:
For those left behind, each person's story and that of their loved ones⠀
It is time to seek a hymn of love for our souls⠀
In the midst of this historic menace, a brief burst of light points to the future⠀
Let us joyfully sing this song of a splendid future⠀
Let's go ⠀
Kusama also took the opportunity to address the coronavirus directly. There are no kind words to be found in that stanza, which marks an abrupt shift in tone:
To COVID-19 that stands in our way
I say Disappear from this earth
We shall fight
We shall fight this terrible monster
There's no mistaking who wrote it. But just in case, the artist took care to sign off. "Revolutionist of the world by the Art," she concludes the poem. "From Yayoi Kusama."
Related: All the Instagrams From Opening Day of Yayoi Kusama's Insanely Popular New L.A. Exhibition, Where Selfies Must Be Taken In 30 Seconds or Less