Instagrammers, There Are Now Two Brand New, Never-Before-Selfied Yayoi Kusama Infinity Rooms In New York
Here, a sneak peek and tips for taking the perfect mirror selfie in under 30 seconds.
---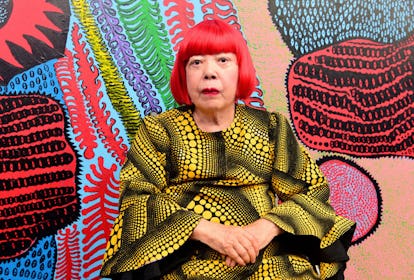 The Asahi Shimbun/Getty Images
If you missed the Yayoi Kusama: Infinity Mirrors frenzy at the Broad in Los Angeles, or The Obliteration Room—where visitors were invited to add 750,000 stickers to the walls and seating—at the Hirshhorn Museum earlier this year, the Kusama craze has returned to New York, with two major concurrent exhibitions by Yayoi Kusama at David Zwirner's two gallery spaces. Infinity Nets is now on display at the location on the Upper East Side, while Festival of Life governs over Chelsea. Both of the exhibitions provide not just a glimpse into the hallucinatory mindset of Kusama when she created these works, but a real sensory overload.
Over 60 paintings from the ongoing series My Eternal Soul, which Kusama started in 2009, panel a large room, while another installation titled With All My Love For The Tulips, I Pray Forever boasts white and red polka-dotted flower sculptures on display for the first time in the United States. Additionally, two Infinity Mirror Rooms make up Yayoi Kusama's Festival of Life at the Chelsea gallery. Once visitors make it through the monumentally long lines that are sure to wind around the block, the caveat of seeing the Festival of Life up close and personal is that viewers aiming to sneak a peek in the Infinity Mirror Rooms will only have about 30 seconds to take a picture (or five). If you want to maximize the number of photos you can take with the minimal amount of time you'll have, you might want to heed the following tips for taking the perfect selfie that will ignite envy in your followers on Instagram. These might read as obvious or rudimentary to some, but every moment counts.
Burst Feature
You have less than one minute to take as many photos from as many angles as you possibly can, and rapidly clicking the camera button over and over again is just going to waste your precious time. Hold down the camera button while you're taking a picture on your iPhone, and the burst feature will be activated, maximizing your selfie potential by allowing for a continuous shot that snaps 10 frames per second.
Dexterity
Cycling between Instagram, Snapchat, the camera app and any other photo-based application on your phone is going to require extreme dexterity. Have your apps at the ready, and move your fingers quickly if you want to get the perfect shot on all of your social platforms. Maybe practice a thumb war with a friend before you go so that you can exercise those extremities.
Full Battery
Taking all of those photos of the Kusama exhibition is going to quickly drain your battery if you snap with the brightness all the way up—which you should if you want to see the picture you're taking while you're taking it.
Empty Storage Space
The dreaded "Storage Almost Full" notification is not the notification anyone wants to receive when taking hundreds of selfies in the Infinity Rooms. Don't make this mistake.
Bring a Friend
Taking selfies at a Kusama show is a given, but what if you want a photo of yourself standing in front of one of the giant polka dotted flower pots? Or a full length shot in front of the room full of painted panels? Bring a camera person.
Yayoi Kusama's Festival of Life is on display for public visitation at David Zwirner from November 2 until December 16.
Related: It's Basically Impossible to Get Into the New Yayoi Kusama Exhibition In L.A.