Ydessa Hendeles Makes Her Debut
The artist talks about her new London installation.
---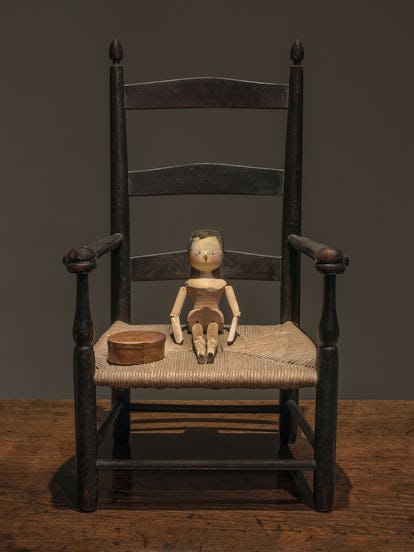 The collector, curator and artist Ydessa Hendeles is in a league of her own. Though she began her art world career in the 1980s dealing work by emerging Canadian stars like Jeff Wall and Rodney Graham, as a collector she's no slave to market trends. It's cultural curiosities from old toys to antique instruments that she's obsessed with as much as art.
For more than 25 years, at her now closed Toronto foundation and at major museums and biennials around the world, she's staged shows of contemporary art and antiques where alternative histories are dramatized through her own personal perspective. Hendeles is the daughter of Auschwitz survivors, and her Teddy Bear Project famously offset a library installation of vintage photos of long-dead children holding teddy bears with Maurizio Cattelan's sculpture of Hitler kneeling. The New Museum director Massimiliano Gioni said he was "forever changed" when he saw its first iteration in 2003.
"From Her Wooden Sleep…," Hendeles's debut London installation in the ICA's low-lit theatre, puts her collection of artists' mannequins to disturbing use. Articulated dummies in varied hues of burnished wood line long narrow benches, with two-foot "adults" sharing space with five-foot "children." Some have the rosy cheeks and lips of painted doll's faces. All fix their 1000-yard stare on a standing female mannequin at the center of the installation. Is this a slave auction, a medical lecture, a life-drawing class?
Around the room, further dolls and dummies are housed in beautiful old vitrines. A skeletal figure huddles on its side, as if imprisoned in its box, gazing at a little doll with black dots for eyes across the room. In one glass case there's a doll the size of a fingernail that's been birthed from a red egg and a tiny 18th-century anatomical doll with a perfectly coifed, jewelled carved wig and a torso that lifts off to reveal a fetus.
It's all thoroughly engrossing and creepy, reflected upside down in antique fairground mirrors that line the walls. Hendeles however is after more than shivers from her eerie looking glass world. The show's title comes from a 1895 children's book, The Adventures of Two Dutch Dolls and a Golliwog, the drawings from which are also in the show. As Debussy's Golliwogg's Cakewalk movement from his Children's Corner suite fills the air, so do thoughts of real life oppression, be they perpetuated by art, science or the stories we tell children.
"From Her Wooden Sleep…" is on view at the Institute of Contemporary Arts,The Mall,London,SW1Y 5AH, through May 17, 2015. ica.org.uk.