Meet Yeon, the Only American Fashion Label Produced At Two of France's Most Exclusive Factories
Get to know the Seoul, Korea native behind the covetable pret-a-couture line launching at Moda Operandi this week.
---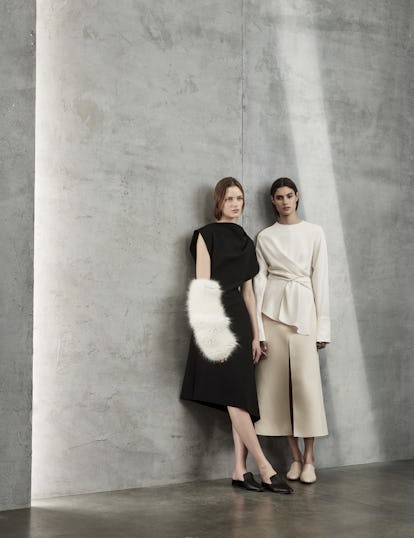 Fashion designer Yeon Park's namesake label Yeon (pronounced "Yoon") may have just three seasons under its belt, but the 33-year-old designer already finds herself on impressive footing with some of Paris' most established luxury brands. Park, who designs her collection in New York, where she also resides, carefully produces everything in small runs at sites based in France—more specifically, at two of the country's most exclusive factories. "They don't have any other American labels that they work with," Park explained during a recent visit to her sunny Tribeca studio. (Though she's unable to name the manufacturers' other pret-a-porter clients, most can be found on the pages of any high-end fashion magazine or major department store window).
This week marks an important milestone for the up-and-coming label, as it launches its first collection with Moda Operandi. About 25 pieces from Yeon's latest collection will be on offer through the luxury e-tail boutique, while the full collection will continue to be available on the brand's own site. Working with such a prominent retailer would be an accomplishment for any young fashion brand, but for the relatively unknown Yeon, the partnership signifies a major breakout moment.
Born and raised in Korea, Park moved to New York to study fashion at Parsons School of Design, where a series of internships with different designers gave her a comprehensive overview of the industry. Before graduating in 2010, she had worked with labels like Proenza Schouler, and later, at Thakoon, where the small atelier size afforded her a more hands-on role. "I was draping, I was sewing. I was a lot closer to the process," she said of the experience. But it wasn't until an internship the following year working with the fabric department at Donna Karan that the designer had her true fashion awakening. "Before I thought fabric was something that you would buy. Then I realized that it's something you can create and customize with a fabric milll," she noted.
It was that education in fabric customization that has informed much of the process behind Park's own pret-a-couture-esque line today. "I customize most of my fabrics before I start producing anything. Then I start thinking about the shape, because if you see the actual sample, it drapes and shapes differently," she said. The inspiration for each new collection's fabrics—both the textures and the colors and patterns—is derived from the designer's own travels. For Spring 2017, Yeon fashioned exquisitely embroidered silks based on the salt mines of Peru, while this newest season's collection looks to Kyoto, Japan: luxe silks, virgin wool, and cashmere separates inspired by bamboo tatami mats, 3D-like patterns in wood floors, and gradients of green.With this collection, Park also worked a brand new material: cruelty-free angora, seen in the form of luxuriously cozy, ivory sweater coat.
For construction to match the quality of the fabrics, Park was adamant about collaborating with French-based factories. "They're so much more passionate about the quality. When I give them a sample, they suggest better finishing or ways to make it better," she explained. Convincing the factories to take a chance on an unknown American label, however, required persistence and ultimately promise. After unanswered outreach attempts, Park eventually sent out a look book with detailed pictures of the first collection she pieced together; only then did the factories agree to meet with her. As one may surmise, the meeting worked out.
Today she works with two. In addition to being the only American label, both factories are also willing to overlook their order minimums for her small-run collections—a practically unheard of agreement that speaks volumes about the designer's talent and what is to come. "Hopefully I can make the minimum soon," she said. Back to the exciting milestone… "When I told them about the Moda launch, they got very excited."
Related: Getting candid with the biggest names in fashion
Fall 2017 Trends: Here Are the Pieces You Need to Invest In Now
Finally, Marc Jacobs and his 90s hip-hop inspired Fall show has given us a reason to snap up corduroy once again. Although the fabric is quite polarizing (you either love it or hate it), we're fans.
Simply put, red was everywhere for fall. Givenchy drove the idea home by presenting Riccardo Tisci's greatest hits, all 27 fall looks, in the hue.

Victor VIRGILE
Shearling as a trend is not going anywhere. Saint Laurent, Marc Jacobs and Balmain all sent out shearling options, and others used it as trim, like this Proenza Schouler fall look.

Estrop
Because we've exhausted every other flower print possible. Also, Roses can be worn in a casual way, like they are on this denim Adam Selman look, or they can be the height of romantic glamour.

Estrop
Always a fall favorite, this season glen plaid seemed to be the check of choice. Calvin Klein kicked off the trend in New York with this plastic-covered checked jacket.

Estrop
A breakout trend for Fall 2016, this lush fabric is not going anywhere. For next fall, go outside your comfort zone and opt for a bold gem tone in velvet, like this Erdem coat (no, navy doesn't count).

Victor VIRGILE
Try Eddie Borgo's Boyd Vanity leather-trimmed shoulder bag, $990, netaporter.com.
Sometimes the best trends are elevated essentials. This supple leather dress from Alexander McQueen is so covetable, and its criss-cross ties are a cool detail.

Victor VIRGILE
Chanel's metallic capes may be a bit unrealistic for the street, but this fall Loewe look is perfect inspiration for how to wear the silver trends in real-life.

Catwalking
Trust us, it was everywhere, and in literally every color of the rainbow. This blue fur was one of the many colored fur spotted at Miu Miu.

Estrop
Mrs. Prada started it, as she does with so many trends. Feathers appeared in both her Prada and Miu Miu runway shows. And they also made an appearance in her spring Prada show, and those pieces just so happen to be in stores now.

Victor VIRGILE
Prada feather-trimmed printed crepe de chine straight-leg pants, $1,200, netaporter.com.